Our long-term objective is to continually update and post our pre-made weekly K–12 Daily Lesson Logs. This is to support our teachers' desire to expand upon, create, and enhance the current content in order to respond to the various demands of their students. We are grateful to all of the people who provided content for our files as well as the file editors who revised and arranged them. We also wish for everyone's wellbeing, safety, and happiness. Don't forget to share our posts and like our page. Here is an update to our Week 10 – Quarter 1 Daily Lesson Log | October 24 – 28, 2022 DLL Update!
The contributions, editing, and technical help of our volunteers form the foundation of the DepEd Teachers Club. We humbly ask for and appreciate your continued help. You can download all of our content for free using Google Drive. View our updated and revised File Links. May more blessings come upon us all. Thank you!
Importance of Instructional resources in Lesson Planning / Daily Lesson Preparation
Resources and materials for instructive purposes and lesson planning refer to the various instruments used to create content and carry out the intended educational objectives in the most effective manner. It makes everyone's job easier especially those who are involved in the teaching and learning process.
In order to minimize inconsistencies, it is important to consider the values and attitudes associated with the selection and use of various educational resources needed in daily lesson preparation for the classroom.
Resources need to be adjusted to account for the needs and traits of the present students. It must be taken into account that a variety of tasks and resources widen the range of knowledge that students can acquire, and that repeating the same tasks helps to reinforce that knowledge. As a result, by using a wider diversity of materials, there are more opportunities and chances that diversity concerns will be successfully matched.
Resources and teaching materials can be categorized in a variety of ways. Among them are:
Direct interaction resources such as plants, animals, structures, the outdoors.
Institutional resources includes the library, lab, gym, and language classes.
Symbolic tools on the other hand consists of written and printed materials, maps, computers, media, and other audiovisual tools.
These educational resources can be classed based on the degree of influence, functionality or intentionality, contents to be developed, and the media used. The many intervention levels refer to the general elements pertaining to the entire educational process. Others have an impact on the content, while some others have an influence on the conditions in the classroom.
Educational materials have varied goals, such as those to orient, guide, explain, etc., can be distinguished by their functionality and intentionality. Books, articles, instructional aids, audiovisual materials, etc. are a few examples.
A variety of educational materials that support the creation of a broad viewpoint can be found in the contents, but materials with a distinctly disciplinary approach can also be discovered.
Additionally, there are particular resources related to conceptual contents, such as textbooks, audiovisual programs, didactic games, procedural contents, computer programs, work notebooks, aquariums, terrariums, and strategic games.
Regarding the medium of the materials, these include paper or textbooks, boards, static projections, moving projections like videos, as well as computer resources including fundamental computer devices, external computer devices, websites, and Internet networks.
When designing the activities while lesson planning, it's crucial to consider the educational resources that teachers and students will require because, at a given point, they will aid with prior reflection and serve as a reminder of what is required to enhance the learning process.
On the other hand, it must be considered that it will be challenging to adapt standardized materials to the classroom setting. Teachers will therefore need to build on, develop, and/or modify the existing material to the environment and peculiarities of the students.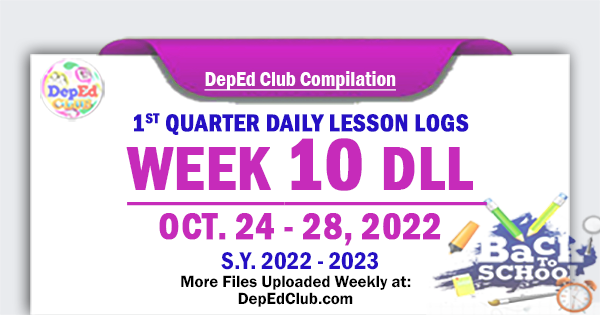 Week 10 – Quarter 1 Daily Lesson Log | October 24 – 28, 2022 DLL Update!
See Also:
IMPORTANT: HOW TO DOWLOAD FILES IN GOOGLE DRIVE
FOR MS OFFICE FILES:
1. Click on the file link in our website.

2. You will be redirected to the file location via Google Drive.

3. On the upper left side of your screen, Go to FILE menu. Click DOWNLOAD, then Select Microsoft Word for the editable file format.
FOR OTHER FILES:
1. On the upper right hand corner of your screen, look for the Down Arrow Download Button just as below:

If you encounter an Error while downloading the files, please Log-in to your Gmail account (Here – mail.google.com) , then try again to click the Download Link in Google Drive. Thank you.
Additional files to be uploaded soon.
We are always on the process of uploading new files.
For additional updates and unannounced uploads, please visit this section from time to time.
Like us on Facebook to get INSTANT UPDATES. CLICK HERE
You can also BOOKMARK this page in your web browser by clicking Ctrl+D in your keyboard for faster access in the future. Thank you fellow Teachers.
We at DepEd Teachers Club are always grateful to all our File Authors and File Contributors. Credit goes to all of them. Let us all give them thanks and show our support for all their works.
We are also thankful for all our File Editors, Sharers, Tech Volunteers and fellow Teachers for helping us and making this kind of service possible.
MORE DOWNLOADABLE FILES