To help teachers in developing lessons that consider the needs, problems, and interests of the students as well as the topic to be taught, we are constantly uploading our ready-made 4th Quarter Grade 3 Daily Lesson Log | SY 2022 – 2023 DLL Update! Our long-term goal is to consistently update and publish our ready-made weekly K–12 Daily Lesson Logs. Just visit this page regularly for the latest uploads.
We are grateful to all of our Contributors, File Editors, and Tech Volunteers who worked sacrificially and without hesitation to manage the content of our website and social media accounts. Thank you to everyone for your continued support.
Lesson Planning
Instead of being a simple road map to be followed casually, lesson plans include suggestions for action. In other words, when creating a lesson, the teacher must take into account a lot of important elements, like the learner's level, their cultural origins, their level of motivation, their learning styles and tactics, etc.
Lesson planning is a description or outline of the following: (a) the goals or objectives a teacher has established for a lesson; (b) the activities and procedures to be allotted to each activity, and the sequence to be followed; and (c) the resources and supplies which will be utilized throughout the session.
The type of content offered and how lessons are planned might differ substantially. Despite this, highly qualified teachers may instruct using a conceptual plan rather than a thorough lesson plan. As a result, the teachings of experienced teachers seem to be less in-depth than those of inexperienced ones. Some seasoned teachers appear to be able to think quickly, leading them to assume that they do not need to organize their courses. Even though their lesson preparations are fairly casual, the majority of teachers continue to plan lessons throughout their careers.
Teachers, regardless of their level of expertise, should create lesson plans. Lesson preparation is essentially the creation by a teacher of an evaluation document that shows they have a plan for the lesson they are about to present. The idea of a planning process, on the other hand, relates to what a teacher does cognitively while creating a lesson plan inside the framework of a course that they are presently teaching. The efficacy of the lesson may depend on a variety of critical preparatory abilities that are deserving of attention. Lesson planning is the process through which the teacher develops ideas for the lesson while taking into account the requirements, issues, and interests of the students as well as the material to be covered. However, not all teachers' plans will necessarily take these factors into account. Many effective teachers merely use their minds or a few sentences of lesson notes to arrange their classes. The term "lesson preparation" describes the process of preparing all of the materials and resources that will be used in the lesson, as well as all of the classroom processes the teacher will employ, such as copying and submitting work, setting up desks and chairs, taking notes on the lesson's content, etc.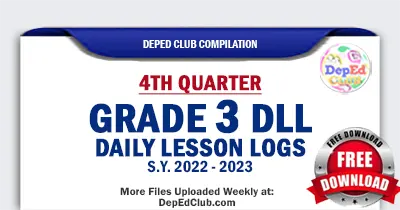 4th Quarter Grade 3 Daily Lesson Log | SY 2022 – 2023 DLL Update!
Update! Week 1 4th Quarter Grade 3 Daily Lesson Log DLL
(May 2 – 5, 2023)
Update! Week 2 4th Quarter Grade 3 Daily Lesson Log DLL
(May 8 – 12, 2023)
Update! Week 3 4th Quarter Grade 3 Daily Lesson Log DLL
(May 15 – 19, 2023)
Update! Week 4 4th Quarter Grade 3 Daily Lesson Log DLL
(May 22 – 26, 2023)
Update! Week 5 4th Quarter Grade 3 Daily Lesson Log DLL
(May 29 – June 2, 2023)
Update! Week 6 4th Quarter Grade 3 Daily Lesson Log DLL
(June 5 – 9, 2023)
NOW AVAILABLE!
ALSO AVAILABLE!
IMPORTANT GUIDE:
MORE DOWNLOADABLE FILES
Activities for Students | Classroom Observation Tools | Daily Lesson Log | Diagnostic Test | Exams | Inspirational Stories | Instructional Materials | Learners Material | Periodical Tests | Powerpoint Presentations | RPMS | Short Stories | Summative Tests | Weekly Daily Lesson Log | Weekly Home Learning Plan | Weekly Learning Plan | Workbooks
We are always on the process of uploading new files.
For additional updates and unannounced uploads, please visit this section from time to time.
Like us on Facebook to get INSTANT UPDATES. CLICK HERE
You can also BOOKMARK this page in your web browser by clicking Ctrl+D in your keyboard for faster access in the future. Thank you fellow Teachers.
We at DepEd Teachers Club are always grateful to all our File Authors and File Contributors. Credit goes to all of them. Let us all give them thanks and show our support for all their works.
We are also thankful for all our File Editors, Sharers, Tech Volunteers and fellow Teachers for helping us and making this kind of service possible.