To help teachers with their classroom design that could give students access to new information and engage in discovering new topics on their own, we have uploaded our Grade 6 Bulletin Board Displays – 2nd Quarter.
Classroom Design and Learning Space
In a classroom setting, various learning zones exist. Throughout the course of the year, certain sections won't change, while others may change as circumstances demand. The organization of these parts in the classroom design will depend on the available space.
The classroom design for teacher may inspire for additional learning opportunities for students. The learning spaces might fill up really quickly from various educational resources online. Wi that, teachers have the option to choose their own options and enjoy print resources for bulletin board displays.
Daily access to familiar and preferred reading resources, such as pictures, poems, informational text, concept posters, etc., should be made available to students in the bulletin board displays so that students have the chance to participate in individual literacy activities in this space.
For example, a Mathematics board display. This exhibit gives students access to a wide range of arithmetic manipulatives and inspiring items that complement mathematics learning objectives. Students have the opportunity to actively participate in their learning through activities that support it, such as counting things, working out arithmetic problems, and mathematical lessons. Students should be able to easily and freely access classroom displays in order to facilitate continuing learning.
Another example is Science board display. In this learning area of the classroom, children are encouraged to investigate, enquire about, discover, and observe items in the display. Students are encouraged to use all of their senses to comprehend the lessons in the science area. The amount of time needed to create activities for this topic may vary, and students will gain from both basic and sophisticated experiences. By setting up a space where students can build their own learning, it is crucial to encourage learning.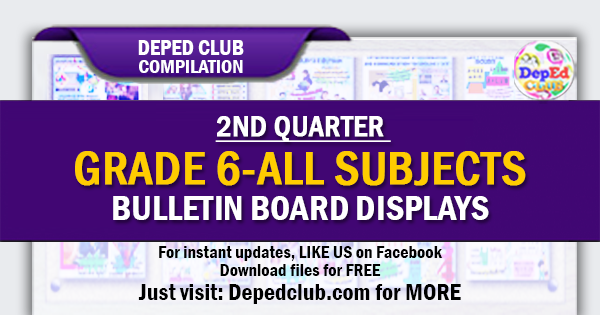 Grade 6 Bulletin Board Displays – 2nd Quarter
2nd Quarter – Grade 6 Bulletin Board Displays
IMPORTANT GUIDE:
MORE DOWNLOADABLE FILES
We are always on the process of uploading new files.
For additional updates and unannounced uploads, please visit this section from time to time.
Like us on Facebook to get INSTANT UPDATES. CLICK HERE
You can also BOOKMARK this page in your web browser by clicking Ctrl+D in your keyboard for faster access in the future. Thank you fellow Teachers.
We at DepEd Teachers Club are always grateful to all our File Authors and File Contributors. Credit goes to all of them. Let us all give them thanks and show our support for all their works.
We are also thankful for all our File Editors, Sharers, Tech Volunteers and fellow Teachers for helping us and making this kind of service possible.