Was this helpful?
Teachers have played a major role in the response to the Covid-19 pandemic educational crisis. Our teachers ensured that learning continues who always dream of a smooth and productive school year, withstanding the challenges together. And now, we have uploaded 1st Quarter Kindergarten Daily Lesson Log | SY 2022 – 2023 DLL to help our teachers.
Thanks to all our Contributors, File Editors and Tech Volunteers who managed our website contents as well as our social media accounts selflessly without reservations. Thanks to all of you for your continued support and your collective notions.
And now as we start on another journey with new students and new challenges that are yet to come, we shall stick together as one – a solid DepEd Teachers Club.
No Teacher is left behind.
The Kindergarten Curriculum Framework corresponds to the interrelatedness of the learning domains, which dictates the way to approach implementation. The daily activities prescribed in the Kindergarten Curriculum Guide (KCG) or the Teacher's Guide is designed as learner centered, inclusive, and developmentally appropriate to employ an integrative and interactive approach in developing the competencies focusing on the themes. The child and brain development principles were the bases of the selection of content, concepts, and skills, as well as the learning activities. Developmentally appropriate practices considered the developmental tasks that five-year-olds, in general, could tackle at a specific time, and in a specific sequence. Thus, these curricular themes adhere to Bronfenbrenner's Bio-ecological theory that defines "layers of environment, each having an effect on a child's holistic development."
Myself – concepts and ideas that help the learners understand himself/ herself better so that he/she will develop as an individual

My Family – concepts, ideas, practices that guide the child to be responsible and proud of himself and his family

My School – concepts, ideas, practices, and situations that help the child understand how to be an individual and socialize with other learners, teachers, and other school personnel

My Community- concepts, ideas, practices, situations, and responsibilities that the learner should acquire and understand so that he/she will a become functional and responsive member of the community

More Things Around Me – all other concepts, ideas, practices, situations, and responsibilities beyond themes 1 to 4, but which may be relevant to the community, culture, and interest of the learner
Source: Department of Education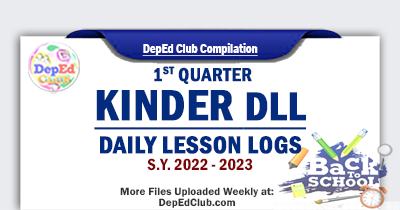 1st Quarter Kindergarten Daily Lesson Log | SY 2022 – 2023 DLL Update!
Featured Article:
Housing Program for Teachers Act

Fifth District Quezon City Representative Patrick Michael D. Vargas introduced House Bill No. HB04075 – An Act To Provide A Housing Program For Teachers which is now on referral to the Committee on Housing and Urban Development. Continue Reading…
IMPORTANT: HOW TO DOWLOAD FILES IN GOOGLE DRIVE
FOR MS OFFICE FILES:
1. Click on the file link in our website.

2. You will be redirected to the file location via Google Drive.

3. On the upper left side of your screen, Go to FILE menu. Click DOWNLOAD, then Select Microsoft Word for the editable file format.
FOR OTHER FILES:
1. On the upper right hand corner of your screen, look for the Down Arrow Download Button just as below:

If you encounter an Error while downloading the files, please Log-in to your Gmail account (Here – mail.google.com) , then try again to click the Download Link in Google Drive. Thank you.
Additional files to be uploaded soon.
We are always on the process of uploading new files.
For additional updates and unannounced uploads, please visit this section from time to time.
Like us on Facebook to get INSTANT UPDATES. CLICK HERE
You can also BOOKMARK this page in your web browser by clicking Ctrl+D in your keyboard for faster access in the future. Thank you fellow Teachers.
We at DepEd Teachers Club are always grateful to all our File Authors and File Contributors. Credit goes to all of them. Let us all give them thanks and show our support for all their works.
We are also thankful for all our File Editors, Sharers, Tech Volunteers and fellow Teachers for helping us and making this kind of service possible.
MORE DOWNLOADABLE FILES
Was this helpful?