Was this helpful?
As schools reopen for face to face classes, teachers are made responsible in ensuring that students will be able to continue their education in a safe and healthy environment. That's why to lessen the burdeTo help us with the inadequacies of teaching resources, we have uploaded our 1st Quarter Grade 1 Daily Lesson Log | SY 2022 – 2023 DLL.
Thanks to all our Contributors, File Editors and Tech Volunteers who managed our website contents as well as our social media accounts selflessly without reservations. Thanks to all of you for your continued support and your collective notions.
And now as we start on another journey with new students and new challenges that are yet to come, we shall stick together as one – a solid DepEd Teachers Club.
No Teacher is left behind.
What Grade 1 Students Should Know – Grade 1 Curriculum
A primary focus of language arts instruction in Grade 1 Curriculum is making sense of the alphabet and its role in reading. Students produced the most frequent sounds for each consonant and isolated and pronounced the initial, medial vowel, and final sounds in consonant-vowel-consonant words. They blended two or three phonemes into recognizable words, read high-frequency words by sight, and read emergent-reader texts with purpose and understanding. Students used a variety of reading comprehension strategies, including the use of pictures and context to make predictions, retelling stories, answer and ask questions, and describe connections between events, ideas, and pieces of information in a text. They compared and contrasted similar stories and texts, identified key details in both narrative and informational texts, and engaged in group reading activities. Students printed letters and words, phonetically spelled the beginning of words, and used frequently occurring verbs and nouns, including regular plural nouns. They composed opinion pieces, informative/explanatory texts, and narratives by using a combination of drawing, dictation, and writing. Students also engaged in collaborative conversations with peers and adults about kindergarten topics and learned how to follow rules, such as listening to others and taking turns speaking about topics.

In Grade 1 Curriculum, students extend their knowledge of language arts in significant and exciting ways, learning skills that enable them to read and write more independently. By the end of first grade, students should read proficiently at grade level and have the ability to decode and recognize increasingly complex words accurately and automatically. Students increase their academic and content-specific vocabulary by reading a variety of literature and informational text. Students further develop their communication skills in Grade 1 Curriculum as they engage with peers and adults in collaborative conversations that provide additional opportunities to express their ideas and experiences.

In Grade 1 Curriculum students learn to write for different purposes, they apply their growing knowledge of language structures and conventions. In order to master the Grade 1 Curriculum English language arts content, students need to practice decoding skills. To develop comprehension skills, students need exposure to a variety of high-quality literature and informational texts.

In Grade 1 Curriculum, reading literature emphasize verbal interaction between student and teacher in order to develop the student's comprehension of literature. Students use key details when talking or writing about a story or book and emphasize their use to describe characters, settings, and major events. English language arts standards for literary response and analysis focus on the student's ability to identify and describe a story's beginning, middle, and end as well as the plot, setting, and characters. The Grade 1 Curriculum continue this development of structural awareness but go further by asking students to demonstrate an understanding of a central message or lesson. Students also learn to differentiate between types of text: those that provide information and those that appeal to the senses and suggest feelings. The Grade 1 Curriculum also set the new expectation that students will be able to compare and contrast the adventures and experiences of story characters. This early introduction to literary analysis provides a strong foundation in critical thinking that students will develop throughout their academic careers.

English language arts standards provide students with opportunities to learn key comprehension strategies through teacher modeling and extensive guided practice. For example, students relate prior knowledge to textual information, confirm predictions by identifying supporting text, use context to resolve ambiguities about the meaning of words and sentences, and identify text that uses sequence or other logical order. Students also learn to identify the main topic and retell key details of a text; to compare and contrast two texts on the same topic; and to describe the connection between two individuals, events, ideas, or pieces of information in a text.
We at DepEd Teachers Club are always on the process of uploading 1st Quarter Grade 1 Daily Lesson Log | SY 2022 – 2023 DLL. As requested, here are the file links. The remaining files will be uploaded soon. Please check this section from time to time.
Download these files for Free. Virus Free. Safer. Faster.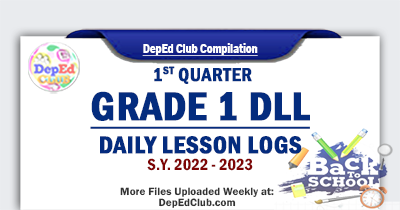 1st Quarter Grade 1 Daily Lesson Log | SY 2022 – 2023 DLL Update!
(Update!) Week 1 DLL – 1st Quarter Grade 1 Daily Lesson Log
( August 22 – 26, 2022)
(Update!) Week 2 DLL – 1st Quarter Grade 1 Daily Lesson Log
( August 29 – September 2, 2022)
(Update!) Week 3 DLL – 1st Quarter Grade 1 Daily Lesson Log
( September 5 – 9, 2022)
(Update!) Week 4 DLL – 1st Quarter Grade 1 Daily Lesson Log
(September 12 – 16, 2022)
(Update!) Week 5 DLL – 1st Quarter Grade 1 Daily Lesson Log
(September 19 – 23, 2022)
(Update!) Week 6 DLL – 1st Quarter Grade 1 Daily Lesson Log
(September 26 – 30, 2022)
More Files uploaded Weekly. Bookmark this page for instant access. Just Press CTRL + D in your keyboard to add this page to your bookmarks.
Also Available!
IMPORTANT: HOW TO DOWLOAD FILES IN GOOGLE DRIVE
FOR MS OFFICE FILES:
1. Click on the file link in our website.

2. You will be redirected to the file location via Google Drive.

3. On the upper left side of your screen, Go to FILE menu. Click DOWNLOAD, then Select Microsoft Word for the editable file format.
FOR OTHER FILES:
1. On the upper right hand corner of your screen, look for the Down Arrow Download Button just as below:

If you encounter an Error while downloading the files, please Log-in to your Gmail account (Here – mail.google.com) , then try again to click the Download Link in Google Drive. Thank you.
Additional files to be uploaded soon.
We are always on the process of uploading new files.
For additional updates and unannounced uploads, please visit this section from time to time.
Like us on Facebook to get INSTANT UPDATES. CLICK HERE
You can also BOOKMARK this page in your web browser by clicking Ctrl+D in your keyboard for faster access in the future. Thank you fellow Teachers.
We at DepEd Teachers Club are always grateful to all our File Authors and File Contributors. Credit goes to all of them. Let us all give them thanks and show our support for all their works.
We are also thankful for all our File Editors, Sharers, Tech Volunteers and fellow Teachers for helping us and making this kind of service possible.
MORE DOWNLOADABLE FILES
Was this helpful?