The Department of Education issued DepEd Order No.44 s.2022 – Amendment to DepEd Order No.034 s.2022, titled School Calendar and Activities for the School Year 2022 – 2023.
According to this DepEd Order:
"Starting November 2, 2022, all public schools shall have transitioned to 5-days in-person classes.
After the said date, no public school shall be allowed to implement purely distance learning or blended learning, except for those that are expressly provided an exemption by the Regional Director, those whose classes are automatically cancelled due to disaster and calamities, and those implementing Alternative Delivery Modes, as provided for in DO O21, s. 2019, titled Policy Guidelines on the K to 12 Basic Education Program and DO 001, s. 2022 titled Revised Policy Guidelines on Homeschooling Program."
In a statement, the agency stated that all public schools, with the exception of those using alternative delivery modalities because of calamities and disasters, must follow the complete implementation of DepEd Order (DO) No. 44.
After more than two months of transition since August 22, as mentioned in DO No. 44, the DepEd emphasized the need for in-person instruction for the overall well-being of students in the nation. The Department of Education continues to believe that having lessons in person helps students progress academically and generally improves their mental and physical health. In-person instruction is still the best choice for basic education, according to numerous published research, DepEd said.
The most recent data indicates that during the transition period, approximately 90% of 47,000 public schools countrywide have been offering both in-person classes and distance learning modalities.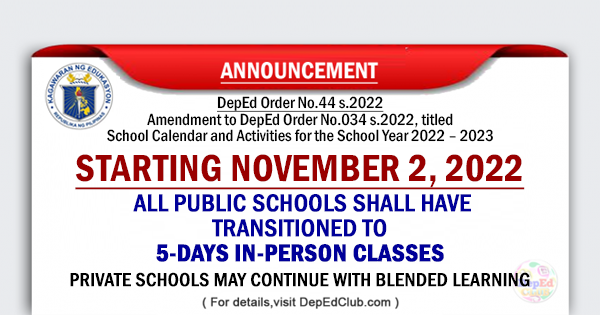 On the other hand, private schools may continue with blended learning.
The DepEd will permit the offering of learning mode alternatives for private schools past November 2 in addition to those in disaster-affected areas, taking into account the difficulties they face.
According to the order, allowed options for private schools include "five-day in-person classes; blended learning modality' three-days in-person and two days distance learning and four-days in-person then one-day distance learning; and full distance learning".
Source:
DepEd Order No.034 s.2022, titled School Calendar and Activities for the School Year 2022 – 2023.
DepEd Order No.44 s.2022 – Amendment to DepEd Order No.034 s.2022