Teachers frequently find themselves with insufficient resources when carrying out classroom instruction and meeting new expectations aggravated by this pandemic. That's why we have posted our 1st Quarter Grade 3 Daily Lesson Log | SY 2022 – 2023 DLL to address the difficulties of changing instructional content and formats and to simplify teachers' duties at hand.
We are grateful to all of our Contributors, File Editors, and Tech Volunteers who worked sacrificially and without hesitation to manage the content of our website and social media accounts. Thank you to everyone for your continuous encouragement and ideas.
We will stick together as a strong DepEd Teachers Club as we embark on a new adventure with new pupils and unanticipated hurdles.
Incorporating Teaching/Learning Activities in Daily Lesson Preparation | Daily Lesson Planning
Teaching/learning activities are used by teachers to create the planned content as well as to meet the departmental and pedagogic objectives as a whole. It is crucial to follow the didactic order while you conduct the unit activities. These exercises can have a great shape and encourage engaged student participation if they are planned and executed in the right order. However, to effectively address variety and establish a proper rhythm of learning, the planning of activities must demonstrate a range of complexity. The social component of the procedure won't be overlooked by doing this.
The student must be aware of the activity goal from the outset, which is another consideration that needs to be included in the activities proposal. The student is able to arrange themselves in the proper learning order as a result. Along with research didactic tactics, expositive didactic strategies must also be promoted. Also take into account an open activity program with a variable level of structure, which is a collection of impromptu activities planned in line with students' interests. The following categorization best fits our understanding of the teaching/learning activities out of all those suggested for lesson planning:
Activities for inspiration or introduction. Describe to children how the feature or concept they are learning relates to reality. A captivating title, a "thrilling" progression, or a conclusion with some degree of utility must be developed in order to pique the interest of the pupils. This tactic entails the utilization of films. The subject being studied must have as much in common as feasible with the social, cultural, economic, and physical context of the school. The way the lesson is presented must not give the pupils the impression that the subject is over. In order for pupils to be able to contribute to their own development, it must inspire them. In these situations, it is necessary to communicate the information clearly.
Activities based on previous experience are carried out to learn about the concepts that students have regarding the materials that will be developed as well as their views, opinions, and conceptual right and wrong replies. Regarding both oral assessments and tests administered on paper, it is possible to group ideas detection techniques used by pupils (interviews, brainstorming, debates, role-playing, forum, etc.). Dramatizations of both real and imagined scenarios are extremely helpful for evaluating actions and attitudes with the goal of overcoming the negatives and enhancing the positives.
Developmental activities: enable acknowledging concepts, events, and new actions while also communicating the work completed. The qualitative analysis, hypothesis generation, and experimental design are the goals of this kind of activity.
Activities for consolidating knowledge: new concepts are compared to concepts from earlier students, and new learning procedures are applied. As a result, they are concentrated on the ability to synthesize, gather conclusions, create diagrams, and identify patterns that provide a solution to the challenge provided. These activity assignments are unquestionably the most challenging for students to complete successfully because they require them to rebuild their cognitive outlines.
Special education necessity activities. These are designed for students who have not yet mastered the conventional knowledge, for students who are highly gifted, and for kids who have recently been assimilated into the educational system. It is important to develop appropriate activities for these students since bored students can be just as disruptive as those who are falling behind the rest of the class.
To achieve the enrichment of student-student and student-teacher interactions, the flexibility concept must be used to all sorts of activities in lesson planning. With respect to the objectives to be met and the materials to be created, the distribution will differ. When we talk about flexibility, we don't just mean the number of kids in a group; we also mean the location where they are spread out (classrooms, field trips, routes, school courtyard, library, gym, etc.), as well as the timing of each work session (15 min sessions, etc.).
The rigidity of timetables according to disciplines is highly unlikely to be understood if the teaching/learning process is provided with a global perspective. Each grouping arrangement or learning circumstance offers a unique set of techniques for the development of particular talents. For instance, the huge group formula might have a positive approach (initial synthesis) or a conclusive approach and is utilized for verbal, visual, or documentary expositions (final synthesis). The formula for teamwork is related to research methods and is helpful for handling procedural and attitude-related items.
Finally, individual work also enables personal contemplation, independent work, the development of habits, the solution of issues, information searching, and private information consultation. Group diversity enables a balanced approach to the individual and social dimensions. The method used to organize the content determines the didactic techniques and activities. Therefore, tactics like interest points, project methodologies, project research, subjects, etc., can be applied if an organizational axis has taken a global approach in lesson planning.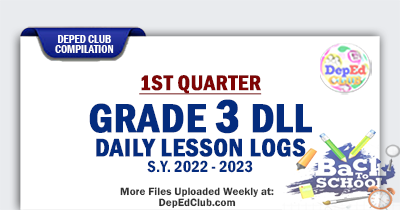 1st Quarter Grade 3 Daily Lesson Log | SY 2022 – 2023 DLL Update!
(Update!) Week 1 DLL – 1st Quarter Grade 3 Daily Lesson Log
( August 22 – 26, 2022)
(Update!) Week 2 DLL – 1st Quarter Grade 3 Daily Lesson Log
( August 29 – September 2, 2022)
(Update!) Week 3 DLL – 1st Quarter Grade 3 Daily Lesson Log
( September 5 – 9, 2022)
(Update!) Week 4 DLL – 1st Quarter Grade 3 Daily Lesson Log
(September 12 – 16, 2022)
(Update!) Week 5 DLL – 1st Quarter Grade 3 Daily Lesson Log
(September 19 – 23, 2022)
(Update!) Week 6 DLL – 1st Quarter Grade 3 Daily Lesson Log
(September 26 – 30, 2022)
(Update!) Week 7 DLL – 1st Quarter Grade 3 Daily Lesson Log
(October 3 – 7, 2022)
(Update!) Week 8 DLL – 1st Quarter Grade 3 Daily Lesson Log
(October 10 – 14, 2022)
(Update!) Week 9 DLL – 1st Quarter Grade 3 Daily Lesson Log
(October 17 – 21, 2022)
(Update!) Week 10 DLL – 1st Quarter Grade 3 Daily Lesson Log
(October 24 – 28, 2022)
See Also:
Featured Article:
More Files uploaded Weekly. Bookmark this page for instant access. Just Press CTRL + D in your keyboard to add this page to your bookmarks.
Also Available!
IMPORTANT: HOW TO DOWLOAD FILES IN GOOGLE DRIVE
FOR MS OFFICE FILES:
1. Click on the file link in our website.

2. You will be redirected to the file location via Google Drive.

3. On the upper left side of your screen, Go to FILE menu. Click DOWNLOAD, then Select Microsoft Word for the editable file format.
FOR OTHER FILES:
1. On the upper right hand corner of your screen, look for the Down Arrow Download Button just as below:

If you encounter an Error while downloading the files, please Log-in to your Gmail account (Here – mail.google.com) , then try again to click the Download Link in Google Drive. Thank you.
Additional files to be uploaded soon.
We are always on the process of uploading new files.
For additional updates and unannounced uploads, please visit this section from time to time.
Like us on Facebook to get INSTANT UPDATES. CLICK HERE
You can also BOOKMARK this page in your web browser by clicking Ctrl+D in your keyboard for faster access in the future. Thank you fellow Teachers.
We at DepEd Teachers Club are always grateful to all our File Authors and File Contributors. Credit goes to all of them. Let us all give them thanks and show our support for all their works.
We are also thankful for all our File Editors, Sharers, Tech Volunteers and fellow Teachers for helping us and making this kind of service possible.
MORE DOWNLOADABLE FILES