Teachers have a number of instructional models, along with appropriate approaches and methodologies, from which to choose for their daily lesson preparations. A teacher's pedagogical philosophy is expressed in their instructional approach. Now, we have released our 1st Quarter Grade 6 Daily Lesson Log | SY 2022 – 2023 DLL to aid in teaching preparation with a specific instructional approach in mind.
We are grateful to all of our Contributors, File Editors, and Tech Volunteers who worked sacrificially and without hesitation to manage the content of our website and social media accounts. Thank you to everyone for your continuous encouragement and ideas.
We will stick together as a strong DepEd Teachers Club as we embark on a new adventure with new pupils and unanticipated hurdles.
Lesson Planning | Daily Lesson Preparations
The following components must be included in lesson planning:
Starting point. It is crucial to examine the organizational aspects that are most pertinent to the stakeholders (students, teachers, and parents), the resources, and the existing social and cultural infrastructure. When considering the possibilities that the classroom can provide, for instance, it is really intriguing. In addition to the demands of a specific and special education, pupils' interests and expectations must be taken into account. The disconnect between what is taught in schools and the world of teenagers is one of the most important problems. Teachers must incorporate some motivational techniques into their lesson planning in order to create a connection between the requirements of teens and the formal curriculum.
Analysis of the topic/area. In addition to doing an epistemological study of the topic that includes all of the important concepts, attention must be paid to how to arrange the materials inside the lesson planning.
Goals. Goals are the didactic objectives that operate as a roadmap for the teaching and learning processes. These goals need to fulfill two key tasks for the lesson planning. They must first take charge of the lessons and learning exercises. They must also offer standards that are intended to gauge how well the procedure was carried out. Different types of objectives must be covered during lesson planning.

General stage goals. These goals help students in primary and secondary education develop their capacities.
General goals of the educational project for the school. They are referred to as the school community's established goals, values, and performance priorities.
General area/subject goals. These goals are developed to lay the groundwork for the skills and abilities that students must acquire over the academic year. These goals are based on the learning experiences that were previously planned during lesson preparation.

Contents. The themes of instruction or learning known as "contents" are those that are seen important and valuable for fostering pupils' all-around and cogent growth. It is required to pick, arrange, and sequence these materials in order to determine which are most pertinent and necessary, how they will be presented, and in what order they will appear (to establish conceptual maps). In addition, lesson planning needs to contain fundamental techniques, aptitudes, and important concepts that are essential for advancing the development of the topics. Additionally, it needs to provide a list of the titles of the didactic units that will be covered during the course of each quarter.
Methodology. Methodology is a group of possibilities that are suggested in accordance with the selected didactic pattern. This fundamental aspect of didactic planning needs to be versatile (flexible). Globalization (an integrated perspective of reality), personalization (the fact that students learn in accordance with their particular learning processes), socialization (student social integration), learning between equals (cooperative work), and transmission are important concepts to note (lecture or exposition). The methodological dynamic must support the student's independent work, the development of teamwork skills, the methods of investigation and discovery, and ultimately the application of the taught material to real-world situations. But it is the role of the teacher to choose the instructional strategies. There are two components that must be considered when choosing methodological tactics. Activities' layout and planning are on the one hand. The layout and structure of the educational environment, on the other hand (time and space distribution, material didactic resources assignments and students gathering).
Assessment. It is the process of evaluating and making decisions on the students, teachers, and teaching and learning processes. Throughout this examination, it is crucial to distinguish between four stages. Initial assessment (it is carried out at the beginning of each step of the learning process). ongoing assessment (it is carried out during the entire teaching and learning process). Final evaluation (conducted at the conclusion of the teaching/learning process). Metaevaluation (it is done to illustrate the usefulness of the assessment) (it is done to show the usefulness of the evaluation). The evaluation criteria must be generic and comprehensive in character and must be applied to students' learning. However, lesson planning must then include precise requirements for each didactic unit. The components of the evaluation and the remedial actions for the enhancement of learning must be provided at the same time (supportive activities, tutorial action plan, etc.).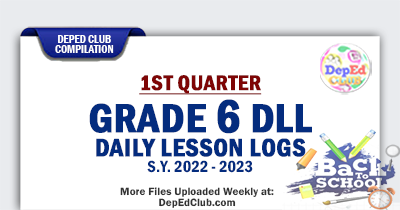 1st Quarter Grade 6 Daily Lesson Log | SY 2022 – 2023 DLL Update!
(Update!) Week 1 DLL – 1st Quarter Grade 6 Daily Lesson Log
( August 22 – 26, 2022)
(Update!) Week 2 DLL – 1st Quarter Grade 6 Daily Lesson Log
( August 29 – September 2, 2022)
(Update!) Week 3 DLL – 1st Quarter Grade 6 Daily Lesson Log
( September 5 – 9, 2022)
(Update!) Week 4 DLL – 1st Quarter Grade 6 Daily Lesson Log
(September 12 – 16, 2022)
(Update!) Week 5 DLL – 1st Quarter Grade 6 Daily Lesson Log
(September 19 – 23, 2022)
(Update!) Week 6 DLL – 1st Quarter Grade 6 Daily Lesson Log
(September 26 – 30, 2022)
(Update!) Week 7 DLL – 1st Quarter Grade 6 Daily Lesson Log
(October 3 – 7, 2022)
(Update!) Week 8 DLL – 1st Quarter Grade 6 Daily Lesson Log
(October 10 – 14, 2022)
(Update!) Week 9 DLL – 1st Quarter Grade 6 Daily Lesson Log
(October 17 – 21, 2022)
(Update!) Week 10 DLL – 1st Quarter Grade 6 Daily Lesson Log
(October 24 – 28, 2022)
See Also:
Featured Article:
Housing Program for Teachers Act

Fifth District Quezon City Representative Patrick Michael D. Vargas introduced House Bill No. HB04075 – An Act To Provide A Housing Program For Teachers which is now on referral to the Committee on Housing and Urban Development. Continue Reading…
More Files uploaded Weekly. Bookmark this page for instant access. Just Press CTRL + D in your keyboard to add this page to your bookmarks.
Also Available!
IMPORTANT: HOW TO DOWLOAD FILES IN GOOGLE DRIVE
FOR MS OFFICE FILES:
1. Click on the file link in our website.

2. You will be redirected to the file location via Google Drive.

3. On the upper left side of your screen, Go to FILE menu. Click DOWNLOAD, then Select Microsoft Word for the editable file format.
FOR OTHER FILES:
1. On the upper right hand corner of your screen, look for the Down Arrow Download Button just as below:

If you encounter an Error while downloading the files, please Log-in to your Gmail account (Here – mail.google.com) , then try again to click the Download Link in Google Drive. Thank you.
Additional files to be uploaded soon.
We are always on the process of uploading new files.
For additional updates and unannounced uploads, please visit this section from time to time.
Like us on Facebook to get INSTANT UPDATES. CLICK HERE
You can also BOOKMARK this page in your web browser by clicking Ctrl+D in your keyboard for faster access in the future. Thank you fellow Teachers.
We at DepEd Teachers Club are always grateful to all our File Authors and File Contributors. Credit goes to all of them. Let us all give them thanks and show our support for all their works.
We are also thankful for all our File Editors, Sharers, Tech Volunteers and fellow Teachers for helping us and making this kind of service possible.
MORE DOWNLOADABLE FILES