In addition to producing learning materials, teaching strategies, lesson plans, and other educational processes, teachers must also participate in actions aimed at safeguarding the educational resources of their students. We have thus uploaded our 1st Quarter Grade 2 Daily Lesson Log | SY 2022 – 2023 DLL to aid in teachers duties at hand.
We are grateful to all of our Contributors, File Editors, and Tech Volunteers for their unselfish, unreserved management of the website's contents and social media accounts. We appreciate your support and ideas from everyone, both now and in the past.
We will stick together as a strong DepEd Teachers Club as we embark on a new adventure with new pupils and unanticipated hurdles.
PURPOSE AND VALUE OF LESSON PLANNING | DAILY LESSON PREPARATION
Teaching is a process that includes the instructional tasks that a teacher carries out in the classroom. It is founded on preparation, particularly lesson preparation. Consequently, a lesson plan is a thorough schedule created by the teacher ahead of time for the daily teaching. It aids the teacher in providing organized and successful instruction. It may include objectives, points to be made, questions to be posed, references to materials, tasks, etc. A lesson plan is a teaching outline of the key elements of a lesson that are organized in the order in which they are to be given.
Lesson planning does not have a single "best way." Any lesson plan should be learned to write, modify, and improve on certain core components regardless of its format or template. The teacher consistently completes the instructional procedures and goals through lesson planning. It increases the potential for adaptation in classroom settings, which improves the effectiveness of instruction. It aids in remembering each step of a unit's curriculum. It aids in structuring the teaching process based on individual differences, motivation, and control of the class.
To define daily lesson preparation, a Lesson Plan is:
Teaching with certainty. The creation of a lesson plan helps the teacher better understand the subject of instruction. He feels more confident as a result of this. He now imparts the new information to the students with greater excitement and delight. This brings life to the class.
Tools for improving teaching abilities. The lesson plan is a crucial tool for helping student teachers hone their teaching abilities.
Order in the classroom. The teacher knows what, when, and how much work needs to be done in the class by creating a lesson plan. He engages each student in their assigned work. It has a noticeable impact on classroom discipline.
Control over teaching and learning. The idea of managing teaching-learning is represented by a lesson plan. Making the instruction impressive helps to accomplish the learning objectives. A successful lesson plan plays a significant role in the success of teaching.
Organization and intellectual growth. The instructor can accomplish the learning objectives while presenting the material in an organized manner thanks to the lesson plan, which fosters orderliness and growth in the students' thinking.
Utilization of Theoretical Knowledge in Education. Lesson plans enable student teachers to put the theoretical knowledge they've acquired during their training into practice in the classroom. It aids in giving theoretical knowledge a concrete form.
Time and energy efficiency. By creating a lesson plan, the instructor can successfully dispel the students' worries by presenting the new information to them in a correct sequence.
Based on prior knowledge. The lesson plan makes it easy for the students to learn while the teacher achieves his goals since it allows the teacher to offer new information based on the students' prior knowledge.
Update of Knowledge. The lesson is summarized by the teacher, and students can review the lesson by reading it.
Limitations of the Topic. The teacher can skip over irrelevant material thanks to the limited topic matter. As he only recalls specific and limited information, its presentation is made simple.
Making of material aids. The teacher chooses the methods, tactics, techniques, tools, and aids to be used while creating a lesson plan. Before beginning the teaching assignment, he does all of the essential and useful preparations.
Analysis is conceivable. The evaluation component of a lesson plan allows the teacher to see how his instruction has impacted the students. Additionally, it examines the teacher's strategies, tactics, techniques, and aids so that he can adjust them as necessary.
Psychological instruction. The instructor uses teaching strategies, techniques, tactics, and tools while creating lesson plans, keeping in mind the students' interests, needs, capacities, and abilities. Teaching becomes more psychological as a result.
Suitable surroundings. A lesson plan specifies the objectives and predetermines the instructional strategies, tactics, procedures, and material support, among other things. The students become more engaged in the class as a result. It aids in establishing a suitable environment. The process of teaching is meticulously organized.
Establishing the Activities. According to the class level, a lesson plan predetermines the teacher's and students' activities. What the student and the teacher are expected to do in class has been decided. This gives the instructional activities purpose and significance. The teacher and student collaborate to create the lesson.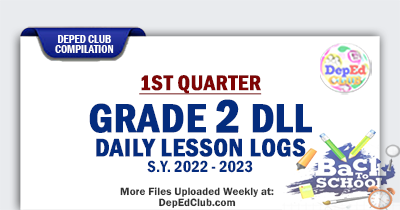 1st Quarter Grade 2 Daily Lesson Log | SY 2022 – 2023 DLL Update!
(Update!) Week 1 DLL – 1st Quarter Grade 2 Daily Lesson Log
(August 22 – 26, 2022)
(Update!) Week 2 DLL – 1st Quarter Grade 2 Daily Lesson Log
(August 29 – September 2, 2022)
(Update!) Week 3 DLL – 1st Quarter Grade 2 Daily Lesson Log
( September 5 – 9, 2022)
(Update!) Week 4 DLL – 1st Quarter Grade 2 Daily Lesson Log
(September 12 – 16, 2022)
(Update!) Week 5 DLL – 1st Quarter Grade 2 Daily Lesson Log
(September 19 – 23, 2022)
(Update!) Week 6 DLL – 1st Quarter Grade 2 Daily Lesson Log
(September 26 – 30, 2022)
(Update!) Week 7 DLL – 1st Quarter Grade 2 Daily Lesson Log
(October 3 – 7, 2022)
(Update!) Week 8 DLL – 1st Quarter Grade 2 Daily Lesson Log
(October 10 – 14, 2022)
(Update!) Week 9 DLL – 1st Quarter Grade 2 Daily Lesson Log
(October 17 – 21, 2022)
(Update!) Week 10 DLL – 1st Quarter Grade 2 Daily Lesson Log
(October 24 – 28, 2022)
See Also:
Featured Article:
More Files uploaded Weekly. Bookmark this page for instant access. Just Press CTRL + D in your keyboard to add this page to your bookmarks.
Also Available!
IMPORTANT: HOW TO DOWLOAD FILES IN GOOGLE DRIVE
FOR MS OFFICE FILES:
1. Click on the file link in our website.

2. You will be redirected to the file location via Google Drive.

3. On the upper left side of your screen, Go to FILE menu. Click DOWNLOAD, then Select Microsoft Word for the editable file format.
FOR OTHER FILES:
1. On the upper right hand corner of your screen, look for the Down Arrow Download Button just as below:

If you encounter an Error while downloading the files, please Log-in to your Gmail account (Here – mail.google.com) , then try again to click the Download Link in Google Drive. Thank you.
Additional files to be uploaded soon.
We are always on the process of uploading new files.
For additional updates and unannounced uploads, please visit this section from time to time.
Like us on Facebook to get INSTANT UPDATES. CLICK HERE
You can also BOOKMARK this page in your web browser by clicking Ctrl+D in your keyboard for faster access in the future. Thank you fellow Teachers.
We at DepEd Teachers Club are always grateful to all our File Authors and File Contributors. Credit goes to all of them. Let us all give them thanks and show our support for all their works.
We are also thankful for all our File Editors, Sharers, Tech Volunteers and fellow Teachers for helping us and making this kind of service possible.
MORE DOWNLOADABLE FILES