Was this helpful?
Teachers have to plan and adapt educational processes including adjusting teaching methods, teaching and learning plans, designing learning materials but also have to take part in activities to safeguard students' educational resources. That's why to help with all the tasks at hand, we have uploaded our 1st Quarter Grade 2 Daily Lesson Log | SY 2022 – 2023 DLL.
Thanks to all our Contributors, File Editors and Tech Volunteers who managed our website contents as well as our social media accounts selflessly without reservations. Thanks to all of you for your continued support and your collective notions.
And now as we start on another journey with new students and new challenges that are yet to come, we shall stick together as one – a solid DepEd Teachers Club.
No Teacher is left behind.
Activities for Grade 2 Learners
Most children are natural scientists—they enjoy exploring, asking questions, playing with new objects, experimenting with different senses, observing, or using inventions to solve problems. Activities for Grade 2 science builds upon this innate curiosity by providing students the time, skills, and structures to formulate and investigate their questions. Grade 2 students are expected to learn both the content and process of science. Effective science activities for grade 2 reflect a balanced, comprehensive approach that includes the teaching of investigation and experimentation skills along with direct instruction. Key elements of a balanced science activities for grade 2 include explicit teaching of science content and concepts, identifying students' prior knowledge, and addressing student misconceptions. Investigation skills should also be highlighted, with students encouraged to find answers or reach conclusions using their own experiences or observations. High-quality science instruction should also develop students' command of the academic language of science and use standards-based connections with other core subjects to reinforce science teaching and learning.

Students who have met the science standards for Grade 2 know how to classify, compare, sort, and identify common objects. They use descriptive language when recording observations, measurements, and predictions about the properties of materials. In physical science activities for grade 2, students began the study of the properties of matter and its transformations, building a foundation for making observations and measurements primarily based on physical properties. Observational skills and vocabulary were emphasized in life science. Students learn to describe the appearance and behavior of different animals and plants and explored related informational texts to enrich their observations of plants and animals. In earth science, students were introduced to the many different features and characteristics of Earth: mountains, rivers, ocean, valleys, deserts, and local landforms. They learned how changes in weather occurred from day to day and season to season and how these changes affected Earth and its inhabitants. They know that Earth contains resources for humans and that human consumption leads to waste that must be disposed of. Students are able to observe common objects by using their five senses, describe the properties of these objects, and compare and sort objects by at least one physical attribute (e.g., color, shape, texture, size, weight).

In activities for grade 2, students learn how to communicate their observations both orally and through drawings. Students learn about the properties of solids, liquids, and gases and use words and drawings to record their observations about various objects. They deepen their understanding of the needs and structures of plants and animals. Students also continue their study of weather, observing, measuring, and recording weather conditions regularly to learn more about day-to-day and seasonal changes. They use simple tools and technology, with adult assistance provided as necessary.

In activities for grade 2, students respond to who, what, when, where, and how questions. They expand their vocabulary by learning appropriate grade-level scientific terms (such as freezing, melting, heating, dissolving, and evaporating). They participate in classroom discussions to share ideas and evidence and learn to reevaluate their thinking when presented with new evidence. They make new observations when discrepancies exist between two descriptions of the same object or phenomenon. Science learning is facilitated by hands-on activities for grade 2 and games that include explicit teaching of scientific concepts and vocabulary.
We at DepEd Teachers Club are always on the process of uploading 1st Quarter Grade 2 Daily Lesson Log | SY 2022 – 2023 DLL. As requested, here are the file links. The remaining files will be uploaded soon. Please check this section from time to time.
Download these files for Free. No Adfly. Virus Free. Safer. Faster.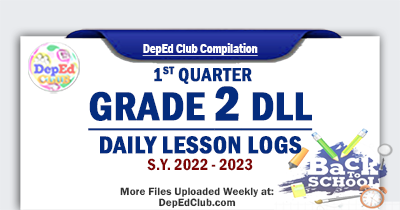 1st Quarter Grade 2 Daily Lesson Log | SY 2022 – 2023 DLL Update!
(Update!) Week 1 DLL – 1st Quarter Grade 2 Daily Lesson Log
(August 22 – 26, 2022)
(Update!) Week 2 DLL – 1st Quarter Grade 2 Daily Lesson Log
(August 29 – September 2, 2022)
(Update!) Week 3 DLL – 1st Quarter Grade 2 Daily Lesson Log
( September 5 – 9, 2022)
(Update!) Week 4 DLL – 1st Quarter Grade 2 Daily Lesson Log
(September 12 – 16, 2022)
(Update!) Week 5 DLL – 1st Quarter Grade 2 Daily Lesson Log
(September 19 – 23, 2022)
(Update!) Week 6 DLL – 1st Quarter Grade 2 Daily Lesson Log
(September 26 – 30, 2022)
More Files uploaded Weekly. Bookmark this page for instant access. Just Press CTRL + D in your keyboard to add this page to your bookmarks.
Also Available!
IMPORTANT: HOW TO DOWLOAD FILES IN GOOGLE DRIVE
FOR MS OFFICE FILES:
1. Click on the file link in our website.

2. You will be redirected to the file location via Google Drive.

3. On the upper left side of your screen, Go to FILE menu. Click DOWNLOAD, then Select Microsoft Word for the editable file format.
FOR OTHER FILES:
1. On the upper right hand corner of your screen, look for the Down Arrow Download Button just as below:

If you encounter an Error while downloading the files, please Log-in to your Gmail account (Here – mail.google.com) , then try again to click the Download Link in Google Drive. Thank you.
Additional files to be uploaded soon.
We are always on the process of uploading new files.
For additional updates and unannounced uploads, please visit this section from time to time.
Like us on Facebook to get INSTANT UPDATES. CLICK HERE
You can also BOOKMARK this page in your web browser by clicking Ctrl+D in your keyboard for faster access in the future. Thank you fellow Teachers.
We at DepEd Teachers Club are always grateful to all our File Authors and File Contributors. Credit goes to all of them. Let us all give them thanks and show our support for all their works.
We are also thankful for all our File Editors, Sharers, Tech Volunteers and fellow Teachers for helping us and making this kind of service possible.
MORE DOWNLOADABLE FILES
Was this helpful?