Both the location and the content of your bulletin board display matter. There are actually a variety of locations that work well, despite the misconception among many teachers that a bulletin board display may only be put on a wall. If you're organizing your 3rd Quarter Bulletin Board Display, think about some of the following locations: Classroom entrance, side of a tall filing cabinet, closet door, traveling board, teacher's desk, below the blackboard, and on the wall.
If your bulletin board display is interactive or instructional in nature, always make sure that your students can see and quickly access the display. A bulletin board's usefulness can depend on its location.
Space is at a premium in today's classrooms. Class sizes are increasing, while storage and classroom space are decreasing. Making advantage of wall space is a terrific method to improve learning opportunities whether you teach in a self-contained classroom or one where students circulate during the day. The most challenging decision of all can be deciding what to post and where. When choosing a topic for a bulletin board display, there are a few things to consider. Initially, consider any local or state mandates. When selecting a theme, keep in mind any ongoing units and topics that are being covered. It can be easier to transfer lessons and primary ideas when a bulletin board is coordinated with an active conceptual unit.
Some teachers favor having constant bulletin board displays all year long, changing only the subject's material. Even though the topics themselves will change, keeping a mathematics bulletin board or a board with writing prompts up all year can still provide continuity. Students who want a stable environment to concentrate on their work should pay particular attention to this. Accept it wholeheartedly, whatever concept or subject you pick. If there isn't enough energy and originality behind the execution of a carefully planned bulletin board topic, it will fail miserably. The preparation and energy put into making the bulletin board are more significant than the concept of the board itself.
We are always on the process of uploading 3rd Quarter Bulletin board display. Here are the URLs to the files as asked. Soon, the rest of the files will be uploaded. Please occasionally check this section.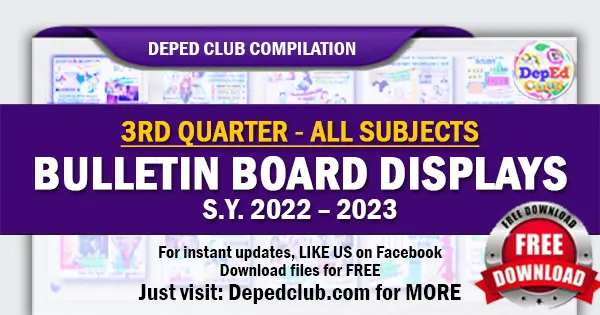 More! 3rd Quarter Bulletin Board Display
S.Y. 2022-2023
ALSO AVAILABLE:
IMPORTANT GUIDE:
MORE DOWNLOADABLE FILES
Activities for Students | Classroom Observation Tools | Daily Lesson Log | Diagnostic Test | Exams | Inspirational Stories | Instructional Materials | Learners Material | Periodical Tests | Powerpoint Presentations | RPMS | Short Stories | Summative Tests | Weekly Daily Lesson Log | Weekly Home Learning Plan | Weekly Learning Plan | Workbooks
/ Learning Materials / Learners Materials / Instructional Materials
We are always on the process of uploading new files.
For additional updates and unannounced uploads, please visit this section from time to time.
Like us on Facebook to get INSTANT UPDATES. CLICK HERE
You can also BOOKMARK this page in your web browser by clicking Ctrl+D in your keyboard for faster access in the future. Thank you fellow Teachers.
We at DepEd Teachers Club are always grateful to all our File Authors and File Contributors. Credit goes to all of them. Let us all give them thanks and show our support for all their works.
We are also thankful for all our File Editors, Sharers, Tech Volunteers and fellow Teachers for helping us and making this kind of service possible.