To help teachers with their classroom design that is visually pleasant and informative, we have uploaded our Kindergarten Bulletin Board Displays – 3rd Quarter.
When designing the physical layout of the classroom, it is important to take into account the resources that will be on show there. Avoid using displays that crowd the learning areas for students. By featuring exhibits of children's work, a visually pleasant atmosphere honors and values their labor. Students can then feel appreciated for the contributions they make to the learning environment to which they belong. The teacher has to work hard and the students are overstimulated by crowded walls. Often, less is more.
Think about setting up sections of the classroom for busy, quiet, clean, and dirty activities. Place places that are similar next to one another. For instance, dynamic activities like a block area and a theatrical play area might be put close together, whereas a reading room requires a more calm location.
Place materials that are simple for pupils to obtain in each area. Put the labels on storage containers like baskets, boxes, and drawers so that kids can see them. Place theatrical play spaces and block zones in corners. Display children's creations on the walls rather than commercial items. Present your work at the kids' eye level. Include workstations on the floors, tables, walls, and other surfaces inside and outside the classroom.
Instead of overloading with too much at once, add resources to sections gradually as needed. Remove any things that are not necessary. Place places that need to be cleaned up near a water source where kids can easily get the supplies and help with the cleanup. Some locations might need to be close to a place where paint and brush storage can be kept.
Place structures like art easels next to each other to create interactive spaces that foster the development of oral language. This will allow kids to engage and share while working on a comparable activity. Depending on the items being utilized, vary the amount of space necessary for each section. Establish the layout of the classroom to guarantee that proper behavior, safety, and cleanup procedures are followed.
We are always on the process of uploading Kindergarten Bulletin Board Displays – 3rd Quarter. Here are the URLs to the files as asked. Soon, the rest of the files will be uploaded. Please occasionally check this section.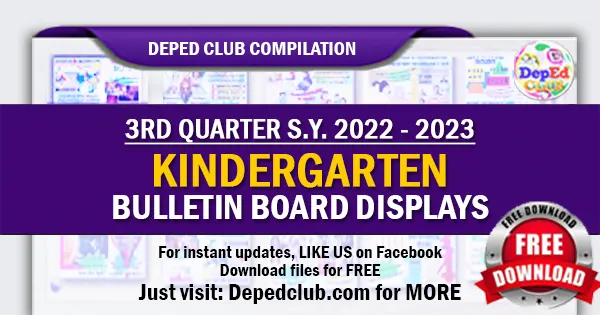 Kindergarten Bulletin Board Displays – 3rd Quarter
3rd Quarter – Kindergarten Bulletin Board Displays / Charts
IMPORTANT GUIDE:
MORE DOWNLOADABLE FILES
Activities for Students | Classroom Observation Tools | Daily Lesson Log | Diagnostic Test | Exams | Inspirational Stories | Instructional Materials | Learners Material | Periodical Tests | Powerpoint Presentations | RPMS | Short Stories | Summative Tests | Weekly Daily Lesson Log | Weekly Home Learning Plan | Weekly Learning Plan | Workbooks
/ Learning Materials / Learners Materials / Instructional Materials
We are always on the process of uploading new files.
For additional updates and unannounced uploads, please visit this section from time to time.
Like us on Facebook to get INSTANT UPDATES. CLICK HERE
You can also BOOKMARK this page in your web browser by clicking Ctrl+D in your keyboard for faster access in the future. Thank you fellow Teachers.
We at DepEd Teachers Club are always grateful to all our File Authors and File Contributors. Credit goes to all of them. Let us all give them thanks and show our support for all their works.
We are also thankful for all our File Editors, Sharers, Tech Volunteers and fellow Teachers for helping us and making this kind of service possible.