To assist teachers in creating an engaging learning environment that draws and inspires students, we have uploaded our Grade 6 Bulletin Board Displays – 3rd Quarter.
What makes an effective Bulletin Board Display?
With shifting progressive approaches that prioritize student involvement, further learning, and topic interaction, classrooms traditionally show examples of printed banners and teacher-generated infographics on the walls. In today's schools, interactive screens are becoming more prevalent. Students are considerably more inclined to pay attention to an interactive display if they have to interact with it as opposed to just passively seeing it. The level of participation might vary from just having students present their own work to writing or recording open-ended questions and responses, developing a game or competition around the display, or utilizing the show as a summary to reinforce learning on a particular theme.
By designing displays with a multisensory approach, learning may be produced that involves visual, aural, and physical activities where students gaze, read, discuss, document, think, and touch. Students are encouraged to appreciate a visually appealing learning environment and to engage outside of their class textbooks in this print-rich setting, which also helps topic and language acquisition.
What makes an effective Bulletin Board Display? Display goes beyond simply hanging a few photographs or posters to give the room a pleasing aesthetic. It's a beautiful assortment of items that have been thoughtfully assembled with a focus on teaching. An engaging learning environment that draws and inspires students of all ages can be produced by a well-designed classroom display that is periodically refreshed. A theme that is firmly centered on student learning characterizes an effective Bulletin Board Display.
Teachers might have to modify their conception of a conventionally effective display and innovate regarding where and how to set up their displays. The work of the students can also be displayed in this way by utilizing the panes or the back of the entrance. For high school, there is also the option of storing their work in a portfolio, which may subsequently be shown to parents as proof of their involvement, ongoing development, and academic level at later parent-teacher conferences.
What to show on Bulletin Board Displays. The learning of students is most likely to be prolonged by those displays that contain an in-depth investigation of a topic from a range of subject viewpoints, despite the fact that historically displays have concentrated on subject areas or specific themes, such as the cycles of the school year.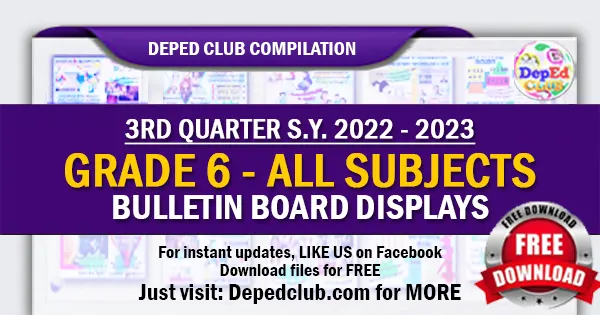 More! Grade 6 Bulletin Board Displays – 3rd Quarter
3rd Quarter – Grade 6 Bulletin Board Displays
I
IMPORTANT GUIDE:
MORE DOWNLOADABLE FILES
Activities for Students | Classroom Observation Tools | Daily Lesson Log | Diagnostic Test | Exams | Inspirational Stories | Instructional Materials | Learners Material | Periodical Tests | Powerpoint Presentations | RPMS | Short Stories | Summative Tests | Weekly Daily Lesson Log | Weekly Home Learning Plan | Weekly Learning Plan | Workbooks
/ Learning Materials / Learners Materials / Instructional Materials
We are always on the process of uploading new files.
For additional updates and unannounced uploads, please visit this section from time to time.
Like us on Facebook to get INSTANT UPDATES. CLICK HERE
You can also BOOKMARK this page in your web browser by clicking Ctrl+D in your keyboard for faster access in the future. Thank you fellow Teachers.
We at DepEd Teachers Club are always grateful to all our File Authors and File Contributors. Credit goes to all of them. Let us all give them thanks and show our support for all their works.
We are also thankful for all our File Editors, Sharers, Tech Volunteers and fellow Teachers for helping us and making this kind of service possible.