To assist teachers with their classroom design to aid in student learning and knowledge retention, we have uploaded our Grade 1 Bulletin Board Displays – 3rd Quarter.
Types of Bulletin Board Displays
Display, informational, and interactive bulletin board displays are the three basic types that can be set up in your classroom. Each one of them has the ability to be easily displayed, as well as those made into traveling boards. How involved your kids are with the board once it is finished depends on the kind of bulletin board you use.
Display Boards. Display bulletin boards serve the purpose for which they were named. They showcase student work. In order to display student work on a new unit or subject, display boards are frequently used in the corridors outside of the classrooms. Because the content is student-generated, they typically don't require a lot of planning or other materials. The work on exhibit needs to be changed frequently to keep the bulletin board from looking outdated.
Informational Boards. Your students will benefit from the new material being presented in a visually appealing way to aid in learning and retention. Any topic can be the subject of a discussion board. In addition to wallboards, they are perfect for mobile bulletin boards. Limiting visual clutter and putting a big, bold piece of paper behind the text or images that are most crucial for pupils to focus on can help them concentrate on the stuff that is most crucial. The students' eyes will be drawn to the areas you want them, thanks to this type of bulletin board.
Interactive boards. A bulletin board that allows children to interact with manipulatives directly is said to be interactive. There are particular factors that should be considered even though it could appear like a simple thing to construct. The board should have explicit guidance on how to engage with it, it should be durable, easy to use and visually appealing.
We are always on the process of uploading Grade 1 Bulletin Board Displays – 3rd Quarter. Here are the URLs to the files as asked. Soon, the rest of the files will be uploaded. Please occasionally check this section.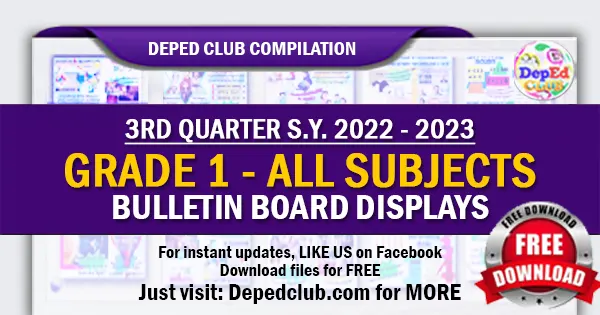 More! Grade 1 Bulletin Board Displays – 3rd Quarter
3rd Quarter – Grade 1 Bulletin Board Displays
IMPORTANT GUIDE:
MORE DOWNLOADABLE FILES
Activities for Students | Classroom Observation Tools | Daily Lesson Log | Diagnostic Test | Exams | Inspirational Stories | Instructional Materials | Learners Material | Periodical Tests | Powerpoint Presentations | RPMS | Short Stories | Summative Tests | Weekly Daily Lesson Log | Weekly Home Learning Plan | Weekly Learning Plan | Workbooks
/ Learning Materials / Learners Materials / Instructional Materials
We are always on the process of uploading new files.
For additional updates and unannounced uploads, please visit this section from time to time.
Like us on Facebook to get INSTANT UPDATES. CLICK HERE
You can also BOOKMARK this page in your web browser by clicking Ctrl+D in your keyboard for faster access in the future. Thank you fellow Teachers.
We at DepEd Teachers Club are always grateful to all our File Authors and File Contributors. Credit goes to all of them. Let us all give them thanks and show our support for all their works.
We are also thankful for all our File Editors, Sharers, Tech Volunteers and fellow Teachers for helping us and making this kind of service possible.