To assist teachers with classroom displays that showcase relevant topics that also piques students' interest, we have uploaded our Grade 2 Bulletin Board Displays – 3rd Quarter.
Creating a bulletin board display
Nobody ever claimed that creating a bulletin board was simple. The possibilities for building a fantastic bulletin board normally fall into two categories: make it yourself and buy it outright.
Saving money by making your own bulletin board is possible, but it will take a lot more time and effort while you look for the necessary materials. Fortunately, a lot of teachers are creative individuals. If you know where to look, you may find some of the best supplies and materials for your boards for practically nothing.
Making everything from scratch might sound like a great idea, but unless you have extra time in the day, there is simply not enough time! A bulletin board that allows for student interaction with manipulatives is called an interactive board. Although it could seem simple to design, there are several things that need to be kept in mind.
Accessibility. Students can't benefit from an engaging bulletin board if they can't access it. When designing such a board, be sure it is at their line of sight and is simple enough for little hands to use. To make it work, you might need to cover the space beneath the typical bulletin board part because most bulletin board frames are at an adult's eye level.
Colorful. The secret to keeping kids interested in interactive bulletin boards is visual attraction. The interest of kids will not be maintained by dull, plain boards with little color or aesthetic appeal. Even if the subject being presented is fascinating, pupils will get bored and disinterested very quickly. Spend some time making your bulletin board presentation visually appealing by using matched colors.
Durability. Make sure the material you pick is durable enough to survive a lot of handling if kids will be modifying objects on the actual bulletin board (e.g., connecting photographs of their peers to hobbies they enjoy). Materials that students will touch should be laminated, and you should use the strongest Velcro or adhesive you can find. You can avoid spending time on repairs over the length of the bulletin board's display life by building it from the beginning with durable materials.
Instructions. Clear, succinct instructions that are simple for your pupils to read and understand should be posted on interactive bulletin boards. Consider recording the instructions and letting pupils listen to them as needed if some of your students require further reading assistance. When deciding on activities and interaction needs, keep in mind that an interactive bulletin board should serve as a standalone workstation for students.
We are always on the process of uploading Grade 2 Bulletin Board Displays – 3rd Quarter. Here are the URLs to the files as asked. Soon, the rest of the files will be uploaded. Please occasionally check this section.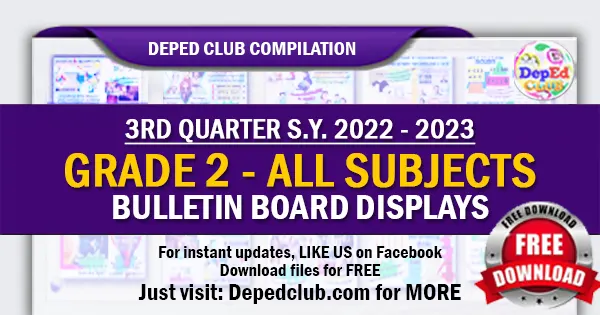 More! Grade 2 Bulletin Board Displays – 3rd Quarter
3rd Quarter – Grade 2 Bulletin Board Displays
IMPORTANT GUIDE:
MORE DOWNLOADABLE FILES
Activities for Students | Classroom Observation Tools | Daily Lesson Log | Diagnostic Test | Exams | Inspirational Stories | Instructional Materials | Learners Material | Periodical Tests | Powerpoint Presentations | RPMS | Short Stories | Summative Tests | Weekly Daily Lesson Log | Weekly Home Learning Plan | Weekly Learning Plan | Workbooks
/ Learning Materials / Learners Materials / Instructional Materials
We are always on the process of uploading new files.
For additional updates and unannounced uploads, please visit this section from time to time.
Like us on Facebook to get INSTANT UPDATES. CLICK HERE
You can also BOOKMARK this page in your web browser by clicking Ctrl+D in your keyboard for faster access in the future. Thank you fellow Teachers.
We at DepEd Teachers Club are always grateful to all our File Authors and File Contributors. Credit goes to all of them. Let us all give them thanks and show our support for all their works.
We are also thankful for all our File Editors, Sharers, Tech Volunteers and fellow Teachers for helping us and making this kind of service possible.