To help teachers in in creating lesson plans that get students engaged in class, we are constantly uploading our ready-made Week 6 – Quarter 3 Daily Lesson Log | March 20-24, 2023 DLL Update! Our long-term goal is to consistently update and publish our ready-made weekly K–12 Daily Lesson Logs. Just visit this page regularly for the latest uploads.
We are grateful to all of our Contributors, File Editors, and Tech Volunteers who worked sacrificially and without hesitation to manage the content of our website and social media accounts. Thank you to everyone for your continued support.
How to Catch Students' Attention – Anticipatory Sets
Students won't learn if they are not paying attention to the instructions being offered. Anticipatory sets are a great tool for focusing students' attention on the lesson's subject.
Anticipatory sets are a very powerful tool and it has been proven that anticipatory sets, often known as bell ringers or hooks are one of the most efficient and adaptable strategies to get students engaged about a certain subject.
Anticipatory sets were created to direct students' attention to the material they will be discussing in class. The teacher uses actions and remarks during the anticipatory set to connect the students' experiences to the lesson's goals. At this stage of the lecture, the instructor prepares the pupils to be receptive.
The anticipatory set's goal is to direct pupils' attention to the lesson. For the sake of enhancing comprehension and the application of abstract concepts through the use of examples or analogies, it may establish an organizing framework for the concepts, rules, or other material presented in the lesson. Any time a new action or idea needs to be introduced, the "hook" can be used.
The duration of an anticipatory set activity should be limited to the time necessary to get pupils ready so that the current aim can be completed within the majority of the instructional period. More than simply words and dialogue with the children make up anticipatory sets. To get students involved and actively engaged in the class, they can incorporate a quick activity or question-and-answer period.
An anticipatory set captures students' attention and concentrates it on the lesson at hand. Students' focus is directed toward the learning process when there is an activity connected to the material they will learn. Additionally, an anticipatory set can create a state of preparedness or expectation for what is to come. The anticipatory set must grab students' interest in order for it to succeed. Otherwise, it can have the reverse effect and divert the attention of the students from the subject.
An anticipatory set is an exercise that primes and energizes pupils for the current lecture. Some or all of the following describe what an efficient anticipatory set does:
Makes use of students' existing knowledge in relation to the present lesson.
Identifies areas where students' knowledge and comprehension are lacking in relation to the lesson at hand.
Introduces new words related to the lesson at hand.
Sparks student interest in a particular topic covered in the current class.
Connects a learning aim to the lesson at hand.
Motivatedly explains to kids what they are about to study.
Encourages students to support a method or procedure that is employed in class.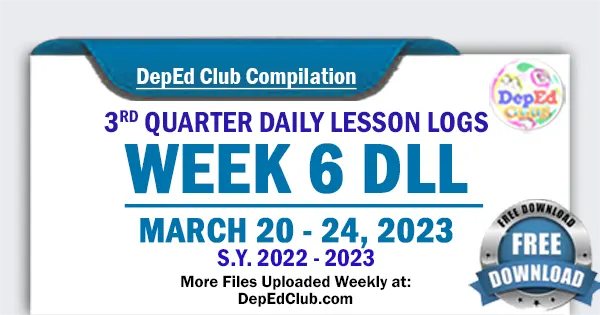 Week 6 – Quarter 3 Daily Lesson Log |
March 20-24, 2023 DLL Update!
Kindergarten Daily Lesson Log – 2nd Quarter
Grade 1 Daily Lesson Log – 3rd Quarter
Grade 2 Daily Lesson Log – 3rd Quarter
Grade 3 Daily Lesson Log – 3rd Quarter
Grade 4 Daily Lesson Log – 3rd Quarter
Grade 5 Daily Lesson Log – 3rd Quarter
Grade 6 Daily Lesson Log – 3rd Quarter
See Also:
More Files uploaded Weekly. Bookmark this page for instant access. Just Press CTRL + D in your keyboard to add this page to your bookmarks.
Also Available!
IMPORTANT GUIDE:
MORE DOWNLOADABLE FILES
Activities for Students | Classroom Observation Tools | Daily Lesson Log | Diagnostic Test | Exams | Inspirational Stories | Instructional Materials | Learners Material | Periodical Tests | Powerpoint Presentations | RPMS | Short Stories | Summative Tests | Weekly Daily Lesson Log | Weekly Home Learning Plan | Weekly Learning Plan | Workbooks
/ Learning Materials / Learners Materials / Instructional Materials
We are always on the process of uploading new files.
For additional updates and unannounced uploads, please visit this section from time to time.
Like us on Facebook to get INSTANT UPDATES. CLICK HERE
You can also BOOKMARK this page in your web browser by clicking Ctrl+D in your keyboard for faster access in the future. Thank you fellow Teachers.
We at DepEd Teachers Club are always grateful to all our File Authors and File Contributors. Credit goes to all of them. Let us all give them thanks and show our support for all their works.
We are also thankful for all our File Editors, Sharers, Tech Volunteers and fellow Teachers for helping us and making this kind of service possible.