To help teachers identify and address any issues with their lessons and teaching approaches and help students with their learning development with respect to the learning standards, our collection of 3rd Periodical Test with TOS Compilation | SY 2022 – 2023 Update + MELC-Based Periodical Tests is available here. We want to finish uploading all of the MELC-Based K-12 Periodical Tests All Subjects so that we may make them available to all teachers in need of them.
Additional student assessment files and periodical tests will soon be uploaded.
The download links for the K-12 Periodical Tests All Subjects are at the end of this post. Please take a moment to read the article below for background information on the K–12 curriculum.
Classroom Assessment in Relation to External Evaluations
The known division between formative and summative assessment and the divide between external and classroom assessment are closely related. Comparisons are made between the summative use of evaluation data by outsiders to make final judgments about funding or adopting a program and the formative use of evaluation input when utilized internally to improve a program or product.
External evaluations are frequently used for summative reasons such widespread monitoring of achievement patterns, school accountability, funding for schools, and confirmation of student competency levels. When curriculum changes are made based on assessment findings, for instance, external exams are occasionally used formatively at the program level. However, large-scale assessments are rarely used to refocus and enhance instruction for specific students.
The primary goal of classroom assessment, on the other hand, should be formative, with a focus on assisting students in moving forward with their learning rather than evaluating their final levels of success. Even yet, summative assessment should be a regular component of the classroom routine, especially for older pupils, as it is a natural element of the learning process. Students should have practice giving final presentations and looking over a body of work to reflect on what they have learned, just as they understand the difference between their first draft and final versions of their writing.
Summative data is crucial for reporting to parents, and classroom assessment can yield more insightful data about students' development than outside tests. Even if they have been modified to include more open-ended tasks and collaborative problem solving, external examinations typically mandate consistency of content and standardization of procedures.
Large-scale assessments require standardization to ensure that numbers are meaningful in all circumstances, not because of some lingering positivist presumption of purely objective truth, but rather as a matter of basic justice. To ensure comparability of school outcomes, for instance, content and administration practices must be standardized if a national assessment is to be used for school accountability. It should be administered at the same predetermined period of year where everyone takes the same grade-level exam.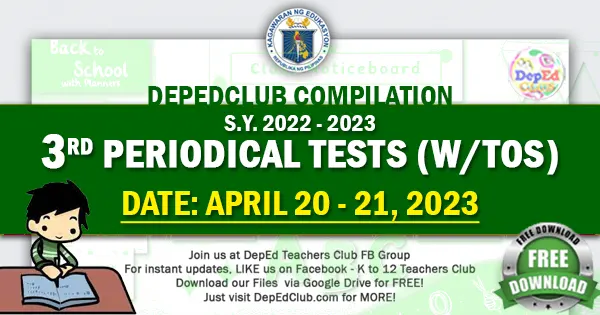 Update! 3rd Periodical Test with TOS Compilation
SY 2022 – 2023
---
Coming Soon!
Just refresh this page for updates!
GRADE 7 – 3rd Periodical Tests
GRADE 8 – 3rd Periodical Tests
GRADE 9 – 3rd Periodical Tests
GRADE 10 – 3rd Periodical Tests
---
SENIOR HIGH SCHOOL – 3rd Periodical Tests
See Also:
More Files uploaded Weekly. Bookmark this page for instant access. Just Press CTRL + D in your keyboard to add this page to your bookmarks.
Also Available!
IMPORTANT GUIDE:
MORE DOWNLOADABLE FILES
Activities for Students | Classroom Observation Tools | Daily Lesson Log | Diagnostic Test | Exams | Inspirational Stories | Instructional Materials | Learners Material | Periodical Tests | Powerpoint Presentations | RPMS | Short Stories | Summative Tests | Weekly Daily Lesson Log | Weekly Home Learning Plan | Weekly Learning Plan | Workbooks
/ Learning Materials / Learners Materials / Instructional Materials
We are always on the process of uploading new files.
For additional updates and unannounced uploads, please visit this section from time to time.
Like us on Facebook to get INSTANT UPDATES. CLICK HERE
You can also BOOKMARK this page in your web browser by clicking Ctrl+D in your keyboard for faster access in the future. Thank you fellow Teachers.
We at DepEd Teachers Club are always grateful to all our File Authors and File Contributors. Credit goes to all of them. Let us all give them thanks and show our support for all their works.
We are also thankful for all our File Editors, Sharers, Tech Volunteers and fellow Teachers for helping us and making this kind of service possible.