To assist teachers with classroom displays that showcase relevant topics that also piques students' interest, we have uploaded our Grade 3 Bulletin Board Displays – 3rd Quarter.
Classroom Environment
If the environment is print-rich, learning for children can be supported and improved. This comprises unambiguous labels, important terminology, alphabet lines, days of the week, questions, and learning prompts, among other things. Every classroom ought to have a space set aside for reading, complete with book containers or shelves that are clearly labeled.
When the environment is rich in numeracy, learning will be supported and improved for kids. This also provides numeracy learning cues, such as the multiplication table currently being studied and numeracy vocabulary. Number lines and math tables ought to be available in the classroom.
Plans for the present are displayed by the teachers. Displays that are evenly distributed are made everywhere. These consist of interactive displays that staff members utilize as teaching tools and that offer the kids reference materials.
Additionally, there should be at least one functional wall for Math and English in each classroom, as well as a learning journey for a current issue. For visitors to the school, particularly parents, displays are a vital source of information. Every effort is made to provide as much information as possible about the learning that went into producing the display.
Additionally, learning wall displays can be used by teachers. A learning wall is a display that changes over time and helps kids with their present learning. Children should be engaged by a learning wall throughout sessions so they can get help on their own rather than constantly needing to ask an adult for it. They assist kids in comprehending a unit's structure, its progression, and the connections between lessons in a certain subject. The beginning point and learning objectives of the lesson unit being taught are displayed on a display board using a learning wall. The purpose of the learning wall is to make the students active participants in the process by displaying what is being studied, why it is being taught, what will be accomplished, and how it will be accomplished.
We are always on the process of uploading Grade 3 Bulletin Board Displays – 3rd Quarter. Here are the URLs to the files as asked. Soon, the rest of the files will be uploaded. Please occasionally check this section.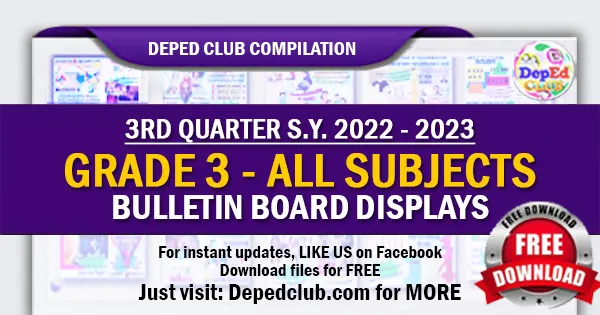 More! Grade 3 Bulletin Board Displays – 3rd Quarter
3rd Quarter – Grade 3 Bulletin Board Displays
IMPORTANT GUIDE:
MORE DOWNLOADABLE FILES
Activities for Students | Classroom Observation Tools | Daily Lesson Log | Diagnostic Test | Exams | Inspirational Stories | Instructional Materials | Learners Material | Periodical Tests | Powerpoint Presentations | RPMS | Short Stories | Summative Tests | Weekly Daily Lesson Log | Weekly Home Learning Plan | Weekly Learning Plan | Workbooks
/ Learning Materials / Learners Materials / Instructional Materials
We are always on the process of uploading new files.
For additional updates and unannounced uploads, please visit this section from time to time.
Like us on Facebook to get INSTANT UPDATES. CLICK HERE
You can also BOOKMARK this page in your web browser by clicking Ctrl+D in your keyboard for faster access in the future. Thank you fellow Teachers.
We at DepEd Teachers Club are always grateful to all our File Authors and File Contributors. Credit goes to all of them. Let us all give them thanks and show our support for all their works.
We are also thankful for all our File Editors, Sharers, Tech Volunteers and fellow Teachers for helping us and making this kind of service possible.