To assist teachers with classroom displays with different purposes, we have uploaded our Grade 4 Bulletin Board Displays – 3rd Quarter.
Purpose of Bulletin Board Displays
Less is more in most cases. If there are fewer displays, but they are of great quality, students will pay closer attention to them. To create a quiet and organized atmosphere in the classroom, both the walls and the shelves should have enough of empty space. Remind yourself to remove any obsolete or inactive children's displays. Objects hung from the ceiling can be quite distracting to students and even overwhelming.
Bulletin Board Displays should have a purpose. A clear learning objective should be served by each display. Is the purpose of hanging the students' work to show visitors to the classroom what they've learned? Or is it a project to demonstrate to students the variety of ideas they had? Will you frequently resort to a reference chart? Or is it something you only need occasionally? Don't put up a display if you're unsure of its intended use. This approach of thinking about displays will assist make the work you invest into making them worthwhile.
Children should be informed of the display's purpose. Inform students of the benefits a display can have on their education. Try to take note of all the various connections we have during the coming days. Take a look at the creative ways we displayed those.
Enable student work to prevail. Even if there may be a few commercial items that are deserving of display like a calendar, kids are more likely to connect with displays that they contributed in making. Most of the walls and shelf tops should be empty to start the year, and student work should be shown gradually. They'll understand that they own the space if you do this.
Here are some recommendations about how to present student work:
By creating exhibits with a variety of items, you can assist students in expanding their horizons. Children can see numerous approaches to do a task in this way when they attempt to learn new things.
Be inclusive to all. It can be tempting to simply show the work of pupils who write clearly recognized words or produce neat drawings because of the broad range of talents across students. All students should feel appreciated for their work by having it exhibited.
Let the students have a say. Children will value displays more if they have a say in what goes up to portray them.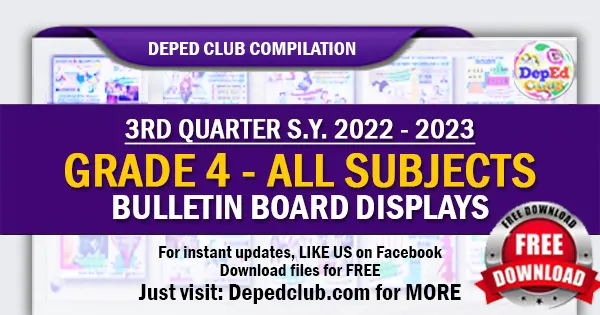 More! Grade 4 Bulletin Board Displays – 3rd Quarter
3rd Quarter – Grade 4 Bulletin Board Displays
I
IMPORTANT GUIDE:
MORE DOWNLOADABLE FILES
Activities for Students | Classroom Observation Tools | Daily Lesson Log | Diagnostic Test | Exams | Inspirational Stories | Instructional Materials | Learners Material | Periodical Tests | Powerpoint Presentations | RPMS | Short Stories | Summative Tests | Weekly Daily Lesson Log | Weekly Home Learning Plan | Weekly Learning Plan | Workbooks
/ Learning Materials / Learners Materials / Instructional Materials
We are always on the process of uploading new files.
For additional updates and unannounced uploads, please visit this section from time to time.
Like us on Facebook to get INSTANT UPDATES. CLICK HERE
You can also BOOKMARK this page in your web browser by clicking Ctrl+D in your keyboard for faster access in the future. Thank you fellow Teachers.
We at DepEd Teachers Club are always grateful to all our File Authors and File Contributors. Credit goes to all of them. Let us all give them thanks and show our support for all their works.
We are also thankful for all our File Editors, Sharers, Tech Volunteers and fellow Teachers for helping us and making this kind of service possible.