To assist teachers in creating a setting where the best learning can occur while taking into account children' developmental needs, we have uploaded our Grade 5 Bulletin Board Displays – 3rd Quarter.
Designing Physical Space in Classrooms
The best way for students to learn is by doing and actively interacting with the resources, tools, and other students in their educational environment. An environment where the best learning can take place is created by designing a physical space that takes into account students' developmental needs. The teacher's approach to guiding a student's growth and establishing the standards for student participation are influenced by the selection and arrangement of the classroom resources in the learning environment.
Children's learning theories and their working environment should be complementary. A developmentally appropriate classroom's layout design enables students to engage in activities such as reading, writing, listening, imaginative play, painting, numeracy, building with blocks, science, and more. It's crucial for the arrangement and structuring of the physical space in a classroom to ensure a balance between these different learning spaces.
Though they could have various aesthetics, schools should provide room for these learning zones so that students are able to walk around the space on their own to get the tools and supplies. In order to balance instructor and student-initiated activities, the physical environment should be designed to encourage individual and group participation.
All students need to have movement experiences, and these experiences shouldn't be restricted to the spatial context in the classroom or to specific topic areas. Learning must be meaningfully related to the outer world while experiencing the curriculum and the real world. As the activity reinforces, extends, and enriches a student's learning, it should permit involvement, up-close viewing and observation, touching, and asking at the child's level of understanding and deductive reasoning.
Learning areas such as Bulletin Board Displays will help during the school year to match the interests, learning objectives, projects, and themes of the students. The year-round operation of important learning domains including reading, writing, listening, arithmetic, and science contrasts with the rotation of other domains based on the demands of the curriculum. Daily time should be allotted for students to engage in learning activities in these areas. This might entail a rotational system that gives kids the chance to choose their own courses of study based on the designated subject areas. It's crucial to introduce learning materials gradually and to give kids enough time to get to know them before explaining their use to them.
It is the responsibility of the teacher to prevent youngsters from wandering aimlessly or sticking to one place. The daily schedule and organizational structure of the classroom should give children a sense of security while supporting and allowing them to take initiatives and cooperate with others to become self-assured and independent learners.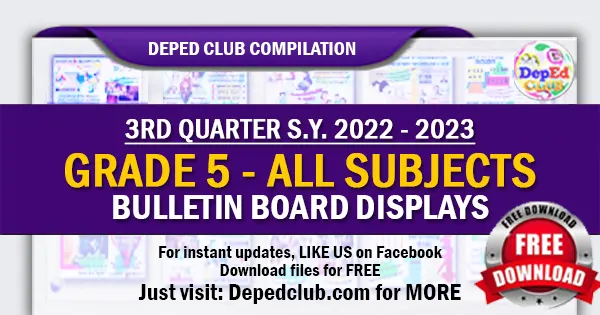 More! Grade 5 Bulletin Board Displays – 3rd Quarter
3rd Quarter – Grade 5 Bulletin Board Displays
I
IMPORTANT GUIDE:
MORE DOWNLOADABLE FILES
Activities for Students | Classroom Observation Tools | Daily Lesson Log | Diagnostic Test | Exams | Inspirational Stories | Instructional Materials | Learners Material | Periodical Tests | Powerpoint Presentations | RPMS | Short Stories | Summative Tests | Weekly Daily Lesson Log | Weekly Home Learning Plan | Weekly Learning Plan | Workbooks
/ Learning Materials / Learners Materials / Instructional Materials
We are always on the process of uploading new files.
For additional updates and unannounced uploads, please visit this section from time to time.
Like us on Facebook to get INSTANT UPDATES. CLICK HERE
You can also BOOKMARK this page in your web browser by clicking Ctrl+D in your keyboard for faster access in the future. Thank you fellow Teachers.
We at DepEd Teachers Club are always grateful to all our File Authors and File Contributors. Credit goes to all of them. Let us all give them thanks and show our support for all their works.
We are also thankful for all our File Editors, Sharers, Tech Volunteers and fellow Teachers for helping us and making this kind of service possible.