In our ongoing commitment to empower teachers and enhance the educational experience, we are delighted to share our 1st Periodical Tests with TOS Compilation | SY 2023 – 2024 Tests. These periodical test files are equipped with valuable tools that not only encourage a learner-centered approach but also show deep regard for teachers' expertise. By actively engaging students in their own education through assessment, we aim to enrich the overall teaching and learning experience and to also prepare students not just for academic success but also for thriving in life beyond the classroom.
You may find our 1st Periodical Test with TOS Compilation | SY 2023 – 2024 Update in this article. Our goal is to finish all of the K-12 Periodical Tests All Subjects so that we may make them available to other teachers and assist them in finishing their materials so that their efforts are more focused on the actual teaching process.
Additional student assessment files will soon be uploaded.
Classroom Assessment
Classroom Assessment plays a vital role in helping teachers understand what their students are learning and how effectively they are learning it. It is an approach that places students at the center, empowers teachers, promotes mutual benefits, context-specific remains ongoing and is firmly grounded in good educational practices.
Learner-Centered Approach
Classroom Assessment shifts the focus from improving teaching to improving learning. Rather than changing the way teachers teach, it often proves more effective to assist students in improving their study habits and metacognitive skills, which involve thinking about their own thinking and learning. Ultimately, to become lifelong learners, students must take responsibility for their own learning, and Classroom assessment provides valuable insights to guide them on this journey.
Empowers Teachers
Teaching is a profession that relies on the wisdom and knowledge of teachers. There are no rigid rules for every moment in a classroom; instead, teachers' actions depend on their expertise, experience and professional judgment. Classroom Assessment respects the autonomy and professional judgment of teachers, allowing them to decide what to assess, how to assess it and how to respond to the assessment results.
Promotes Mutual Benefits
Classroom Assessment thrives on the active involvement of students. When students participate in the assessment process, they reinforce their understanding of course content and develop self-assessment skills. Knowing that teachers are genuinely interested in their success motivates students to focus better, engage more actively and feel more confident, leading to improved academic performance. Additionally, teachers sharpen their focus by continuously asking themselves essential questions about their teaching methods which enhances their teaching skills and insights.
It is Formative
Classroom Assessment serves as a formative, rather than summative tool for evaluation. Its primary goal is to enhance the quality of student learning, not to grade or evaluate students. Unlike graded summative assessments, Classroom Assessments are typically ungraded and anonymous. They aim to provide teachers with information about what, how much and how effectively students are learning. This information helps teachers better prepare students for future evaluations and real-world applications of knowledge beyond the classroom.
Context-Specific
Effective Classroom Assessments must cater to the unique needs and characteristics of teachers, students and the subjects they cover. Just as a mechanic needs the right tool for the job, teachers require the appropriate Classroom Assessment Technique for the task at hand. Therefore, Classroom Assessment is context-specific recognizing that what works well in one class may not succeed in another. Each class has its own dynamics, personality and chemistry making it distinct. Students bring diverse backgrounds, including socioeconomic status, language, culture, attitudes, values, academic preparation, learning strategies and prior knowledge, all influencing their performance. The interactions between students, teachers, the discipline, course organization, materials and class timing also affect learning.
In response to these complex interactions, each class forms its unique micro culture. Successful teachers recognize and adapt to these differences while subtly shaping the class context through their teaching. Classroom Assessment values and relies on teachers' professional judgment, developed over time, as the most suitable individuals to assess student learning.
Ongoing Process
Think of Classroom Assessment as an ongoing process, like a classroom feedback loop. It involves using simple classroom assessment techniques to quickly gather feedback from students on their learning progress. Teachers then provide feedback to students along with suggestions for improvement, completing the loop. To assess the effectiveness of these suggestions, teachers use classroom assessment again, continuing the feedback loop. As this approach becomes a routine part of classroom activities, the communication between teachers and students, as well as teaching and learning becomes more efficient and effective.
Grounded in Good Educational Practices
Many teachers already collect feedback on their students' learning and use it to enhance their teaching. Classroom assessment builds upon these good practices by making them more systematic, flexible and effective. It enables teachers to integrate assessment seamlessly into their traditional teaching and learning processes. Before a class session, a quick assessment can provide teachers with a clear understanding of where their students stand, helping them determine the starting point for instruction. During a lesson, a brief assessment can reveal how well students are grasping the material. After a class, classroom assessment helps reinforce the taught material and identifies gaps in understanding before they become significant obstacles to further learning.
Moreover, teaching students self-assessment techniques they can use in class or while studying helps bridge classroom learning with real-world learning. Practicing self-assessment also empowers students to develop metacognitive skills, enabling them to think more critically about their own thinking and learning.
Classroom assessment is a valuable tool that empowers teachers and students to enhance the learning experience. It is learner-centered, teacher-directed, mutually beneficial, formative, context-specific, ongoing and well-informed approach fosters a dynamic and effective learning environment that ultimately prepares students to become lifelong learners. Embracing classroom assessment not only benefits students and teachers but also contributes to the continuous improvement of education as a whole.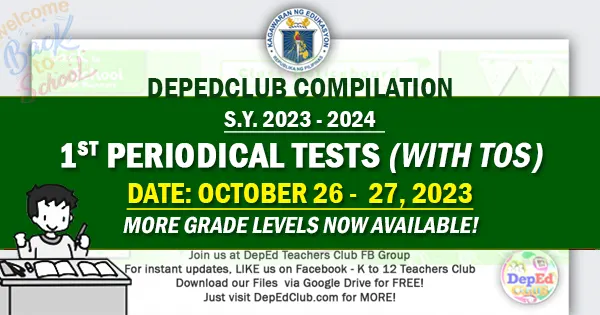 1st Periodical Tests with TOS Compilation
SY 2023 – 2024 Periodical Tests
---
---
Coming Soon!
Just refresh this page for updates!
1st Periodical Tests – SENIOR HIGH SCHOOL
Also Available !
IMPORTANT GUIDE:
MORE DOWNLOADABLE FILES
Activities for Students | Classroom Observation Tools | Daily Lesson Log | Diagnostic Test | Exams | Inspirational Stories | Instructional Materials | Learners Material | Periodical Tests | Powerpoint Presentations | RPMS | Short Stories | Summative Tests | Weekly Daily Lesson Log | Weekly Home Learning Plan | Weekly Learning Plan | Workbooks
We are always on the process of uploading new files.
For additional updates and unannounced uploads, please visit this section from time to time.
Like us on Facebook to get INSTANT UPDATES. CLICK HERE
You can also BOOKMARK this page in your web browser by clicking Ctrl+D in your keyboard for faster access in the future. Thank you fellow Teachers.
We at DepEd Teachers Club are always grateful to all our File Authors and File Contributors. Credit goes to all of them. Let us all give them thanks and show our support for all their works.
We are also thankful for all our File Editors, Sharers, Tech Volunteers and fellow Teachers for helping us and making this kind of service possible.