Here are the GRADE 6 Periodical Tests with TOS + MELC-Based Periodical Tests that we have compiled. Our goal is to finish all K-12 Periodical Tests All Subjects so that teachers can access them and complete their resources, focusing their efforts more directly on the actual teaching process.
More student evaluation files will soon be uploaded. The GRADE 6 Periodical Tests with TOS + MELC-Based Periodical Tests files can be found at the end of this post.
Classroom Assessment
Exams and tests offer concrete proof of students' academic progress and have the potential to be more unbiased, trustworthy, and valid than subjective evaluations. Depending on the demands at hand and the resources at hand, either a standardized instrument or a locally created assessment tool should be chosen. Selecting standardized instruments requires having a clear idea of what you want to assess.
A group of students' individual performance goals can be measured using locally devised tools. Instruments created locally have a direct connection to the local curriculum. It takes time to put together a local tool and construct a scoring system, and the outcomes cannot be compared to regional or statewide averages.
Course-embedded assessment refers to techniques for evaluating student learning that make use of specific course or courses' work products to determine the level of learning occurring. This method makes use of data that instructors already have (test results, quiz results, essays, etc.) or through tasks that have been added to a course particularly to measure student learning. Course-integrated evaluation includes:
1) Choosing or developing tasks for courses that demonstrate whether or not learning goals and significant outcomes are being attained by students;
2) Assessing assignments based on how well students achieve program objectives and expected results rather than just a course mark;
3) Converting goals into standards;
4) Developing individualized, behaviorally-anchored rating scales for each criterion and assigning point values to each level; 5) combining the obtained point values to give an overall score for the overall evaluation. Due to the method's reliance on the course's organizational framework, it frequently works well and is simple to apply. It requires planning and analysis time and is more effective at gauging and enhancing performance in a single course than across an entire program.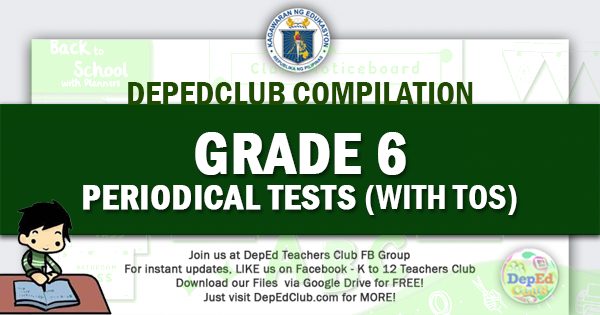 GRADE 6 – 1st Periodical Tests with TOS
ADDITIONAL VERSIONS
MORE DOWNLOADABLE FILES