Here are the GRADE 4 Periodical Tests with TOS + MELC-Based Periodical Tests that we have compiled. Our goal is to finish all K–12 Periodical Tests All Subjects so that teachers can use them to complete their resources, focus their efforts more on the real teaching process, and assess the learning progress of their students.
More student evaluation files will soon be uploaded. The GRADE 4 Periodical Tests with TOS + MELC-Based Periodical Tests files can be found at the end of this post.
Classroom Assessment
All types of classes can benefit from using classroom assessment techniques. There are methods for assessing pupils' comprehension as well as for application and critical thinking. Teachers utilize a variety of classroom evaluation strategies to determine what their pupils are learning or not learning.
Impacts of Classroom Assessment:
Student Engagement in Learning: Due to the fact that students are compelled to reflect on what they have learnt, they feel that classroom assessments help to increase student engagement in learning.
Faculty Development: Rethinking how they teach their classes has been aided by classroom assessment for many faculty members. The information from classroom assessments helps teachers understand what is working and what needs to be altered in their classes.
How frequently must classroom assessments to be used? Every class meeting ends with a question from some teachers, and every class meeting includes assessments from other teachers. Assessments are sometimes used to determine how well-received tests or in-class activities were. Still some teachers have encouraged pupils to assess their own learning by using classroom assessments. The class, the teacher, and the purposes for gauging students' learning progress all influence how frequently and what kinds of assessments are employed.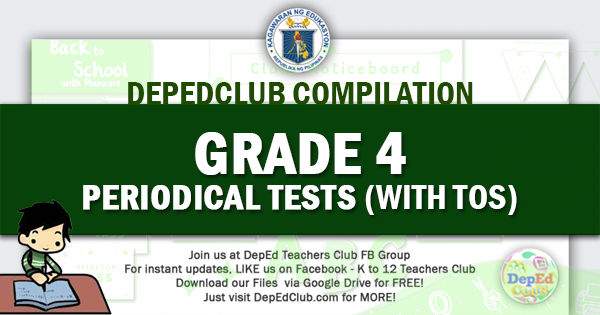 GRADE 4 – 1st Periodical Tests with TOS
ADDITIONAL VERSIONS
MORE DOWNLOADABLE FILES