Here are the GRADE 5 Periodical Tests with TOS + MELC-Based Periodical Tests that we have compiled. Our goal is to finish all K-12 Periodical Tests All Subjects so that teachers can access them and complete their resources, focusing their efforts more directly on the actual teaching process.
More student evaluation files will soon be uploaded. The GRADE 5 Periodical Tests with TOS + MELC-Based Periodical Tests files can be found at the end of this post.
Classroom Assessment
Creating assertions of what students should understand, be able to perform, and value is one of the initial phases in the assessment process. These are referred to as expectations or goals for students' learning. The departmental mission statement, which is a crucial component of the departmental program, should serve as the foundation for these statements. The creation of an assessment plan, which comprises the following, is what happens after the evaluation procedure.
1) Choosing or creating acceptable assessment techniques;
2) Putting assessment techniques into practice and gathering information on how effectively students have accomplished anticipated learning objectives;
3) Analyzing, disseminating, and implementing assessment results to enhance student learning; and
4) Analyzing the assessment procedure in and of itself. Having a clear understanding of what the program is intended to achieve is the first step in any successful program assessment. When referring to anticipated student learning outcomes, the words "goals" and "objectives" are frequently employed. In general terms, goals represent broad learning outcomes and concepts (what you want pupils to understand) (e.g., oral and written communication skills, problem-solving skills, etc.). For example, an objective for first-year writing students may be "students are able to build convincing argument to support a position." Objectives are the specific skills, values, and attitudes students should demonstrate that mirror the more general goals.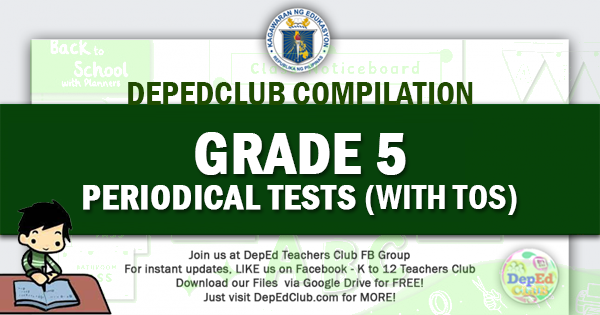 GRADE 5 – 1st Periodical Tests with TOS
ADDITIONAL VERSIONS
MORE DOWNLOADABLE FILES