The GRADE 8 Periodical Tests with TOS + MELC-Based Periodical Tests are presented below. Our goal is to finish all K–12 Periodical Tests in All Subjects so that teachers may carry out their responsibilities more effectively despite limited resources and difficult teaching situations.
More student evaluation files will soon be uploaded. The GRADE 8 – Periodical Tests with TOS + MELC-Based Periodical Tests files can be found at the end of this post.
Classroom Evaluation
According to the definition of classroom evaluation, it is the evaluation of the tasks that students complete as a necessary component of the educational programs in which they are enrolled. There may be time spent on these tasks within and outside of the classroom. This concept covers a wide range of performance activities, including formal teacher-made tests, curriculum-embedded tests (containing supplemental questions and other exercises meant to be a crucial component of learning materials), student-assisted spoken questions, and more (cognitive and psychomotor). Additionally, it assesses learning skills as well as characteristics related to motivation and attitude.
Even in the early years of schooling, formal testing under strictly controlled conditions is frequently only a small part of the overall set of evaluation activities in a course. However, the effects of classroom evaluation on students have been researched much more thoroughly than the effects of other forms of classroom evaluation.
Grading and assessment of learning have a long history in education. Parents and the general public have embraced them in large numbers.
The public has generally supported grading in schools, but there is growing doubt about its accuracy and fairness. Traditional grading procedures have drawn criticism from educational researchers and thinkers for a long time. Grades are highly questionable from a measurement theory perspective. Why? because when assigning grades, teachers take into account a variety of variables outside academic achievement. Teachers assign varying weights to exams, and often misrepresent single scores to indicate achievements across a spectrum of skills and capacities. More consideration will be given to how grades are computed and how effectively they actually reflect what they are taken to mean as education becomes a prerequisite for a successful future.
To make sure that the results that come from classroom assessments are justifiable and valuable, educators still have a great opportunity to learn. Most educational programs spend a significant percentage of teacher and student time to tasks that entail instructor evaluation of student conduct or products. We reward them for conformity rather than independence; for providing the answers we have taught them rather than for questioning the conclusions we have drawn; and for praising the brilliance of purely scientific advancements rather than cultivating a greater understanding of the inequities we have all too frequently ignored.
Although standardized tests do have significant and pervasive effects in some situations (such as when students must meet certain standards in order to graduate from high school or when test results affect the funding of school districts), students spend a far greater amount of time participating in classroom evaluation activities than in standardized testing.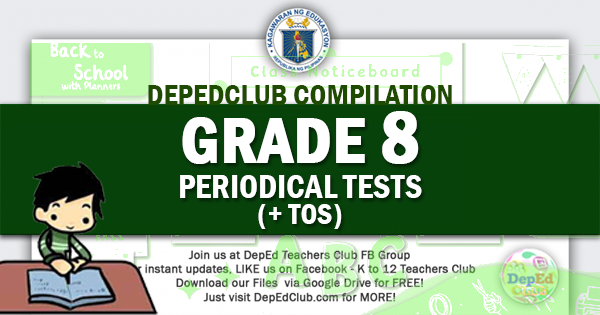 GRADE 8 – 1st Periodical Tests + TOS
MORE DOWNLOADABLE FILES
We at DepEd Teachers Club are always grateful to all our File Authors and File Contributors. Credit goes to all of them. Let us all give them thanks and show our support for all their works.
We are also thankful for all our File Editors, Sharers, Tech Volunteers and fellow Teachers for helping us and making this kind of service possible.