The GRADE 7 Periodical Tests with TOS + MELC-Based Periodical Tests are presented below. Our aim is to complete all K-12 Periodical Tests in All Subjects so that teachers can utilize them to finish their work, complete their tasks, and more quickly and effectively accomplish their teaching objectives.
More student evaluation files will soon be uploaded. The GRADE 7 – Periodical Tests with TOS + MELC-Based Periodical Tests files can be found at the end of this post.
Assessment of Learning
A practical and efficient assessment plan is the ultimate product of the assessment design process. It could be an official record or a casual timetable for departmental usage. Goals for student learning, expected results for student learning, and evaluation techniques will all be included. It will also go over other facets of the student assessment process, such as when assessments should be conducted, who will be in charge of the assessment's components, who will be in charge of reviewing and sharing assessment results, and how the information will be used to enhance class instruction or update the curriculum. Closing the feedback loop is the name given to this final phase. In order to ensure that assessment results contribute to program improvement and resource allocation decisions, the loop must be closed.
The principles of assessment can be used at the policy and school levels to pinpoint areas that need improvement and to encourage efficient and positive evaluation cultures across all educational systems.
Stakeholders may be able to remove the challenges preventing assessment from being used more widely in classrooms if assessment is used more consistently throughout educational systems. This overview demonstrates how assessment supports the objectives of lifelong learning, such as enhanced learning-to-learn abilities and higher levels of student achievement.
Assessment of Learning is the most common type of assessment used in schools. Its goal is to verify learning and inform parents and students on students' academic progress, typically by indicating where each student stands in relation to other students. Results from assessments of learning are typically reported to parents as marks across a range of subject areas.
Particularly in secondary schools, this type of assessment still predominates in most classroom assessment activities, with teachers firmly in command of both creating and grading the test. The tests are used by teachers to evaluate the quantity and quality of students' work, and the majority of the teacher's assessment time is spent marking and grading.
There is a lot of emphasis on comparing students, and students only receive feedback in the form of marks or grades with little guidance or suggestions for development. These testing occasions show which students are performing well and which ones are not. Because the test content is typically too limited and the scoring is too straightforward to accurately reflect the wide range of skills and knowledge that has been covered, they typically don't provide much of an indicator of mastery of particular ideas or concepts.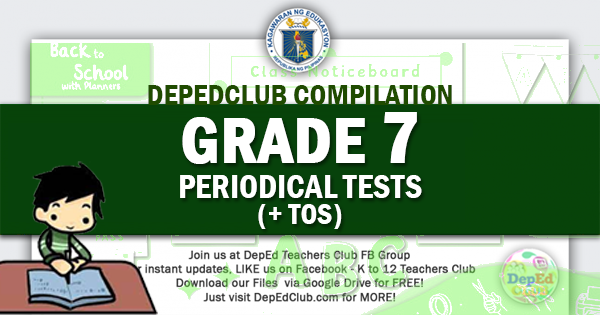 GRADE 7 – 1st Periodical Tests + TOS
MORE DOWNLOADABLE FILES
We at DepEd Teachers Club are always grateful to all our File Authors and File Contributors. Credit goes to all of them. Let us all give them thanks and show our support for all their works.
We are also thankful for all our File Editors, Sharers, Tech Volunteers and fellow Teachers for helping us and making this kind of service possible.