The following lists the GRADE 10 Periodical Tests with TOS + MELC-Based Periodical Tests. Our goal is to finish all K–12 Periodical Tests in All Subjects so that teachers can fulfill their duties, reduce their burden from time-consuming documents, and spend more valuable time with their families.
More student evaluation files will soon be uploaded. The GRADE 10 – Periodical Tests with TOS + MELC-Based Periodical Tests files can be found at the end of this post.
Classroom Evaluation
Effective learning outcomes are increasingly used to evaluate performance in schools. Information is essential for determining if the educational system is performing well and for offering feedback for raising student results.
A variety of methods are employed by many nations to evaluate and analyze students, teachers, schools, and educational systems.
Additional information and helpful external comparators are offered by international examinations like PISA. Additionally, several nations utilize inspection services to rate schools and/or teachers, and teacher evaluation is growing in popularity. The importance of evaluation and assessment frameworks in establishing more robust and equitable school systems is widely acknowledged in all nations.
Countries also stress the significance of viewing evaluation and assessment as crucial tools for obtaining better student outcomes rather than as ends in themselves. Assuring articulations within the classroom evaluation and classroom assessment framework, establishing competencies for evaluation and for utilizing feedback, securing connections with classroom practice, and overcoming implementation obstacles are the common policy challenges that emerge regarding governance and implementation.
Additionally, there are a number of common policy issues that arise with regard to student assessment, including how to harmonize educational standards and student assessment, balance external and teacher-based assessments in learning assessments, and incorporate formative student assessment into evaluation and assessment frameworks.
On the other hand, merging the improvement and accountability roles of teacher assessment, accounting for student performance in teacher evaluation, and using teacher evaluation data to build incentive structures for instructors are typical policy challenges in teacher evaluation. Additionally, school assessment raises common policy issues such how to balance public reporting on schools, how to harmonize external and internal school evaluations, and how to improve school agents' data processing abilities.
Finally, addressing information demands at the system level, keeping track of the system's main results, and making the best use of system-level data are common policy problems for evaluating educational systems.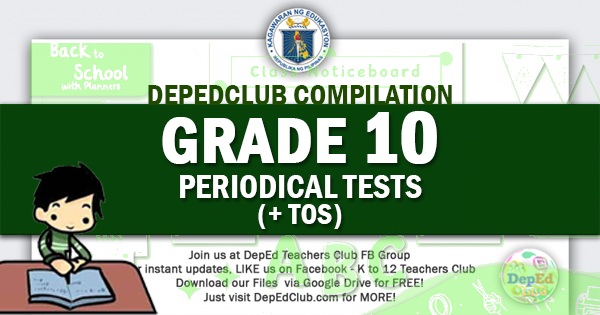 GRADE 10 – 1st Periodical Tests + TOS
MORE DOWNLOADABLE FILES
We at DepEd Teachers Club are always grateful to all our File Authors and File Contributors. Credit goes to all of them. Let us all give them thanks and show our support for all their works.
We are also thankful for all our File Editors, Sharers, Tech Volunteers and fellow Teachers for helping us and making this kind of service possible.