This list of GRADE 2 1st Periodical Tests with TOS + MELC-Based Periodical Tests is provided. We want to finish all of the K-12 Periodical Tests for All Subjects so that we may make them available to teachers and assist them in finishing their materials so that their efforts can be more effectively focused on the actual teaching process.
Upcoming uploads include MORE student assessment files. The files for the GRADE 2 Periodical Tests with TOS + MELC-Based Periodical Tests are located at the end of this article.
Classroom Assessment
The results of an assessment process can be utilized to inform the decision-makers in the education department and other stakeholders about pertinent concerns that may have an impact on the educational program and student learning, such as the requirement for more resources and curriculum modifications. It is a continuous process intended to comprehend and enhance student learning. It entails clearly defining learning expectations, establishing suitable criteria and high standards for learning quality, methodically compiling, evaluating, and interpreting evidence to assess how closely performance adheres to those expectations and standards, and using the information obtained to record, justify, and enhance student performance.
The goal of classroom assessment is to raise the standard of student learning while also providing evidence for student evaluation or grading, as well as insights into teachers' performance as instructors and a gauge for students' learning development. The purpose of classroom assessments is to inform teachers on what, how much, and how effectively pupils are learning.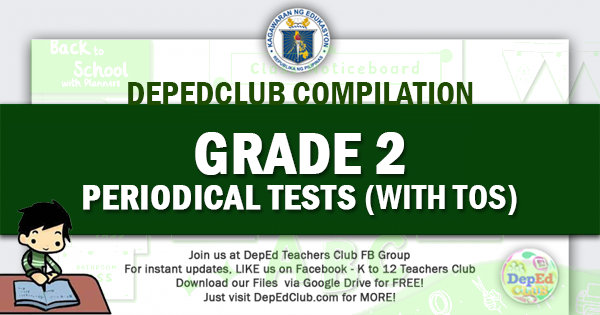 GRADE 2 – 1st Periodical Tests with TOS
TOS
ADDITIONAL VERSIONS
MORE DOWNLOADABLE FILES