The following lists the GRADE 9 Periodical Tests with TOS + MELC-Based Periodical Tests. Our objective is to complete all K–12 Periodical Tests in All Subjects to help teachers carry out their responsibilities and minimize their workload from time–consuming paperwork.
More student evaluation files will soon be uploaded. The GRADE 9 – Periodical Tests with TOS + MELC-Based Periodical Tests files can be found at the end of this post.
Classroom Evaluation
Students spend a significant amount of time engaging in activities that are evaluated. Other activities that are reviewed, formally or informally, take up a significant amount of extra time.
There are many different evaluating activities that take place in classrooms, and the pattern varies noticeably depending on the grade level and the subject matter. Checklists, informal observations of learning activities, teacher-made written tests, and various types of written exercises are among the activities, along with classroom evaluation through teacher questioning and class or group discussion, marking or commenting on performances of various kinds, and checklists (including projects, assignments, worksheets, text-embedded questions, and tests).
Affective variables are sometimes evaluated, typically informally. Examples include elements of motivation. Teachers believe that evaluative activities are crucial components of teaching and learning and seek to improve them in accordance with this belief, yet they frequently worry about the apparent shortcomings in their efforts.
What is assessed? Educational outcomes were categorized by Bloom (1956) into three basic domains: cognitive, emotional, and psychomotor. The cognitive domain was further separated into the six well-known categories (knowledge, comprehension, application, analysis, synthesis, and evaluation).The majority of educators would concur that the objectives in all three domains are significant educational outcomes, with the relative weight of the various domains varied slightly by subject area.
It is obvious that academic performance must be viewed as considerably more than the acquisition of discrete pieces of knowledge and the development of a few overlearned skills that can be executed with reliability.
Classroom Evaluations' effects on students include the following:
The majority of pupils show some flexibility in their selection of learning strategy. Their decisions are influenced by a variety of elements, including their interest in the subject, the basis for their academic motivation, the pressure from competing demands on their time and attention, the volume of course material, how a task was introduced, and their expectations for what would be expected of them in subsequent evaluations or applications of the material.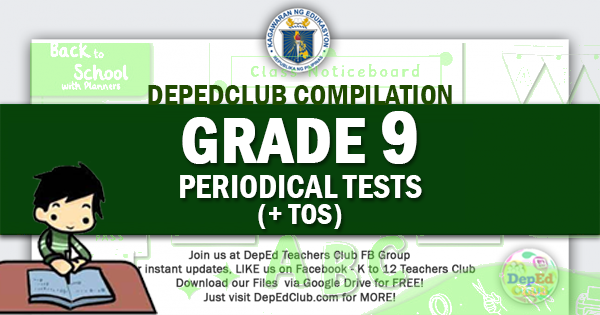 GRADE 9 – 1st Periodical Tests + TOS
MORE DOWNLOADABLE FILES
We at DepEd Teachers Club are always grateful to all our File Authors and File Contributors. Credit goes to all of them. Let us all give them thanks and show our support for all their works.
We are also thankful for all our File Editors, Sharers, Tech Volunteers and fellow Teachers for helping us and making this kind of service possible.