In our ongoing commitment to support teachers in maximizing their resources and assisting in crafting captivating lessons that meet students' needs while delivering exceptional lectures, we are delighted to share our collection of DepEd educational resources including these Week 9 DLL October 23 – 27, 2023 | 1st Quarter Daily Lesson Log. These resources serve as a convenient repository, simplifying the integration of essential knowledge into the teaching journey. Through sharing our files, we aim to empower teachers to create a seamless and enriched learning experience, fostering a stronger connection between instruction and understanding.
Our heartfelt gratitude extends to our dedicated DepEd Club Contributors, File Editors, and Tech Volunteers, whose selfless and unwavering efforts have been instrumental in organizing the content of our website and social media platforms. We extend a warm thank you to all for your steadfast support that continues to drive us forward with this cause.
The Teaching Journey
Teaching is like a three-step journey. Imagine it as climbing a spiral staircase where each flight brings you back to the same starting point but on a higher level. These three steps guide the work of teachers.
Preparation and Planning
Before entering the classroom, teachers must prepare and plan. This means getting ready for the lessons they will teach. They consider what the students need to learn and how to teach it effectively. It's like laying the foundation for a building; it's crucial for a successful teaching experience.
Teaching in the Classroom
The second step is when teachers are in the classroom and are actively teaching. This part demands the most energy and brings both moments of joy and challenges for them. It's like being on stage with students as the audience. Teachers must manage the class, deliver lessons and help students learn.
Assessment and Review
After the lesson ends, the third step comes into play. This involves assessing how well students understood the material, recording their progress and reporting it. Evaluation and review help teachers improve their teaching methods. It's like looking back at a journey to see what worked well and what could be done better.
Many teachers organize their work using these three steps. They might say things like, "I need to prepare for tomorrow's class," "I'm teaching all day today," or "I have to grade papers tonight." However, it's essential not to forget the importance of professionalism before and after teaching.
While this three-step model is helpful, it has its drawbacks. It can make us think that the third step is the end of the process. In reality, the value of assessment and review lies in how it informs the first step – preparation and planning. For example, by assessing students' understanding, teachers learn what needs further attention in the next lesson. By evaluating and reviewing past lessons, they can improve future ones.
Teaching isn't always a straightforward climb. Sometimes, it may feel like going in circles. However, the belief in continuous progress is what keeps teachers going. Teachers who feel stuck in a loop might need to revisit their assessment and review methods.
In the preparation stage, it's essential to consider assessment from the beginning. Teachers should ask questions like, what do the students need to learn based on the course requirements or government standards and how they can assess what the students have learned in those lessons. This approach is known as backward design in lesson planning, where you start with the end goal – the assessment – and plan the teaching journey accordingly.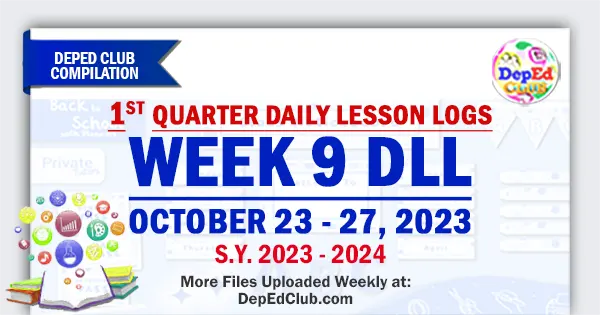 Week 9 DLL October 23 – 27, 2023 |
1st Quarter Daily Lesson Log
Kindergarten Daily Lesson Log – Week 9 – 1st Quarter
Grade 1 Daily Lesson Log – Week 9 – 1st Quarter
Grade 2 Daily Lesson Log – Week 9 – 1st Quarter
Grade 3 Daily Lesson Log – Week 9 – 1st Quarter
Grade 4 Daily Lesson Log – Week 9 – 1st Quarter
Grade 5 Daily Lesson Log – Week 9 – 1st Quarter
Grade 6 Daily Lesson Log – Week 9 – 1st Quarter
MORE FILES NOW AVAILABLE!
ALSO MORE FILES NOW AVAILABLE!
IMPORTANT GUIDE:
MORE DOWNLOADABLE FILES
Activities for Students | Classroom Observation Tools | Daily Lesson Log | Diagnostic Test | Exams | Inspirational Stories | Instructional Materials | Learners Material | Periodical Tests | Powerpoint Presentations | RPMS | Short Stories | Summative Tests | Weekly Daily Lesson Log | Weekly Home Learning Plan | Weekly Learning Plan | Workbooks
We are always on the process of uploading new files.
For additional updates and unannounced uploads, please visit this section from time to time.
Like us on Facebook to get INSTANT UPDATES. CLICK HERE
You can also BOOKMARK this page in your web browser by clicking Ctrl+D in your keyboard for faster access in the future. Thank you fellow Teachers.
We at DepEd Teachers Club are always grateful to all our File Authors and File Contributors. Credit goes to all of them. Let us all give them thanks and show our support for all their works.
We are also thankful for all our File Editors, Sharers, Tech Volunteers and fellow Teachers for helping us and making this kind of service possible.