In the field of education, creating lesson plans is a vital responsibility of teachers. It is essential that individual teachers take charge of their lesson planning for their respective classes. However, it can be suggested that teachers who teach the same grade levels collaborate and create lesson plans together such as the Week 8 Quarter 4 Daily Lesson Log. This collaborative effort ensures a more unified and comprehensive lesson planning process where all teachers are benefiting from the collective expertise of the collaborative teachers' group.
The process of planning and organizing lessons brings numerous advantages to teachers too. It empowers teachers to structure the teaching and learning process effectively that guarantees a well-organized and cohesive curriculum. This in turn helps prevent spontaneous improvisation during teaching sessions. Also, the lesson planning process contributes to the training and continuous professional development of teachers thus fostering a sense of community and shared knowledge among teachers. By engaging in ongoing reflection on the planning decisions made, teachers can identify and address any challenges or issues that may arise within the classroom.
Lesson planning also offers a plethora of additional benefits. It instills a sense of control, security and confidence among both teachers and students because everyone is aware of what to expect and what is expected of them. Moreover, it optimizes the use of time and encourages creativity by providing a framework within which teachers can incorporate innovative teaching methods and engaging activities such as the Week 8 Quarter 4 Daily Lesson Log. Lesson planning also strengthens the bonds and collaboration within the teachers' group, promoting a supportive and harmonious educational environment.
Despite the multitude of advantages associated with lesson planning, there are instances where teachers delegate this responsibility to external creators. By doing so, they forfeit their ability to create activities that are tailored to the specific needs of their classroom environment. Instead, they rely on pre-designed educational materials that may not align perfectly with the context and requirements of their students.
And to help teachers align their lessons with curriculum standards and learning outcomes to ensure that the content taught in the classroom is relevant, meets the required standards and helps students achieve the desired educational goals, we are constantly uploading our ready-made Week 8 Quarter 4 Daily Lesson Log | June 19 – 23, 2023 DLL Update! Our long-term goal is to consistently update and publish our ready-made weekly K–12 Daily Lesson Logs. Just visit this page regularly for the latest uploads.
We are grateful to all of our Contributors, File Editors and Tech Volunteers who worked sacrificially and without hesitation to manage the content of our website and social media accounts. Thank you to everyone for your continued support.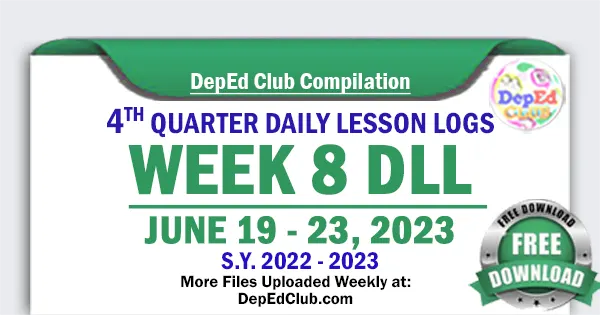 Week 8 Quarter 4 Daily Lesson Log |
June 19 – 23, 2023 DLL Update!
Kindergarten Daily Lesson Log 4th Quarter
Grade 1 Daily Lesson Log 4th Quarter
Grade 2 Daily Lesson Log 4th Quarter
Grade 3 Daily Lesson Log 4th Quarter
Grade 4 Daily Lesson Log 4th Quarter
Grade 5 Daily Lesson Log 4th Quarter
Grade 6 Daily Lesson Log 4th Quarter
NOW AVAILABLE!
ALSO AVAILABLE!
IMPORTANT GUIDE:
MORE DOWNLOADABLE FILES
We are always on the process of uploading new files.
For additional updates and unannounced uploads, please visit this section from time to time.
Like us on Facebook to get INSTANT UPDATES. CLICK HERE
You can also BOOKMARK this page in your web browser by clicking Ctrl+D in your keyboard for faster access in the future. Thank you fellow Teachers.
We at DepEd Teachers Club are always grateful to all our File Authors and File Contributors. Credit goes to all of them. Let us all give them thanks and show our support for all their works.
We are also thankful for all our File Editors, Sharers, Tech Volunteers and fellow Teachers for helping us and making this kind of service possible.