To help teachers in creating lessons that are interesting to students and completely involve them in the learning process, we are constantly uploading our ready-made 4th Quarter Kindergarten Daily Lesson Log | SY 2022 – 2023 DLL Update!. Our long-term goal is to consistently update and publish our ready-made weekly K–12 Daily Lesson Logs. Just visit this page regularly for the latest uploads.
We are grateful to all of our Contributors, File Editors, and Tech Volunteers who worked sacrificially and without hesitation to manage the content of our website and social media accounts. Thank you to everyone for your continued support.
Lesson Planning and Classroom Management
Effective education is critical for the social, political, and economic growth of any country. Effective teaching is crucial because it focuses on assisting students in becoming independent and autonomous learners as well as helping students progress from one level to the next in a more social and interactive environment.
Effectiveness doesn't mean being flawless or putting on amazing performances; rather, it means being able to design engaging lessons that will capture students' interest and fully engage them in the learning process, leaving no time for disruptive actions or disturbances in the classroom.
In the same way that a well-prepared lesson is an essential element of a classroom that is managed effectively, lesson planning is the basis of classroom management. Effective lesson planning is essential for quality instruction, effective classroom management, and continuous educational advancement. The more skillfully a teacher arranges his lessons, the better organized his classroom is going to be.
Many teachers shouldn't be terrified of lesson planning since it brings back unpleasant memories of their early training course experiences, which included numerous restless hours spent observing and evaluating students. In the classroom, something that seemed very conceivable on paper could terribly fail, leaving students feeling insecure and self-conscious.
Consequently, frustration is a common emotion that new teachers may feel, but it can also be a sign of inadequate preparation and instruction, which can ultimately lead to poor management. One can picture how scary a classroom devoid of rules and a lesson lacking in solid preparation would be.
Teachers should follow particular procedures in order to enable teaching to occur most successfully. These procedures involve establishing an effective learning environment, setting classroom procedures, motivating students, and engaging them in time-filling activities. teaching students how to be creative and to use ideal design and management strategies, in addition to teaching them life skills and strong study habits.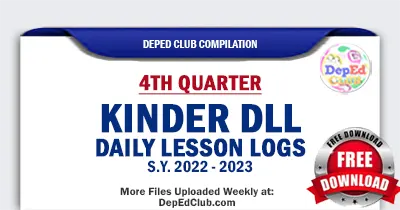 4th Quarter Kindergarten Daily Lesson Log | SY 2022 – 2023 DLL Update!
NOW AVAILABLE!
Coming SOON!:
4th Quarter Periodical Tests
IMPORTANT GUIDE:
MORE DOWNLOADABLE FILES
Activities for Students | Classroom Observation Tools | Daily Lesson Log | Diagnostic Test | Exams | Inspirational Stories | Instructional Materials | Learners Material | Periodical Tests | Powerpoint Presentations | RPMS | Short Stories | Summative Tests | Weekly Daily Lesson Log | Weekly Home Learning Plan | Weekly Learning Plan | Workbooks
We are always on the process of uploading new files.
For additional updates and unannounced uploads, please visit this section from time to time.
Like us on Facebook to get INSTANT UPDATES. CLICK HERE
You can also BOOKMARK this page in your web browser by clicking Ctrl+D in your keyboard for faster access in the future. Thank you fellow Teachers.
We at DepEd Teachers Club are always grateful to all our File Authors and File Contributors. Credit goes to all of them. Let us all give them thanks and show our support for all their works.
We are also thankful for all our File Editors, Sharers, Tech Volunteers and fellow Teachers for helping us and making this kind of service possible.