Assessment plays a crucial role in classroom activities because it facilitates learning and ultimately leads to academic achievement. To ensure effective learning, students need to grasp several key aspects, including the aim of their learning, the purpose behind it, their current progress, and the strategies to achieve their goals. One way of assessing student learning is through exams, and the one upcoming is the 4th Periodical Tests When students understand these principles, the overall quality of their learning experience improves. Sharing this information with students fosters a sense of ownership and shared responsibility between teachers and learners in attaining those learning objectives.
Teachers continuously make professional judgments on students' performance during teaching and learning sessions, whether consciously or subconsciously. Assessment for learning focuses on translating these judgments into feedback on individual work quality. Successful implementation of assessment strategies such as the 4th Periodical Tests leads to ongoing improvement in student progress. The foundation of assessment for learning lies in providing effective feedback to students regarding their progress. The value of this feedback depends on two factors: the quality of the feedback itself and how students receive and utilize it.
Consequently, teachers require support to make valuable assessment decisions, provide high-quality feedback to students, and teach them to receive feedback positively and apply it effectively to enhance their work. Although assessment for learning and quality feedback promote increased student progress, educational institutions have long been preoccupied with assessment of learning to meet external requirements. This focus on assessment of learning can hinder effective classroom practices and impede the process of providing feedback to students for improvement.
To address these challenges, educational establishments are now providing opportunities for teachers to develop their assessment and feedback skills. This approach aims to enhance teachers' confidence in their professional judgment and create an effective learning environment. By placing students at the center of the assessment process and reorienting objectives to prioritize their benefits, both teachers and students can find increased meaning and value in the assessment process. This shift ensures that assessment decisions are used to improve students' work, fostering a more productive and impactful learning experience for all parties involved.
Therefore, to help teachers identify and address any issues with their teaching approaches and help students with their learning development with respect to the learning standards, our collection of 4th Periodical Tests with TOS Compilation | SY 2022 – 2023 Update + MELC-Based Periodical Tests is available below. We aim to finish uploading all of the MELC-Based K-12 Periodical Tests All Subjects so that we may make them available to all teachers in need of them. Additional student assessment files and periodical tests will soon be uploaded.
The download links for the K-12 Periodical Tests All Subjects can be found below. After downloading, please take a moment to LIKE our Facebook page as support to our File Contributors and File Editors. Thank you!
4th Quarter Examination Schedule |
4th Periodical Tests Schedule
4th Quarter Examination (Final Examinations for Grades 6 and 12)
JUNE 22 – 23 (Thursday – Friday)
4th Quarter Examination (Final Examinations for Grades 1-5 & 7-11)
JUNE 29 – 30 (Thursday – Friday)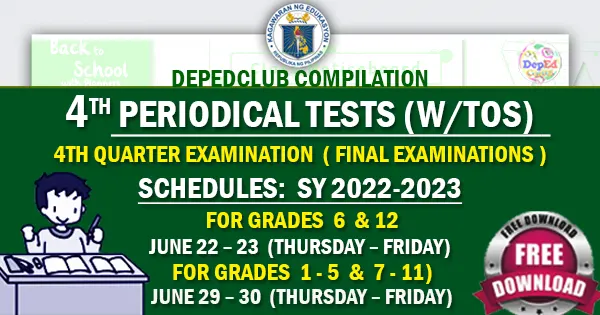 More! 4th Periodical Tests with TOS Compilation |
SY 2022 – 2023 Update
---
Coming Soon!
Just refresh this page for updates!
GRADE 7 4th Periodical Tests
GRADE 8 4th Periodical Tests
GRADE 9 4th Periodical Tests
GRADE 10 4th Periodical Tests
---
SENIOR HIGH SCHOOL 4th Periodical Tests
ALSO AVAILABLE!
IMPORTANT GUIDE:
MORE DOWNLOADABLE FILES
Activities for Students | Classroom Observation Tools | Daily Lesson Log | Diagnostic Test | Exams | Inspirational Stories | Instructional Materials | Learners Material | Periodical Tests | Powerpoint Presentations | RPMS | Short Stories | Summative Tests | Weekly Daily Lesson Log | Weekly Home Learning Plan | Weekly Learning Plan | Workbooks
/ Learning Materials / Learners Materials / Instructional Materials
We are always on the process of uploading new files.
For additional updates and unannounced uploads, please visit this section from time to time.
Like us on Facebook to get INSTANT UPDATES. CLICK HERE
You can also BOOKMARK this page in your web browser by clicking Ctrl+D in your keyboard for faster access in the future. Thank you fellow Teachers.
We at DepEd Teachers Club are always grateful to all our File Authors and File Contributors. Credit goes to all of them. Let us all give them thanks and show our support for all their works.
We are also thankful for all our File Editors, Sharers, Tech Volunteers and fellow Teachers for helping us and making this kind of service possible.