To help teachers in creating lessons that include relevant tasks and activities that will support students in achieving their goals, we are constantly uploading our ready-made 4th Quarter Grade 4 Daily Lesson Log | SY 2022 – 2023 DLL Update! Our long-term goal is to consistently update and publish our ready-made weekly K–12 Daily Lesson Logs. Just visit this page regularly for the latest uploads.
We are grateful to all of our Contributors, File Editors, and Tech Volunteers who worked sacrificially and without hesitation to manage the content of our website and social media accounts. Thank you to everyone for your continued support.
Lesson Planning
How should goals and learning objectives be set during class preparation? As part of your planning, you must decide what your students should be able to do after receiving all of the information you have given them. By starting your planning with the learning objectives, you can also make sure that your tasks and activities are appropriate and will help your students achieve their objectives.
In a learning aim, the words "to know" or "to comprehend" should be replaced by active verbs like "state," "explain," "outline," "list," or "describe." It is best to refrain from using verbs that are hard to objectively measure. Use caution when using the verbs listed since they can be challenging to evaluate and quantify: understand, comprehend, appreciate, familiarize, study, be aware, get acquainted with, gain knowledge of, cover, learn, and realize.
Knowing and understanding do not describe any overt 'doing,' and while knowing and understanding are fundamental to learning, objectives are usually expressed with active doing verbs. They are statements that indicate what you want your students to do and should:
Clearly characterize or describe an action.
Are quantifiable in terms of time, space, quantity, and/or frequency.
Be distinctive.
How can I distinguish my learning objectives such that they are more demanding and challenging? You may make your learning objectives more tough, demanding, or challenging by altering the active verb you employ to one that requires more complicated, higher order thinking, or by adding specific restrictions or constraints.
A good learning outcome focuses on what the learner is going to understand or be able to perform by the end of a certain time period and how that expertise or skill will be shown.
According to Bloom's Taxonomy and as indicated by pertinent, active verbs, one instructional unit—whether a course, assignment, or workshop—might contain several learning objectives that cover a variety of learning levels.
Learning outcomes may cover knowledge, abilities, or enduring attitudes or values. The language used in learning outcomes should be precise and should make it clear what is expected of the students.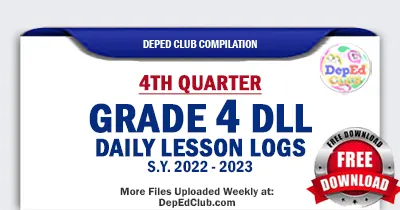 4th Quarter Grade 4 Daily Lesson Log | SY 2022 – 2023 DLL Update!
Update! Week 1 4th Quarter Grade 4 Daily Lesson Log DLL
(May 2 – 5, 2023)
Update! Week 2 4th Quarter Grade 4 Daily Lesson Log DLL
(May 8 – 12, 2023)
Update! Week 3 4th Quarter Grade 4 Daily Lesson Log DLL
(May 15 – 19, 2023)
Update! Week 4 4th Quarter Grade 4 Daily Lesson Log DLL
(May 22 – 26, 2023)
Update! Week 5 4th Quarter Grade 4 Daily Lesson Log DLL
(May 29 – June 2, 2023)
Update! Week 6 4th Quarter Grade 4 Daily Lesson Log DLL
(June 5 – 9, 2023)
Update! Week 7 4th Quarter Grade 4  Daily Lesson Log DLL
(June 12 – 16, 2023)
NOW AVAILABLE!
ALSO AVAILABLE!
IMPORTANT GUIDE:
MORE DOWNLOADABLE FILES
Activities for Students | Classroom Observation Tools | Daily Lesson Log | Diagnostic Test | Exams | Inspirational Stories | Instructional Materials | Learners Material | Periodical Tests | Powerpoint Presentations | RPMS | Short Stories | Summative Tests | Weekly Daily Lesson Log | Weekly Home Learning Plan | Weekly Learning Plan | Workbooks
We are always on the process of uploading new files.
For additional updates and unannounced uploads, please visit this section from time to time.
Like us on Facebook to get INSTANT UPDATES. CLICK HERE
You can also BOOKMARK this page in your web browser by clicking Ctrl+D in your keyboard for faster access in the future. Thank you fellow Teachers.
We at DepEd Teachers Club are always grateful to all our File Authors and File Contributors. Credit goes to all of them. Let us all give them thanks and show our support for all their works.
We are also thankful for all our File Editors, Sharers, Tech Volunteers and fellow Teachers for helping us and making this kind of service possible.