#WalangPasok June 28, 2023 | A Regular Holiday In Observance Of Eid'l Adha 2023.
President Ferdinand "Bongbong" Marcos Jr. officially proclaimed June 28, 2023 as a regular holiday in observance of Eid al-Adha 2023 also known as the Feast of Sacrifice. The declaration was made through Proclamation No. 258 – Declaring Wednesday, 28 June 2023, A Regular Holiday Throughout the Country, In Observance Of Eid'l Adha (Feast Of Sacrifice).
Eid al-Adha holds significant importance in the Muslim calendar as one of the two essential holidays alongside Eid al-Fitr. Eid al-Fitr is celebrated after the month of Ramadan and serves as a spiritual celebration of Allah's provision of strength and endurance while Eid al-Adha specifically commemorates the act of sacrifice.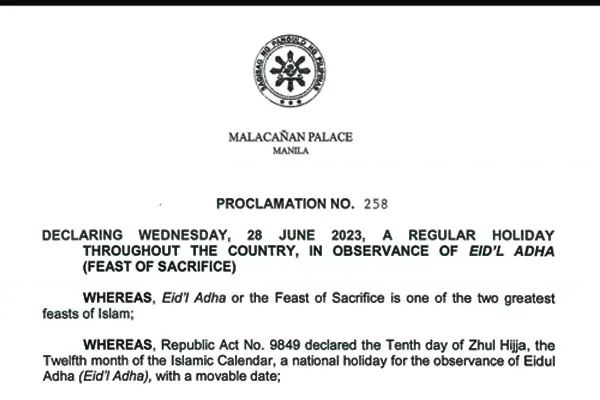 Eid al-Adha, also known as the Feast of Sacrifice holds immense religious significance for Muslims across the globe. It marks the end of the holy fasting month of Ramadan. Eid al-Adha commemorates the profound act of obedience displayed by Prophet Ibrahim (Abraham) who willingly offered to sacrifice his son in devotion to God. This annual festival serves as a time for deep introspection, gratitude and devotion while promoting values of sacrifice, generosity and unity within the Muslim community.
During Eid al-Adha, Muslims engage in self-reflection, expressing gratitude and demonstrating unwavering devotion to their faith. They strive to enhance their spiritual connection, fortify their moral values and nurture a profound sense of compassion and empathy for those in need. This occasion serves as a constant reminder of the cherished principles held dear by Muslims, inspiring individuals to embody these virtues in their everyday lives. Through acts of worship, charitable deeds and communal togetherness, Muslims embrace the essence of Eid al-Adha, deepening their bond with God and fellow believers.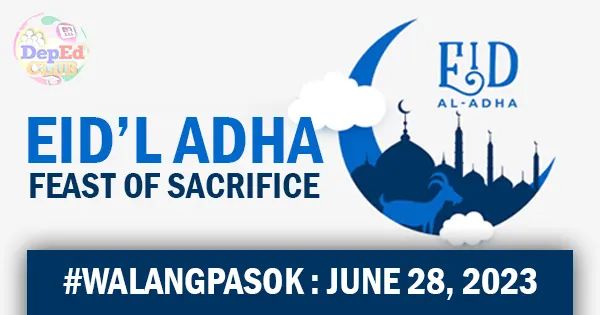 Eid al-Adha occurs on the 10th day of Dhu al-Hijjah, the final month of the Islamic lunar calendar. The festivities commence with a special prayer at the mosque where Muslims gather to express gratitude to Allah and seek His blessings. This collective act of worship fosters a sense of unity and reinforces the bonds of brotherhood and sisterhood within the Muslim community. Eid al-Adha serves as an opportunity for families and friends to come together transcending age and background to celebrate with joy and unity paying homage to the teachings of Islam.
Eid al-Adha 2023 encourages Muslims to actively engage in acts of charity and service. Many generously donate money, food or clothing to uplift the less fortunate ensuring that the blessings of the festival extend to the wider community. This emphasis on assisting others strengthens the bonds of compassion and empathy within society fostering a spirit of interconnectedness and communal well-being.
SOURCE: Proclamation No. 258 – Declaring June 28 2023 A Regular Holiday In Observance Of Eid'l Adha 2023