To help teachers in creating lessons with a unique identity that students can understand, utilize, and relate to, we are constantly uploading our ready-made 4th Quarter Grade 2 Daily Lesson Log | SY 2022 – 2023 DLL Update! Our long-term goal is to consistently update and publish our ready-made weekly K–12 Daily Lesson Logs. Just visit this page regularly for the latest uploads.
We are grateful to all of our Contributors, File Editors, and Tech Volunteers who worked sacrificially and without hesitation to manage the content of our website and social media accounts. Thank you to everyone for your continued support.
Lesson Planning
The technical aspect of lesson planning involves weaving together a variety of components into a logical whole so that the lesson has a distinct identity that students can grasp, use, and respond to. Any lesson plan should include the basics of numbers, including the time allotted, the student's grade level, the content covered, and finally the goals and assigned additional homework.
Differentiating instruction for different student learning levels in the classroom is a crucial part of lesson planning and design. The way the objectives are presented, as well as the use of formative evaluations and instructional processes and techniques, are all examples of ways to differentiate class instruction. Differentiated instruction needs to take content, procedure, and outcome into great consideration. Differentiated instruction is essential for meeting the requirements of students as classroom diversity remains.
The lesson plan is a structured schedule for key instructional sessions that outlines what will be covered, how it will be taught, and the order in which it will be delivered.
Three inquiries can be used by teachers to aid with lesson planning. What objectives does the lesson have? How will the teacher carry out these objectives? And how will s/he know whether or not he has succeeded in his goals?
When teachers profess to be planning their lessons and courses, they actually plan. Consequently, all the teacher's preparations and strategies used before, during, and even after the class are referred to as lesson planning.
Lesson preparation involves five key stages: the preliminary stage; the interview; the results; the conclusions; and finally the personnel application.
Planning lessons provides a lot of benefits. These include helping the teacher become organized and systematic, making it easier for them to create goals and targets, boosting their confidence and independence, and promoting continuation in the course of instruction.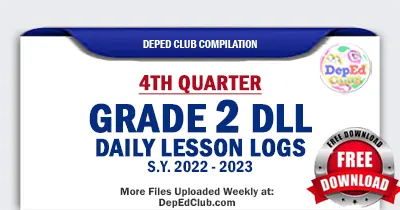 4th Quarter Grade 2 Daily Lesson Log | SY 2022 – 2023 DLL Update!
Update! Week 1 4th Quarter Grade 2 Daily Lesson Log DLL
(May 2 – 5, 2023)
Update! Week 2 4th Quarter Grade 2 Daily Lesson Log DLL
(May 8 – 12, 2023)
Update! Week 3 4th Quarter Grade 2 Daily Lesson Log DLL
(May 15 – 19, 2023)
Update! Week 4 4th Quarter Grade 2 Daily Lesson Log DLL
(May 22 – 26, 2023)
Update! Week 5 4th Quarter Grade 2 Daily Lesson Log DLL
(May 29 – June 2, 2023)
Update! Week 6 4th Quarter Grade 2  Daily Lesson Log DLL
(June 5 – 9, 2023)
NOW AVAILABLE!
ALSO AVAILABLE!
IMPORTANT GUIDE:
MORE DOWNLOADABLE FILES
Activities for Students | Classroom Observation Tools | Daily Lesson Log | Diagnostic Test | Exams | Inspirational Stories | Instructional Materials | Learners Material | Periodical Tests | Powerpoint Presentations | RPMS | Short Stories | Summative Tests | Weekly Daily Lesson Log | Weekly Home Learning Plan | Weekly Learning Plan | Workbooks
We are always on the process of uploading new files.
For additional updates and unannounced uploads, please visit this section from time to time.
Like us on Facebook to get INSTANT UPDATES. CLICK HERE
You can also BOOKMARK this page in your web browser by clicking Ctrl+D in your keyboard for faster access in the future. Thank you fellow Teachers.
We at DepEd Teachers Club are always grateful to all our File Authors and File Contributors. Credit goes to all of them. Let us all give them thanks and show our support for all their works.
We are also thankful for all our File Editors, Sharers, Tech Volunteers and fellow Teachers for helping us and making this kind of service possible.