We are always on the process of uploading ready-made and updated K-12 Daily Lesson Logs weekly. Thanks to all our file contributors and to our file editors who proofread and format our files . We also hope everyone is safe, blessed and doing well. Please don't forget to to Share our posts and Like our page. Thank you! Now, we have uploaded our Week 8 – Quarter 1 Daily Lesson Log | October 10 – 14, 2022 DLL Update!
Our Contributors, Editors and Tech Volunteers are the foundation of DepEd Teachers Club. We are always grateful and we ask for your continued support. Thank you!
All our files can be downloaded for FREE via Google Drive. Please check out our updated and fixed File Links.
May more blessings come upon us all. Thank you.
Before downloading, check this out:
Featured Article:
Romualdez vows passage of more laws promoting teachers' welfare
MANILA – Speaker Martin Romualdez on Wednesday extended his warmest greetings and thanks to all Filipino teachers as he joined the nation in celebrating National Teachers' Day.

"This special occasion aptly reminds us of the great services that our teachers contribute in value-formation and nation-building throughout the years," he said in a brief message.

"Sa aming mga guro, maraming salamat po sa inyong malasakit at serbisyo (To our teachers, thank you very much for your devotion and service). Your commitment to duty and diligent efforts, especially in the age of pandemic, is deeply appreciated. Hindi po namin malilimutan ang lahat ng naituro ninyo (We will never forget everything that you taught). You will remain in our hearts forever," he added.

The House leader said pointed out that the role and importance of teachers in the development of students, and society in general, are not recognized every day.

"I encourage all to make it our solemn duty to pay tribute to teachers and thank them for their contributions whenever given the chance to do so," Romualdez said.

He assured teachers that the House of Representatives in the 19th Congress "will remain steadfast in finding ways and means to legislate laws that will protect the rights of Filipino teachers and promote your welfare."

"God bless, our dear teachers, and may the Lord continue to shower you with his love and affection. Mabuhay po kayong lahat!" Romualdez said.

National Teachers' Day, celebrated October 5 simultaneously with World Teachers' Day, is the culmination of National Teachers' Month (NTM).

The country started its celebration of the NTM per Proclamation No. 242, series of 2011, "to honor those in the teaching profession and acknowledge their commitment in developing globally-minded citizens, nurturing families, strengthening communities, and building the nation." (PNA)

Source:

The Philippine News Agency

By Jose Cielito Reganit

Published: October 5, 2022

https://www.pna.gov.ph/articles/1185395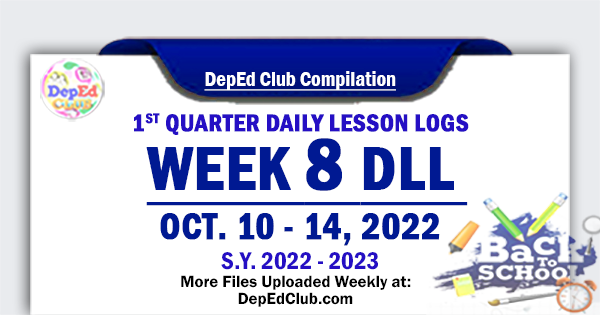 Week 8 – Quarter 1 Daily Lesson Log | October 10 – 14, 2022 DLL Update!
See Also:
IMPORTANT: HOW TO DOWLOAD FILES IN GOOGLE DRIVE
FOR MS OFFICE FILES:
1. Click on the file link in our website.

2. You will be redirected to the file location via Google Drive.

3. On the upper left side of your screen, Go to FILE menu. Click DOWNLOAD, then Select Microsoft Word for the editable file format.
FOR OTHER FILES:
1. On the upper right hand corner of your screen, look for the Down Arrow Download Button just as below:

If you encounter an Error while downloading the files, please Log-in to your Gmail account (Here – mail.google.com) , then try again to click the Download Link in Google Drive. Thank you.
Additional files to be uploaded soon.
We are always on the process of uploading new files.
For additional updates and unannounced uploads, please visit this section from time to time.
Like us on Facebook to get INSTANT UPDATES. CLICK HERE
You can also BOOKMARK this page in your web browser by clicking Ctrl+D in your keyboard for faster access in the future. Thank you fellow Teachers.
We at DepEd Teachers Club are always grateful to all our File Authors and File Contributors. Credit goes to all of them. Let us all give them thanks and show our support for all their works.
We are also thankful for all our File Editors, Sharers, Tech Volunteers and fellow Teachers for helping us and making this kind of service possible.
MORE DOWNLOADABLE FILES