Here is our compiled Grade 1 Summative Tests – Whole Year. Our goal is to finish all of the K–12 Summative Tests – All Subjects / Achievement Tests so that teachers can use them to evaluate student learning in relation to the Department of Education's subject requirements.
Additional student assessment tools will soon be uploaded. The Grade 1 Summative Tests – Whole Year files can be found at the end of this post.
Summative Assessment
Student learning, knowledge, proficiency, or accomplishment are evaluated by summative assessment (Grade 1 Summative Tests) at the conclusion of a unit or a quarter. Official grading and weighting are applied to summative assessments. Summative evaluation is used in conjunction with and in alignment with formative evaluation. Summative assessments are more weighted or have higher stakes than formative assessments, so it is crucial to make sure that they are in line with the curriculum's objectives and expected results. This is possible by:

– Using a Rubric or Table of Specifications – Teachers can use a rubric to specify the performance standards that students are required to meet for a variety of grades. Rubrics will outline the ideal assignment and list anticipated performance at the start of the term, giving students a path and a sense of accomplishment.

– Creating Simple, Effective Questions – When creating essay questions, teachers can make sure that they adhere to standards while giving students the ability to communicate their knowledge in original ways that respect how they absorbed, created, or mastered meaning.

– Assessing Comprehensiveness – Effective summative exams give students the chance to analyze the entirety of a course's content, drawing broad conclusions, showcasing synthesizing abilities, and delving deeper into the concepts that underpin or form the basis of a course's ideas and content.

– Making Parameters Clear – When approaching a final assessment, instructors can make sure that the parameters (length of assessment, depth of response, time and date, grading standards) are clearly defined, that the knowledge being assessed clearly relates to the course material, and that students with disabilities are given the necessary space and support.

– Take into account blind grading – Instructors might want to be aware of whose work they are grading in order to give feedback that reflects a student's term-long trajectory. Instructors might also take into account blind grading if they want to offer completely objective summative assessment.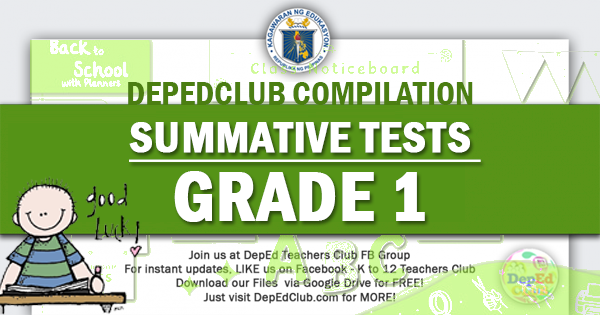 Grade 1 Summative Tests – 1st Quarter
–
–
–
Coming Soon!
Grade 1 Summative Tests – 2nd Quarter
Grade 1 Summative Tests – 3rd Quarter
Grade 1 Summative Tests – 4th Quarter
MORE DOWNLOADABLE FILES