Lesson planning plays a crucial role in the field of education. It is a fundamental task assigned to teachers and is an important aspect of the teaching profession such as the new Week 7 Quarter 4 Daily Lesson Log. Effective planning serves as a key factor in eradicating improvisation, uncontrolled crusading and monotony from the teaching process.
Planning refers to the organization of the teaching and learning process while a lesson, also known as didactic constitutes the basic unit for structuring pedagogical action. Therefore, planning entails the design and organization of the learning environment involving a series of structured and sequenced teaching units. These units are tailored to specific subjects and courses at various educational levels, incorporating goals, content, methodological strategies, resources, assessment activities and measures to address the diverse needs of students. It is imperative to include provisions for students with learning difficulties as well as highly gifted students while ensuring inclusivity within the curriculum.
Several components must be considered when engaging in lesson planning as with the Week 7 Quarter 4 Daily Lesson Log. These include the regulatory framework, the school's educational and curricular project, the contextual factors influencing the learning and teaching planning process, the expertise, skills and characteristics of both teachers and students as well as the nature of the content being taught. Lesson planning is contingent upon the educational objectives established by the school, which determines the appropriate teaching modality and methodological strategies to be employed. It is an integral part of the overall annual planning responsible for organizing the teaching objectives, content and assessment criteria for each subject or course throughout the academic year. Primary and secondary school teachers adapt, organize and sequence these elements along with the methodological principles, guidelines and resources that will be utilized in their teaching practice.
The most significant characteristic of any lesson planning endeavor is its comprehensive nature. This entails ensuring that the lesson planning process contributes to the integration and coherence of instruction within the same subject across different grade levels. By adopting a joint approach, lesson planning fosters consistency and harmonization in teaching practices.
And to help teachers set clear learning objectives for each lesson, structure their instruction and activities accordingly, thus ensuring a focused and purposeful learning experience, we are constantly uploading our ready-made Week 7 Quarter 4 Daily Lesson Log | June 12 – 16, 2023 DLL Update! Our long-term goal is to consistently update and publish our ready-made weekly K–12 Daily Lesson Logs. Just visit this page regularly for the latest uploads.
We are grateful to all of our Contributors, File Editors, and Tech Volunteers who worked sacrificially and without hesitation to manage the content of our website and social media accounts. Thank you to everyone for your continued support.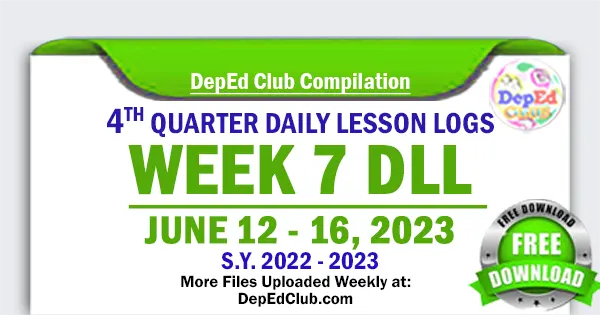 Week 7 Quarter 4 Daily Lesson Log |
June 12 – 16, 2023 DLL Update!
Kindergarten Daily Lesson Log 4th Quarter
Grade 1 Daily Lesson Log 4th Quarter
Grade 2 Daily Lesson Log 4th Quarter
Grade 3 Daily Lesson Log 4th Quarter
Grade 4 Daily Lesson Log 4th Quarter
Grade 5 Daily Lesson Log 4th Quarter
Grade 6 Daily Lesson Log 4th Quarter
NOW AVAILABLE!
ALSO AVAILABLE!
IMPORTANT GUIDE:
MORE DOWNLOADABLE FILES
We are always on the process of uploading new files.
For additional updates and unannounced uploads, please visit this section from time to time.
Like us on Facebook to get INSTANT UPDATES. CLICK HERE
You can also BOOKMARK this page in your web browser by clicking Ctrl+D in your keyboard for faster access in the future. Thank you fellow Teachers.
We at DepEd Teachers Club are always grateful to all our File Authors and File Contributors. Credit goes to all of them. Let us all give them thanks and show our support for all their works.
We are also thankful for all our File Editors, Sharers, Tech Volunteers and fellow Teachers for helping us and making this kind of service possible.