Lesson planning is a crucial aspect of teaching profession that involves strategizing and preparing for effective instruction. Similar to planning in any other field, education requires a structured approach to achieve goals and objectives such as this week's Week 6 Quarter 4 Daily Lesson Log provided below.
In this context, lesson plans serve as valuable tools for teachers as they outline the course of instruction for a particular lesson that is aimed at helping learners accomplish specific learning objectives. These plans play a pivotal role in conveying what learners will be taught, how their progress will be assessed and they assist teachers in organizing various elements such as content, materials, time allocation and instructional strategies.
Prior to delivering a lesson, teachers engage in a planning process which involves several key steps such as the Week 6 Quarter 4 Daily Lesson Log. The first step is determining the lesson topic which then leads to the establishment of the lesson objective or desired outcome. Lesson objectives encompass the concepts, ideas and knowledge that learners are expected to develop as well as the specific skills they should acquire and utilize by the end of the lesson. Objectives are essential as they guide teachers in planning appropriate instructional strategies, activities and resources that support effective learning. It is crucial for objectives to be clear and accurately describe the intended learning outcomes. Sharing objectives with students in an accessible manner is vital to ensure they understand what is expected of them. Instructional objectives should be specific, measurable and focused on desired learner behavior.
Learner assessment on the other hand is also an integral part of the lesson planning process that is closely tied to the objectives. Employing the principles of a backward planning design, teachers identify the desired results of the lesson and then determine the evidence that will demonstrate learners' knowledge and skills. A backwards design emphasizes starting with the end goal in mind while mapping the path from the desired outcome back to the present time and the current abilities of the students. This approach enables teachers to effectively plan the instructional methods necessary to reach the performance goal.
Teachers and learners benefit from thoughtful lesson planning. It provides a structured framework for instruction and ensures adherence to standards-based education. Lesson planning serves as a roadmap for instructors, clearly outlining what has been taught and what still needs to be covered. By focusing on one objective at a time, teachers can communicate to learners what they will be learning in each lesson.
Ongoing assessments integrated within lessons allow teachers to gauge learners' understanding of concepts and skills, making it possible to make mid-course adjustments to instructional strategies or provide additional support when needed. The practice and application components of a lesson enable learners to transfer their newly acquired knowledge and skills to educational and real-life contexts fostering generalization and relevance.
And to enable teachers plan appropriate instructional strategies, activities, materials, and resources that support learning, we are constantly uploading our ready-made Week 6 Quarter 4 Daily Lesson Log | June 5 – 9, 2023 DLL Update! Our long-term goal is to consistently update and publish our ready-made weekly K–12 Daily Lesson Logs. Just visit this page regularly for the latest uploads.
We are grateful to all of our Contributors, File Editors, and Tech Volunteers who worked sacrificially and without hesitation to manage the content of our website and social media accounts. Thank you to everyone for your continued support.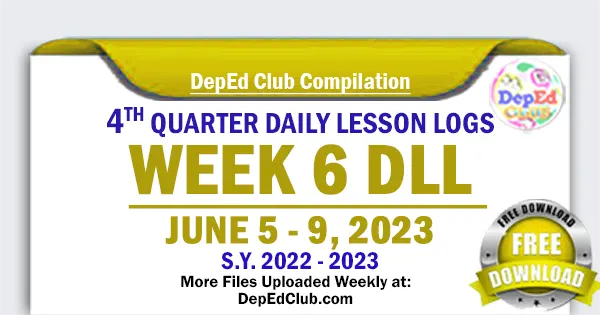 Week 6 Quarter 4 Daily Lesson Log |
June 5 – 9, 2023 DLL Update!
Kindergarten Daily Lesson Log 4th Quarter
Grade 1 Daily Lesson Log 4th Quarter
Grade 2 Daily Lesson Log 4th Quarter
Grade 3 Daily Lesson Log 4th Quarter
Grade 4 Daily Lesson Log 4th Quarter
Grade 5 Daily Lesson Log 4th Quarter
Grade 6 Daily Lesson Log 4th Quarter
NOW AVAILABLE!
ALSO AVAILABLE!
IMPORTANT GUIDE:
MORE DOWNLOADABLE FILES
We are always on the process of uploading new files.
For additional updates and unannounced uploads, please visit this section from time to time.
Like us on Facebook to get INSTANT UPDATES. CLICK HERE
You can also BOOKMARK this page in your web browser by clicking Ctrl+D in your keyboard for faster access in the future. Thank you fellow Teachers.
We at DepEd Teachers Club are always grateful to all our File Authors and File Contributors. Credit goes to all of them. Let us all give them thanks and show our support for all their works.
We are also thankful for all our File Editors, Sharers, Tech Volunteers and fellow Teachers for helping us and making this kind of service possible.