We are always on the process of uploading new and updated K-12 Daily Lesson Logs weekly. Now, we have uploaded our Week 5 – Quarter 1 Daily Lesson Log | September 19 – 23, 2022 DLL Update! Before downloading, check this out:
Department of Education Spokesperson Michael Poa assures the public that the department is aggressively securing steps to significantly reduce, if not remove, the special and administrative tasks of teachers, during a press briefing on Thursday (Sept. 15, 2022). He said the DepEd is set to launch a work-balancing tool that would help identify their actual tasks. To learn more, continue reading our featured article below.
Thanks to all our file contributors and to our file editors who proofread and format our files . We also hope everyone is safe, blessed and doing well. Please don't forget to to Share our posts and Like our page. Thank you!
Our Contributors, Editors and Tech Volunteers are the foundation of DepEd Teachers Club. We are always grateful and we ask for your continued support. Thank you!
All our files can be downloaded for FREE via Google Drive. Please check out our updated and fixed File Links.
May more blessings come upon us all. Thank you.
Featured Article:
DepEd wants admin tasks off teachers' shoulder
MANILA – The Department of Education (DepEd) is planning to reduce the workload of teachers by removing administrative tasks from their stead and introducing a work-balancing tool they could use.

In a press briefing, DepEd Spokesperson Michael Poa said this tool seeks to assess the working hours of teachers and how efficiently they are being spent.

Poa said the DepEd is determined to hire not only more teachers but also non-teaching personnel to help them, by including a budget allocation for the hiring of 10,000 teachers by 2023.

"'Yun po 'yung nakasaad sa work balancing tool na ila-launch natin (That is indicated in the work balancing tool that will be launched) once approved and completed. Para po makita natin ano 'yung teaching time lang talaga, ano 'yung admin tasks lang talaga, at 'yung admin tasks ay gusto na nating ipasa sa non-teaching personnel or ma-reduce kung kaya namang ma-reduce (So we can see their actual teaching time, their administrative tasks, which we want to be passed on to the non-teaching personnel, to reduce [the teachers' load] if it could be reduced)," he said.

Poa noted that they are targeting to launch the tool this school year, as part of their "aggressive" move to reduce the teachers' workload.

"Within the year malalabas po natin 'yan kasi nga po ito'y isang magandang tool para ma-identify muna natin kung ano 'yung ginagawa ng mga teachers natin sa field (We can release it within the year because it is a great tool that could identify the teachers' tasks on the field) or on the ground," he added.

Besides the target launch, Poa said, the DepEd central office would also implement a reduction of special assignments during events, requiring teachers' participation, as well as municipal or provincial events initiated by the local government units.

"Na-ta-task 'yung mga teachers natin na sumali sa activities na ito. Hindi na po natin gagawin, babawasan na po natin hanggat makakaya para po (Teachers are tasked to join these activities, but we will no longer do it. We will reduce these activities as much as possible so) the teachers will have more time in the classrooms than outside activities," he said.

Face masks

In consideration of Executive Order (EO) 3, which makes the use of face masks voluntary in open spaces, Poa said they have yet to coordinate with the Department of Health (DOH) to ensure the prevention of any unnecessary spike in coronavirus disease 2019 (Covid-19) cases in schools.

"Our learners usually spend their time inside the classrooms, so it's still mandatory. However, in the latest developments brought about by EO 3, we will coordinate with the DOH. We will consult the DOH because there are times our learners are in open spaces," he said in mixed English and Filipino.

Poa noted that the result of their consultation would be incorporated into their guidelines, which he said would be issued "very soon."

"What we want to prevent is a major surge that would fully exhaust our critical care system in the Philippines. So again, we are still enforcing the health standards in our schools," he added.

Besides this, the DepEd will also verify and consolidate data from regional offices to provide actual monitoring of Covid-19 infection among learners nationwide, he said. (PNA)

Source:

The Philippine News Agency
By Stephanie Sevillano
Published: September 15, 2022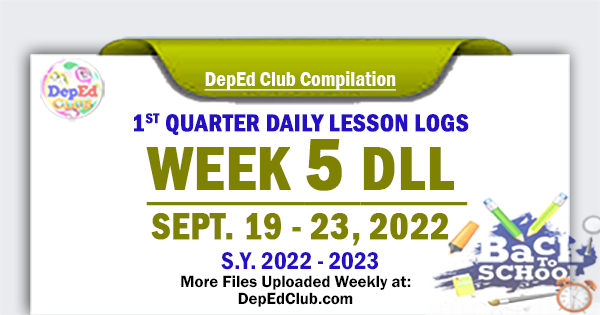 Week 5 – Quarter 1 Daily Lesson Log | September 19 – 23, 2022 DLL Update!
IMPORTANT: HOW TO DOWLOAD FILES IN GOOGLE DRIVE
FOR MS OFFICE FILES:
1. Click on the file link in our website.

2. You will be redirected to the file location via Google Drive.

3. On the upper left side of your screen, Go to FILE menu. Click DOWNLOAD, then Select Microsoft Word for the editable file format.
FOR OTHER FILES:
1. On the upper right hand corner of your screen, look for the Down Arrow Download Button just as below:

If you encounter an Error while downloading the files, please Log-in to your Gmail account (Here – mail.google.com) , then try again to click the Download Link in Google Drive. Thank you.
Additional files to be uploaded soon.
We are always on the process of uploading new files.
For additional updates and unannounced uploads, please visit this section from time to time.
Like us on Facebook to get INSTANT UPDATES. CLICK HERE
You can also BOOKMARK this page in your web browser by clicking Ctrl+D in your keyboard for faster access in the future. Thank you fellow Teachers.
We at DepEd Teachers Club are always grateful to all our File Authors and File Contributors. Credit goes to all of them. Let us all give them thanks and show our support for all their works.
We are also thankful for all our File Editors, Sharers, Tech Volunteers and fellow Teachers for helping us and making this kind of service possible.
MORE DOWNLOADABLE FILES