In our ongoing commitment to support teachers in cultivating an enriching learning atmosphere that fosters mutual growth for both teachers and students, we are delighted to share our collection of DepEd educational resources including these Week 4 – Quarter 2 Daily Lesson Log | Nov. 27 – Dec. 1, 2023 DLL Update! These materials aim to offer students a transparent comprehension of expectations, seamlessly incorporate goals throughout the curriculum and encourage daily participation in literacy activities and academic engagement.
This initiative not only aims to help teachers conquer challenges stemming from limited resources but also to alleviate their teaching workload. Through sharing our files, we aim to empower teachers to create a seamless and enriched learning experience, fostering a stronger connection between instruction and understanding.
Our heartfelt gratitude extends to our dedicated DepEd Club Contributors, File Editors, and Tech Volunteers, whose selfless and unwavering efforts have been instrumental in organizing the content of our website and social media platforms. We extend a warm thank you to all for your steadfast support that continues to drive us forward with this cause.
Planning and Preparing for Instruction
Effective lesson planning involves the seamless integration of clear lesson and learning objectives, creating quality assignments and logically structured lessons. Teachers should view these elements not in isolation but as interconnected aspects that when used cohesively, contribute to creating a positive and productive learning environment. By incorporating these principles into their teaching practices, teachers can enhance the overall effectiveness of their instruction and promote meaningful learning experiences for their students.
Clear Lesson and Learning Objectives
A fundamental aspect of effective teaching is setting clear lesson objectives. These objectives serve as a roadmap guiding both teachers and students toward a shared understanding of what should be learned by the end of the lesson. It is imperative for teachers to articulate objectives in terms of student learning, ensuring a focused and purposeful approach to the lesson. Clarity in objectives helps avoid confusion and frustration, providing a foundation for effective teaching. Effective teachers exhibit the following traits related to clear lesson and learning objectives:
They provide clear and focused instruction.
They begin with a concise statement of goals.
They maintain a clear focus on the content to be taught and how it should be taught.
Creating Quality Assignments
While clear objectives set the direction, the quality of assignments plays a pivotal role in achieving the desired learning outcomes. Effective teachers understand that assignments are not just tasks. They are the means to accomplish the established objectives. Creating high-quality assignments requires careful consideration of various factors in the decision-making process, ensuring a meaningful and engaging learning experience for students.
Research findings highlight the significance of creating quality assignments:
Quality classrooms integrate goals across the curriculum.
Highly qualified teachers incorporate multiple goals into a single lesson.
The relationship between the quality of classroom assignments and student work is evident.
The elements within an activity have a greater impact than the implementation itself.
Different subjects require different types of intellectual quality in planning activities.
Logically Structured Lessons
Even with clear objectives and quality assignments, the implementation of lessons is crucial. Skillful orchestration of objectives, strategies, materials and equipment along with the careful organization, development and sequencing of lessons is essential for successful teaching. Without proper structuring, the best objectives remain ineffective.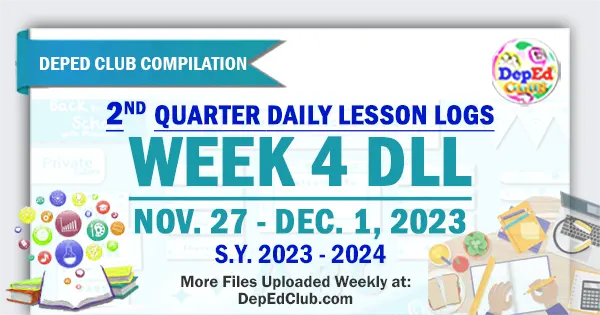 Week 4 – Quarter 2 Daily Lesson Log |
Nov. 27 – Dec. 1, 2023 DLL Update!
Kindergarten Daily Lesson Log – Week 4 – 2nd Quarter
Grade 1 Daily Lesson Log – Week 4 – 2nd Quarter
Grade 2 Daily Lesson Log – Week 4 – 2nd Quarter
Grade 3 Daily Lesson Log – Week 4 – 2nd Quarter
Grade 4 Daily Lesson Log – Week 4 – 2nd Quarter
Grade 5 Daily Lesson Log – Week 4 – 2nd Quarter
Grade 6 Daily Lesson Log – Week 4 – 2nd Quarter
MORE FILES NOW AVAILABLE!
COMING SOON!
2nd Quarter Periodical Tests
IMPORTANT GUIDE:
MORE DOWNLOADABLE FILES
Activities for Students | Classroom Observation Tools | Daily Lesson Log | Diagnostic Test | Exams | Inspirational Stories | Instructional Materials | Learners Material | Periodical Tests | Powerpoint Presentations | RPMS | Short Stories | Summative Tests | Weekly Daily Lesson Log | Weekly Home Learning Plan | Weekly Learning Plan | Workbooks
We are always on the process of uploading new files.
For additional updates and unannounced uploads, please visit this section from time to time.
Like us on Facebook to get INSTANT UPDATES. CLICK HERE
You can also BOOKMARK this page in your web browser by clicking Ctrl+D in your keyboard for faster access in the future. Thank you fellow Teachers.
We at DepEd Teachers Club are always grateful to all our File Authors and File Contributors. Credit goes to all of them. Let us all give them thanks and show our support for all their works.
We are also thankful for all our File Editors, Sharers, Tech Volunteers and fellow Teachers for helping us and making this kind of service possible.