Good day! To help teachers in the difficult task of lesson planning and the customary organization of instructional resources to enable methodical and effective instruction, we are constantly uploading our ready-made 2nd Quarter Grade 6 Daily Lesson Log | SY 2023 – 2024 DLL Update!
We are grateful to all of our Contributors, File Editors, and Tech Volunteers who worked sacrificially and without hesitation to manage the content of our website and social media accounts. Thank you to everyone for your continued support.
How Do Learners and Teachers Benefit from Lesson Planning?
Different learner profiles must be considered when planning for differentiated instruction. Before the teacher moves on to the next level, the students in each step must show that they have mastered the concepts or information. The connection between the objective and the evaluation activity helps to keep the lesson on target and direct instruction. The teacher can have a clear end goal for the lesson and a path to get there by designing it backwards from the finish and including the evaluation activity at the start of the class. Then teachers can choose the resources and exercises that will enable students to effectively complete the lesson's evaluation activity. For every learning objective, the procedure is repeated. Lesson planning ensures that instruction moves smoothly from one target to the next. Each learning objective goes through this cycle again.
Lesson planning carefully benefits both teachers and students. It offers a structure for instruction and directs the use of standards-based education. For teachers, lesson preparation creates a roadmap of what has been presented and what is still to be taught. It enables them to concentrate on one goal at a time and tell students what they'll master in each lesson. Because lessons include ongoing assessments that show how well students comprehend concepts and skills, teachers can alter their teaching strategies mid-course or give more assistance to students.
Moreover, the practice and application parts of the lessons enable students to use their new knowledge and abilities in academic and nonacademic contexts, encouraging generalization and relevance.
Teaching is a challenging endeavor. It requires careful planning and preparation. The lesson plan serves as the guide for the instructional tasks to be carried out in the classroom. Every teacher strives to organize the material in his or her own unique way so that he or she can instruct methodically and successfully at the appropriate time.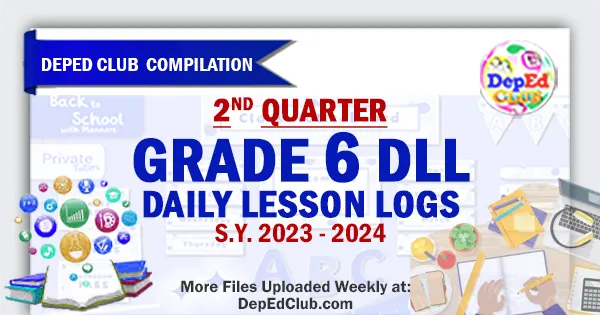 2nd Quarter Grade 6 Daily Lesson Log |
SY 2023 – 2024 DLL Update!
Update! Week 1 – 2nd Quarter Grade 6 Daily Lesson Log DLL
(November 6 – 10, 2023)
Update! Week 2 – 2nd Quarter Grade 6 Daily Lesson Log DLL
( November 13 – 17, 2023 )
Update! Week 3 – 2nd Quarter Grade 6 Daily Lesson Log DLL
( November 20 – 24, 2023 )
Update! Week 4 – 2nd Quarter Grade 6 Daily Lesson Log DLL
( November 27 – December 1, 2023 )
Update! Week 5 – 2nd Quarter Grade 6 Daily Lesson Log DLL
( December 4 – 8, 2023 )
Update! Week 6 – 2nd Quarter Grade 6  Daily Lesson Log DLL
( December 11 – 15, 2023 )
MORE FILES NOW AVAILABLE!
COMING SOON!
Grade 1 2nd Quarter Periodical Tests
IMPORTANT GUIDE:
MORE DOWNLOADABLE FILES
Activities for Students | Classroom Observation Tools | Daily Lesson Log | Diagnostic Test | Exams | Inspirational Stories | Instructional Materials | Learners Material | Periodical Tests | Powerpoint Presentations | RPMS | Short Stories | Summative Tests | Weekly Daily Lesson Log | Weekly Home Learning Plan | Weekly Learning Plan | Workbooks
We are always on the process of uploading new files.
For additional updates and unannounced uploads, please visit this section from time to time.
Like us on Facebook to get INSTANT UPDATES. CLICK HERE
You can also BOOKMARK this page in your web browser by clicking Ctrl+D in your keyboard for faster access in the future. Thank you fellow Teachers.
We at DepEd Teachers Club are always grateful to all our File Authors and File Contributors. Credit goes to all of them. Let us all give them thanks and show our support for all their works.
We are also thankful for all our File Editors, Sharers, Tech Volunteers and fellow Teachers for helping us and making this kind of service possible.