Good day! To help teachers organize content resources, teaching strategies and express their educational methods regarding their lessons, and help them in their lesson planning, we are constantly uploading our ready-made 2nd Quarter Grade 1 Daily Lesson Log | SY 2023 – 2024 DLL Update!
We are grateful to all of our Contributors, File Editors, and Tech Volunteers who worked sacrificially and without hesitation to manage the content of our website and social media accounts. Thank you to everyone for your continued support.
Setting out learning objectives in lesson planning
Below is a list of the steps in making lesson plans. A series of questions is provided at each step in order to encourage introspection and help you create your teaching and learning activities. Identifying what you want students to know and be able to do at the end of class is the first step. Please respond to the following questions in order to help you define your goals in lesson planning:
What will be the lesson's topic?
What do I hope they learn?
What should they know and be able to do by the end of the lesson?
What particular lesson do I want them to remember?
List the class meeting's learning objectives and then rank them according to significance. In case you are rushed for time, this phase will have you ready to manage class time and complete the more significant learning objectives. Think about the following inquiries:
Which concepts, ideas, or abilities am I most concerned about my pupils being able to understand and use? Why are they crucial?
Which of these could not be omitted if I ran out of time?
On the other hand, which ones could I omit if time were of the essence?
Planning lessons involves creating a class introduction. Create the exact activities you'll use to help students comprehend and put what they've learned into practice once you've arranged your learning objectives according to significance. Since your class will be made up of a variety of students with various academic and personal backgrounds, it's possible that some of them are already familiar with the subject. To determine pupils' knowledge of the subject or even their preconceived beliefs about it, you might start with a question or exercise. Asking your pupils to make remarks on index cards prior to class is another way to get background information from them. This extra information can be used to assist design your introduction and other activities. You will know what to focus on after you have an idea of the pupils' familiarity with the subject. Create a fascinating introduction to the subject to pique curiosity and promote thought.
To engage pupils, you might employ a variety of strategies (e.g., practical application, historical event, thought-provoking dilemma, etc.). When creating your introduction, keep the following in mind:
How will I determine whether pupils are knowledgeable about the subject or whether they have any predetermined ideas about it?
What are some widely held beliefs (or possible myths) regarding this subject that students might be aware of or might subscribe to?
How will I introduce the subject?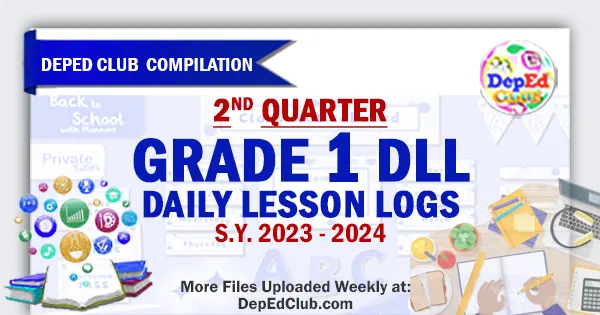 2nd Quarter Grade 1 Daily Lesson Log |
SY 2023 – 2024 DLL Update!
Update! Week 1 – 2nd Quarter Grade 1 Daily Lesson Log DLL
(November 6 – 10, 2023)
Update! Week 2 – 2nd Quarter Grade 1 Daily Lesson Log DLL
( November 13 – 17, 2023 )
Update! Week 3 – 2nd Quarter Grade 1 Daily Lesson Log DLL
( November 20 – 24, 2023 )
Update! Week 4 – 2nd Quarter Grade 1 Daily Lesson Log DLL
( November 27 – December 1, 2023 )
Update! Week 5 – 2nd Quarter Grade 1  Daily Lesson Log DLL
( December 4 – 8, 2023 )
MORE FILES NOW AVAILABLE!
COMING SOON!
Grade 1 2nd Quarter Periodical Tests
IMPORTANT GUIDE:
MORE DOWNLOADABLE FILES
Activities for Students | Classroom Observation Tools | Daily Lesson Log | Diagnostic Test | Exams | Inspirational Stories | Instructional Materials | Learners Material | Periodical Tests | Powerpoint Presentations | RPMS | Short Stories | Summative Tests | Weekly Daily Lesson Log | Weekly Home Learning Plan | Weekly Learning Plan | Workbooks
We are always on the process of uploading new files.
For additional updates and unannounced uploads, please visit this section from time to time.
Like us on Facebook to get INSTANT UPDATES. CLICK HERE
You can also BOOKMARK this page in your web browser by clicking Ctrl+D in your keyboard for faster access in the future. Thank you fellow Teachers.
We at DepEd Teachers Club are always grateful to all our File Authors and File Contributors. Credit goes to all of them. Let us all give them thanks and show our support for all their works.
We are also thankful for all our File Editors, Sharers, Tech Volunteers and fellow Teachers for helping us and making this kind of service possible.