In our ongoing commitment to support teachers in the creation of meaningful teaching and learning experiences and ensuring coverage of planned content and the fulfillment of departmental and pedagogic objectives while maintaining a structured and engaging classroom environment, we are delighted to share our collection of DepEd educational resources including these Week 3 – Quarter 2 Daily Lesson Log | November 20 – 24, 2023 DLL Update!
This initiative not only aims to help teachers conquer challenges stemming from limited resources but also to alleviate their teaching workload. Through sharing our files, we aim to empower teachers to create a seamless and enriched learning experience, fostering a stronger connection between instruction and understanding.
Our heartfelt gratitude extends to our dedicated DepEd Club Contributors, File Editors, and Tech Volunteers, whose selfless and unwavering efforts have been instrumental in organizing the content of our website and social media platforms. We extend a warm thank you to all for your steadfast support that continues to drive us forward with this cause.
Teaching/Learning Activities in Daily Lesson Preparation
Teachers use teaching and learning activities to plan and achieve specific goals in the classroom. Following a structured order during these activities is crucial for success. Proper planning and execution can shape engaging student participation. To effectively address different learning styles and maintain a steady learning rhythm, the planning must include a range of complexities, considering the social aspect of the process.
For effective learning, students should be aware of the activity's goals from the beginning. This ensures they can organize themselves for optimal learning. In addition to research-based strategies, activities should include expository methods and an open program with varying levels of structure based on student interests.
Teaching and learning activities can be categorized into different types. Inspirational or introductory activities aim to relate the subject to real-life, captivating students with interesting titles or progressions. Previous experience-based activities help understand students' existing concepts and opinions through techniques like interviews and debates. Developmental activities focus on acknowledging new concepts and experimental design, while consolidating knowledge activities compare new concepts with previous learning.
Special education activities cater to diverse student needs, whether they are struggling or excelling. Properly tailored activities are essential to engage and challenge students appropriately. Flexibility is crucial in lesson planning to enhance interactions between students and teachers. Flexibility involves not only the number of students in a group but also the location and timing of activities.
Timetables should not be rigidly disciplined and a global perspective should be adopted in the teaching/learning process. Different groupings or learning circumstances require specific techniques to develop particular talents. Large group settings may focus on synthesis, while teamwork is suitable for procedural and attitude-related items.
Individual work allows for personal reflection, independent problem-solving and information searching. Group diversity balances individual and social dimensions. The organizational axis of content determines didactic techniques, allowing for various tactics like interest points, project methodologies and research. Taking a global approach in lesson planning accommodates diverse learning styles and ensures a well-rounded educational experience.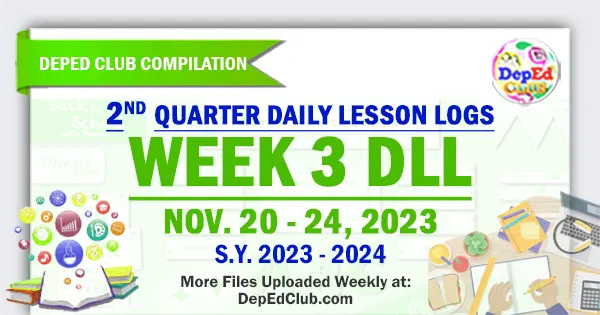 Week 3 – Quarter 2 Daily Lesson Log |
November 20 – 24, 2023 DLL Update!
Kindergarten Daily Lesson Log – Week 3 – 2nd Quarter
Grade 1 Daily Lesson Log – Week 3 – 2nd Quarter
Grade 2 Daily Lesson Log – Week 3 – 2nd Quarter
Grade 3 Daily Lesson Log – Week 3 – 2nd Quarter
Grade 4 Daily Lesson Log – Week 3 – 2nd Quarter
Grade 5 Daily Lesson Log – Week 3 – 2nd Quarter
Grade 6 Daily Lesson Log – Week 3 – 2nd Quarter
MORE FILES NOW AVAILABLE!
COMING SOON!
2nd Quarter Periodical Tests
IMPORTANT GUIDE:
MORE DOWNLOADABLE FILES
Activities for Students | Classroom Observation Tools | Daily Lesson Log | Diagnostic Test | Exams | Inspirational Stories | Instructional Materials | Learners Material | Periodical Tests | Powerpoint Presentations | RPMS | Short Stories | Summative Tests | Weekly Daily Lesson Log | Weekly Home Learning Plan | Weekly Learning Plan | Workbooks
We are always on the process of uploading new files.
For additional updates and unannounced uploads, please visit this section from time to time.
Like us on Facebook to get INSTANT UPDATES. CLICK HERE
You can also BOOKMARK this page in your web browser by clicking Ctrl+D in your keyboard for faster access in the future. Thank you fellow Teachers.
We at DepEd Teachers Club are always grateful to all our File Authors and File Contributors. Credit goes to all of them. Let us all give them thanks and show our support for all their works.
We are also thankful for all our File Editors, Sharers, Tech Volunteers and fellow Teachers for helping us and making this kind of service possible.