Sharing is caring. 🙂
Good day! To assist teachers achieve the right balance between covering content in lesson plans, achieving learning objectives, ensuring that students understand the lessons, and helping them with time management, we are constantly uploading our ready-made 2nd Quarter Grade 2 Daily Lesson Log | SY 2022 – 2023 DLL Update!
We are grateful to all of our Contributors, File Editors, and Tech Volunteers who worked sacrificially and without hesitation to manage the content of our website and social media accounts. Thank you to everyone for your continued support.
Planning Specific Educational Activities in Lesson Planning
A significant portion of the lesson plan is the student learning activities. To capture more students' attention and accommodate various learning preferences, teachers must prepare a variety of presentation methods such as practical examples, analogies, visuals, etc. In doing so, they must calculate how much time they will spend on each activity and example as they plan them. Teachers must plan ahead for lengthy explanations or discussions, but be ready to move on swiftly to other applications or issues as well. They should also think about how to implement understanding checking procedures.
Teachers could design the learning activities they will utilize by asking themselves these questions:
How should the subject be presented?
How could the lesson be presented in a different way?
How can the students become interested in the subject?
What relevant circumstances, parallels, or examples from real life can students use to better comprehend the subject?
What will students need to complete in order to better comprehend the subject?
Verifying Student Understanding in Lesson Planning
Once the subject has been introduced and several examples have been used to illustrate the lessons, it is time to assess student comprehension. How can teachers know that the students understand the lessons?
Teachers must consider particular inquiries they can pose to students to gauge their comprehension. They need to jot them down, and then update them so that they are ready to pose the inquiries in various contexts. They should make an effort to foresee the responses their inquiries will elicit.
Teachers must ,make a decision regarding whether they want pupils to react vocally or in writing. They can use the following questions as a guide:
What inquiries will I make of the students to gauge their comprehension?
What will I ask pupils to do to show that they are paying attention?
What exercise can I have students complete to determine whether each of the learning objectives on my list has been met?
Anticipating students' inquiries is a crucial tactic that will aid in time management. Teachers must consider which questions will lead to fruitful conversation and which ones might divert the class as they arrange their session. They should consider and choose how to strike a balance between teaching the material, achieving their learning objectives and making sure the students understand.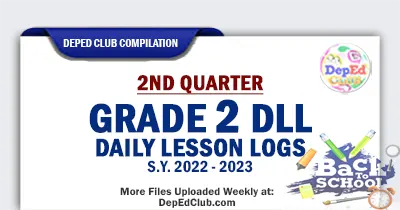 2nd Quarter Grade 2 Daily Lesson Log | SY 2022 – 2023 DLL Update!
(Update!) Week 1 – 2nd Quarter Grade 2 Daily Lesson Log DLL
(November 7 – 11, 2022)
Update!) Week 2 – 2nd Quarter Grade 2 Daily Lesson Log DLL
(November 14 – 18, 2022)
Update!) Week 3 – 2nd Quarter Grade 2 Daily Lesson Log DLL
(November 21 – 25, 2022)
Update!) Week 4 – 2nd Quarter Grade 2  Daily Lesson Log DLL
(November 28 – December 2, 2022)
See Also:
More Files uploaded Weekly. Bookmark this page for instant access. Just Press CTRL + D in your keyboard to add this page to your bookmarks.
Also Available!
IMPORTANT GUIDE:
MORE DOWNLOADABLE FILES
We are always on the process of uploading new files.
For additional updates and unannounced uploads, please visit this section from time to time.
Like us on Facebook to get INSTANT UPDATES. CLICK HERE
You can also BOOKMARK this page in your web browser by clicking Ctrl+D in your keyboard for faster access in the future. Thank you fellow Teachers.
We at DepEd Teachers Club are always grateful to all our File Authors and File Contributors. Credit goes to all of them. Let us all give them thanks and show our support for all their works.
We are also thankful for all our File Editors, Sharers, Tech Volunteers and fellow Teachers for helping us and making this kind of service possible.
Sharing is caring. 🙂