Good day! To assist teachers get a general picture of the educational goals they intend to achieve via their instruction and to act as a reminder of their goals and preferred techniques, we are constantly uploading our ready-made 2nd Quarter Grade 4 Daily Lesson Log | SY 2023 – 2024 DLL Update!
We are grateful to all of our Contributors, File Editors, and Tech Volunteers who worked sacrificially and without hesitation to manage the content of our website and social media accounts. Thank you to everyone for your continued support.
How to Present the Lesson Plan
Keeping students focused and on task will be easier if teachers let them know what they will be learning and doing in class. By putting a quick agenda on the board or outlining for the class specifically what they will be learning and doing, teachers can share their lesson plans with their pupils. The class's learning objectives can be listed on the board or in a handout. Giving the class a purposeful structure can aid in improving students' memory as well as their ability to follow teacher's presentation and comprehend the reasoning behind in-class activities. Keeping on schedule will be easier for the teacher and the students if they have a clearly visible agenda.
Due to various unrelated factors, a lesson plan may not be as successful as hoped. It can happen to even the most seasoned teachers. Teachers could spend some time after each lesson thinking about what went well and why, as well as what they could have done differently. It would be simpler to adapt to the unforeseen classroom circumstances if there was a clear distinction between effective and unsuccessful methods of scheduling class time and activities. They can use some mechanisms to get more advice on organizing and controlling class time such as feedback from the students, peer observation, watching a recording of the instruction and speaking with another co-teacher.
The lesson plan does not need to be a detailed account of every conceivable circumstance that could occur in the classroom in order to be successful. Additionally, it is not required to foresee the comments or inquiries of every single student. Instead, it should give teachers a broad overview of the educational objectives they hope to achieve through their instruction. It serves as a reminder of their objectives and preferred methods. Not every aspect of a class must go according to plan for it to be successful. instead, it must allow for mutual learning between the teacher and students.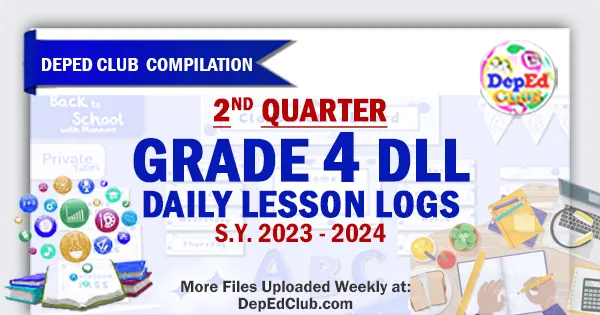 2nd Quarter Grade 4 Daily Lesson Log |
SY 2023 – 2024 DLL Update!
Update! Week 1 – 2nd Quarter Grade 4 Daily Lesson Log DLL
(November 6 – 10, 2023)
Update! Week 2 – 2nd Quarter Grade 4 Daily Lesson Log DLL
( November 13 – 17, 2023 )
Update! Week 3 – 2nd Quarter Grade 4 Daily Lesson Log DLL
( November 20 – 24, 2023 )
Update! Week 4 – 2nd Quarter Grade 4 Daily Lesson Log DLL
( November 27 – December 1, 2023 )
Update! Week 5 – 2nd Quarter Grade 4  Daily Lesson Log DLL
( December 4 – 8, 2023 )
MORE FILES NOW AVAILABLE!
COMING SOON!
Grade 1 2nd Quarter Periodical Tests
IMPORTANT GUIDE:
MORE DOWNLOADABLE FILES
Activities for Students | Classroom Observation Tools | Daily Lesson Log | Diagnostic Test | Exams | Inspirational Stories | Instructional Materials | Learners Material | Periodical Tests | Powerpoint Presentations | RPMS | Short Stories | Summative Tests | Weekly Daily Lesson Log | Weekly Home Learning Plan | Weekly Learning Plan | Workbooks
We are always on the process of uploading new files.
For additional updates and unannounced uploads, please visit this section from time to time.
Like us on Facebook to get INSTANT UPDATES. CLICK HERE
You can also BOOKMARK this page in your web browser by clicking Ctrl+D in your keyboard for faster access in the future. Thank you fellow Teachers.
We at DepEd Teachers Club are always grateful to all our File Authors and File Contributors. Credit goes to all of them. Let us all give them thanks and show our support for all their works.
We are also thankful for all our File Editors, Sharers, Tech Volunteers and fellow Teachers for helping us and making this kind of service possible.