Sharing is caring. 🙂
Good day! To help teachers with the challenging task of daily lesson preparation on a tight schedule!, we are constantly uploading our ready-made 2nd Quarter Grade 5 Daily Lesson Log | SY 2022 – 2023 DLL Update!
We are grateful to all of our Contributors, File Editors, and Tech Volunteers who worked sacrificially and without hesitation to manage the content of our website and social media accounts. Thank you to everyone for your continued support.
Learning goals in Daily Lesson Preparation
Teachers decide what they will acknowledge as proof of students' knowledge and skills after identifying the educational objective or expected results. The best way to achieve the performance goal must be determined by the teacher starting with the end in mind, or what the student should be capable of knowing, understand, or be able to do. The teacher must then map backward from the intended outcome to the present point and the students' current ability/skill levels.
An instructional road map for teachers, the warm-up, introduction, presentation, practice, evaluation, and application lesson plan model depicts an ongoing teaching cycle in which each learning concept builds on the one before it. Before moving on to the next stage, the instructor requires students to demonstrate mastery of the concepts and material in each of the six steps of this lesson plan model.
Warm-up – past knowledge is evaluated by going over earlier readings that are pertinent to the subject at hand. Introduce a warm-up activity that covers previously learned material as well as a lesson-focused activity.
Introduction – Focuses learners' attention on the upcoming lesson by giving a general overview of the subject matter and concepts to be taught. The objectives for the learners should be stated and written down, and the lesson's advantages should be discussed through connecting the objective to the learners' own life. By posing questions and recording the students' answers on a whiteboard or flip sheet, you may determine how much of the new information they already know.
Presentation – Explains the ideas and material covered in the class. Create an exercise to introduce the idea or skill and then provide material using a range of modalities, including written text, images, descriptions, and explanations. Verify that the new content is understood by the students and alter the lesson plan as required.
Practice – Offers opportunity for supervised practice while modeling the necessary abilities. Introduce a range of exercises that let students practice the concepts, skills, and knowledge being taught alone, in pairs, or in groups. as available, incorporate technology into activities.
Evaluation – This step evaluates whether each learner has achieved the goal. Include written, oral, aural, or practical performance evaluations. Add a word bank to the worksheet's bottom for students with lower reading comprehension levels. For more experienced pupils, exclude the word bank.
Application – Provides exercises that allow students to connect what they have learned to their own experiences and apply it to circumstances or contexts outside of the class. Pick educational pursuits that your students can identify with or that they have expressed interest in. In follow-up classes, get feedback from students and assist them in determining whether they need any extra support.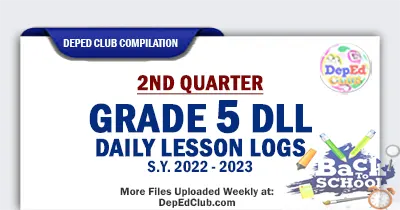 2nd Quarter Grade 5 Daily Lesson Log | SY 2022 – 2023 DLL Update!
(Update!) Week 1 – 2nd Quarter Grade 5 Daily Lesson Log DLL
(November 7 – 11, 2022)
Update!) Week 2 – 2nd Quarter Grade 5 Daily Lesson Log DLL
(November 14 – 18, 2022)
Update!) Week 3 – 2nd Quarter Grade 5 Daily Lesson Log DLL
(November 21 – 25, 2022)
Update!) Week 4 – 2nd Quarter Grade 5 Daily Lesson Log DLL
(November 28 – December 2, 2022)
Update! Week 5 – 2nd Quarter Grade 5 Daily Lesson Log DLL
(December 5 – 9, 2022)
See Also:
More Files uploaded Weekly. Bookmark this page for instant access. Just Press CTRL + D in your keyboard to add this page to your bookmarks.
Also Available!
IMPORTANT GUIDE:
MORE DOWNLOADABLE FILES
We are always on the process of uploading new files.
For additional updates and unannounced uploads, please visit this section from time to time.
Like us on Facebook to get INSTANT UPDATES. CLICK HERE
You can also BOOKMARK this page in your web browser by clicking Ctrl+D in your keyboard for faster access in the future. Thank you fellow Teachers.
We at DepEd Teachers Club are always grateful to all our File Authors and File Contributors. Credit goes to all of them. Let us all give them thanks and show our support for all their works.
We are also thankful for all our File Editors, Sharers, Tech Volunteers and fellow Teachers for helping us and making this kind of service possible.
Sharing is caring. 🙂