One of the main responsibilities assigned to teachers is lesson planning. Lesson planning is a representation of how the learning and teaching process is structured. Our goal is to to help teachers with this tedious and time consuming task. Because of the cooperative efforts of our Contributors, File Editors and Tech Volunteers, we are now able to share our compiled 2nd Quarter Kindergarten Daily Lesson Log | SY 2022 – 2023 DLL. Thank you for your continued support!
Lesson Planning
A lesson plan is the teacher's blueprint for what the class will cover during the period of instruction and how it will be accomplished. Establishing the learning objectives for the learning session is a prerequisite before teachers can plan their teaching. They may then create the right learning activities and come up with methods for getting information about the progress of their students. The three essential elements of a successful lesson plan addresses and integrates the following:
Student learning objectives
Activities for teaching and learning
Methods to evaluate students' comprehension
The kind of teaching and learning activities teachers will employ in class will help them decide on the concrete learning objectives they will set for their students, and those activities will also help them establish how they will assess whether those goals have been met.
For example, organizing a reading lesson. While having students read a text, the teacher may utilize the questions as indicators. In order to prepare the pre-listening activity, the teacher may set up a few questions that will guide the students toward the material they will be listening to. The teacher may provide a speaking exercise that involves a role play or information gap, and they may encourage students to participate. The teacher can put some words in the language section of the board and introduce it to the students. As a result, students will practice pronouncing and utilizing these words in whole phrases. Finally, grammar can be taught both deductively and inductively, and students should be taught how to put the learned rules into practice in real-world language use after they have learned them.
Teachers must evaluate students' comprehension, give a general overview of the material to be covered, introduce vocabulary, go over the material to be covered, check students' understanding, combine the material and vocabulary through guided practice, assess students' progress, and include an application activity. A lesson's content, skill areas, and learner needs all influence the many instructional styles that teachers may use.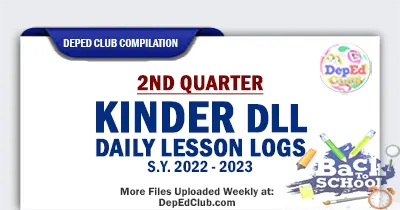 2nd Quarter Kindergarten Daily Lesson Log | SY 2022 – 2023 DLL Update!
IMPORTANT GUIDE:
MORE DOWNLOADABLE FILES
We are always on the process of uploading new files.
For additional updates and unannounced uploads, please visit this section from time to time.
Like us on Facebook to get INSTANT UPDATES. CLICK HERE
You can also BOOKMARK this page in your web browser by clicking Ctrl+D in your keyboard for faster access in the future. Thank you fellow Teachers.
We at DepEd Teachers Club are always grateful to all our File Authors and File Contributors. Credit goes to all of them. Let us all give them thanks and show our support for all their works.
We are also thankful for all our File Editors, Sharers, Tech Volunteers and fellow Teachers for helping us and making this kind of service possible.