In our ongoing commitment to support teachers as they navigate the diverse landscape of educational responsibilities, in the ongoing challenge of safeguarding students' educational success and in their essential work of developing learning materials, formulating teaching strategies and crafting lesson plans, we are delighted to share our collection of DepEd educational resources including these Week 2 – Quarter 2 Daily Lesson Log | November 13 – 17, 2023 DLL Update!
This initiative not only aims to help teachers conquer challenges stemming from limited resources but also to alleviate their teaching workload. Through sharing our files, we aim to empower teachers to create a seamless and enriched learning experience, fostering a stronger connection between instruction and understanding.
Our heartfelt gratitude extends to our dedicated DepEd Club Contributors, File Editors, and Tech Volunteers, whose selfless and unwavering efforts have been instrumental in organizing the content of our website and social media platforms. We extend a warm thank you to all for your steadfast support that continues to drive us forward with this cause.
Importance of Lesson Planning
Teaching is like a well-planned journey and the roadmap for this journey is called a lesson plan. Before each day of teaching, teachers create a detailed plan to guide them through the instructional tasks in the classroom. This plan often referred to as a lesson plan is a teacher's tool for organized and effective teaching.
A lesson plan is like a script for a play, laying out the key elements of a lesson in a specific order. It's not about having a single best way to plan a lesson, but about understanding and improving on certain core components. Regardless of the format, any good lesson plan helps the teacher achieve instructional goals and procedures consistently.
Here's why a Lesson Plan is important:
Teaching with Confidence: Creating a lesson plan helps the teacher better understand the subject, boosting confidence. This confidence is then passed on to the students, making the class more lively and engaging.
Tools for Teaching Abilities: A lesson plan is a crucial tool for honing teaching abilities. It serves as a guide to improve teaching skills.
Order in the Classroom: By knowing what, when, and how much work needs to be done, a teacher with a lesson plan brings order to the classroom. This order has a positive impact on discipline.
Control over Teaching and Learning: A lesson plan is a roadmap for managing teaching and learning. It makes instruction impressive, ensuring that learning objectives are met.
Organization and Intellectual Growth: Structured lesson plans contribute to organizational skills and intellectual growth in students. It helps present material in an organized manner, fostering growth in students' thinking.
Utilization of Theoretical Knowledge: Lesson plans allow teachers to put theoretical knowledge into practice in the classroom, giving theoretical knowledge a concrete form.
Time and Energy Efficiency: Creating a lesson plan ensures that new information is presented in a correct sequence, making teaching more efficient in terms of time and energy.
Based on Prior Knowledge: A well-crafted lesson plan takes into account students' prior knowledge, making it easier for them to learn and for the teacher to achieve his goals.
Update of Knowledge: Summarizing the lesson in a plan helps in reviewing the material, ensuring that students and teachers stay updated.
Limitations of the Topic: A focused topic in a lesson plan helps in skipping irrelevant material, simplifying the presentation with specific and limited information.
Making of Material Aids: Lesson plans involve choosing methods, tactics, tools and aids, making necessary preparations before starting the teaching assignment.
Analysis is Conceivable: Evaluation in a lesson plan allows the teacher to assess the impact of instruction and make necessary adjustments to strategies and techniques.
Psychological Instruction: Lesson plans consider students' interests, needs, capacities and abilities, making teaching a more psychological process.
Suitable Surroundings: A lesson plan establishes objectives, instructional strategies and material support, creating a suitable environment for engaged learning.
Establishing the Activities: A lesson plan predetermines the activities for both the teacher and students, giving purpose and significance to instructional activities. It turns teaching into a collaborative process between the teacher and students.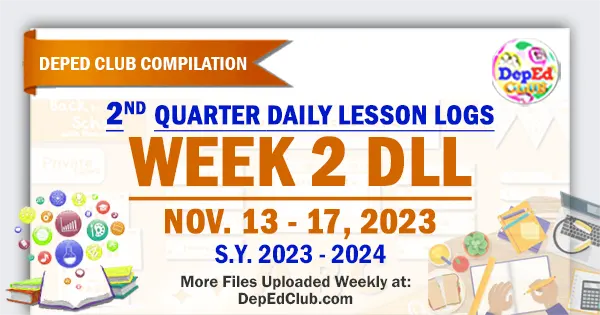 Week 2 – Quarter 2 Daily Lesson Log |
November 13 – 17, 2023 DLL Update!
Kindergarten Daily Lesson Log – Week 2 – 2nd Quarter
Grade 1 Daily Lesson Log – Week 2 – 2nd Quarter
Grade 2 Daily Lesson Log – Week 2 – 2nd Quarter
Grade 3 Daily Lesson Log – Week 2 – 2nd Quarter
Grade 4 Daily Lesson Log – Week 2 – 2nd Quarter
Grade 5 Daily Lesson Log – Week 2 – 2nd Quarter
Grade 6 Daily Lesson Log – Week 2 – 2nd Quarter
MORE FILES NOW AVAILABLE!
COMING SOON!
2nd Quarter Periodical Tests
IMPORTANT GUIDE:
MORE DOWNLOADABLE FILES
Activities for Students | Classroom Observation Tools | Daily Lesson Log | Diagnostic Test | Exams | Inspirational Stories | Instructional Materials | Learners Material | Periodical Tests | Powerpoint Presentations | RPMS | Short Stories | Summative Tests | Weekly Daily Lesson Log | Weekly Home Learning Plan | Weekly Learning Plan | Workbooks
We are always on the process of uploading new files.
For additional updates and unannounced uploads, please visit this section from time to time.
Like us on Facebook to get INSTANT UPDATES. CLICK HERE
You can also BOOKMARK this page in your web browser by clicking Ctrl+D in your keyboard for faster access in the future. Thank you fellow Teachers.
We at DepEd Teachers Club are always grateful to all our File Authors and File Contributors. Credit goes to all of them. Let us all give them thanks and show our support for all their works.
We are also thankful for all our File Editors, Sharers, Tech Volunteers and fellow Teachers for helping us and making this kind of service possible.