Our long-term goal is to consistently update and publish our ready-made weekly K–12 Daily Lesson Logs. This is done to help teachers prepare, deliver, and evaluate their lessons in the most efficient manner possible. We thank everyone who provided files for our compilation as well as the editors and organizers of those files. We also wish for everyone's success, safety, and general well-being. Remember to share our posts and like our page. Here is an update to our Week 3 – Quarter 2 Daily Lesson Log | Nov. 21-25, 2022 DLL Update!
The contributions, editing, and technical help of our volunteers form the foundation of the DepEd Teachers Club. We humbly ask for and appreciate your continued help. You can download all of our content for free using Google Drive. View our updated and revised File Links. May more blessings come upon us all. Thank you!
Doing less while achieving more in the classroom is the goal of an effective lesson plan
Planning lessons requires critical thinking. Interventions for professional development must be prolonged if they are to be effective in bringing about significant, long-lasting change. Professional development that is most successful lasts at least one or two terms. This might start out as an INSET day before developing a rhythm of support, consolidation, and follow-up activities.
Teachers might be accustomed to thinking of the lesson plan as planning. It could take some time for teachers' theories, along with their worries, anxieties, and concerns regarding a new strategy, to come to light. Think about the following:
What do lesson plans serve as a means for?
How do effective and ineffective lesson planning differ?
What are the planning pitfalls that raise workload?
What role might marking play in supporting lesson planning?
How will teachers be able to tell whether lesson planning is providing a beneficial effect on student growth and confidence?
How can planning be achievable without putting too much pressure on teachers?
Subject knowledge should always serve as the foundation for professional development, and input should provide chances for teachers to assess their current theories, beliefs, and practices as well as to challenge them in a non-threatening manner. Different departments may use different approaches to planning in particular. It is likely true that lesson preparation for science differs from lesson planning for history, and both do not necessarily call for the same planning structure throughout the institution.
The purpose of the strategy is to instill the lean lesson preparation practices and guiding concepts that serve as the foundation for a uniform strategy across organizations and faculties. The effectiveness of a whole school or whole group strategy depends on intermediate leaders' support and their leadership of planning. Professional discretion must be also considered.
Lesson preparation should focus on quality rather than quantity, according to teachers. This needs to be thoroughly unpicked whether the quantity of planning or the completion of the form has been or is believed to be a proxy for measuring "excellent teaching."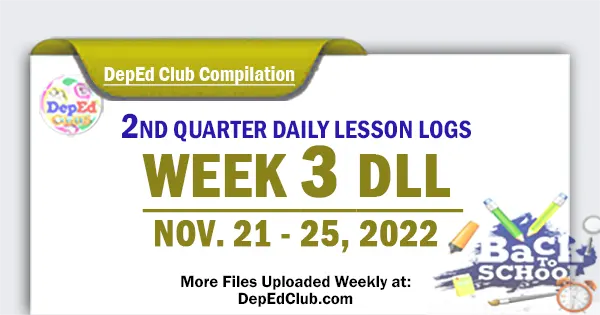 Week 3 – Quarter 2 Daily Lesson Log |
Nov. 21-25, 2022 DLL Update!
Kindergarten Daily Lesson Log – 2nd Quarter
Grade 1 Daily Lesson Log – 2nd Quarter
Grade 2 Daily Lesson Log – 2nd Quarter
Grade 3 Daily Lesson Log – 2nd Quarter
Grade 4 Daily Lesson Log – 2nd Quarter
Grade 5 Daily Lesson Log – 2nd Quarter
Grade 6 Daily Lesson Log – 2nd Quarter
See Also:
More Files uploaded Weekly. Bookmark this page for instant access. Just Press CTRL + D in your keyboard to add this page to your bookmarks.
Also Available!
IMPORTANT GUIDE:
MORE DOWNLOADABLE FILES
We are always on the process of uploading new files.
For additional updates and unannounced uploads, please visit this section from time to time.
Like us on Facebook to get INSTANT UPDATES. CLICK HERE
You can also BOOKMARK this page in your web browser by clicking Ctrl+D in your keyboard for faster access in the future. Thank you fellow Teachers.
We at DepEd Teachers Club are always grateful to all our File Authors and File Contributors. Credit goes to all of them. Let us all give them thanks and show our support for all their works.
We are also thankful for all our File Editors, Sharers, Tech Volunteers and fellow Teachers for helping us and making this kind of service possible.